By: Ali Elizabeth Turner
It was the day that the remnant of Hurricane Ida was due to hit North Alabama, and Michael Muse, co-founder of River City Roofing Solutions, was ready. Michael and RCRS co-founder and his older brother Chris have what they call the "tarp teams" as part of their customer service protocol, and that is only the beginning of what they do to protect homeowners. When heavy weather is on the way, they gear up and are ready 24/7 to respond to water mitigation emergencies before they take the next step of repairing or, if needed, putting on a whole new roof.
Chris and Michael Muse began working in the construction industry when they were teenagers and learned every aspect of the trade. Together they have close to 35 years of roofing experience, and that does not include the experience level of their well-trained crew. The Muse brothers have done framing as well as home remodeling, and they have always worked together, except for the time that Chris served in the armed forces in Korea. In 2018, they launched River City Roofing Solutions. They started off with the desire to do it right the first time. They have grown quickly in the last three years, have exceeded their goals, and have an unwavering commitment to customer service.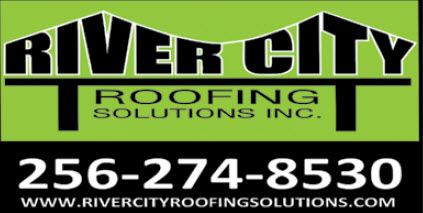 In August of 2020, disaster struck in the form of a motorcycle accident in which Michael lost his leg. He'll be the first to tell you that the entire thing was his fault, and I'll be the first to tell you that I have been blown away by his comeback, attitude, and commitment to be unstoppable. Several surgeries later, he has already been skiing and biking, and inspires everyone with whom he comes in contact. Here is what he told me Monday: "If I don't fall, I am not trying hard enough." Michael is quick to credit God, his family, friends, support team, and like-minded business owners with what he has needed for this blow to be turned into a blessing.
One of the things that has been added to the River City Roofing Solutions customer service line-up has been that Michael has gotten certified to use drones as part of their inspection process. He can't get on the roof to eyeball it anymore (although I wouldn't be at all surprised if he doesn't invent some safe way to return to the roof), and having the drone download has been invaluable in helping RCRS educate their clients. Chris and Michael have had their fill of fly-by-night roofing companies that rip off both their clients as well as insurance companies, and education is the key to successfully disrupting that strategy. RCRS is no stranger to dealing with insurance companies, "repairing the repairs" of shoddy outfits, and the results have been steady growth, five-star reviews online, and fiercely loyal word-of-mouth advertising. They now have 11 people working in their office, 7 carefully trained sales people, and dozens of installers. They have a crew that is dedicated to metal roof installation and one that specializes in flat roof installation, both of which demand their own level of expertise.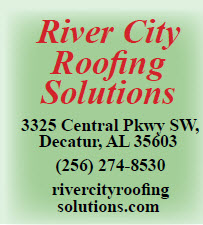 Another of the services they offer is the use of sophisticated software that utilizes a photo of the client's house or business and its dimensions to pinpoint exactly what is going to be needed to get the job done right. When I have been in their Decatur office, I have seen how it works, and it is impressive. Another thing for which I have been grateful is how River City Roofing Solutions has the same commitment to do an outstanding job for ALL of their clients. They certainly have several clients that have luxury homes whose roofs are commensurate with the home, and they treat those whose houses are middle class or less with the same respect and commitment to "doing it right the first time."
Over the past two years that Michael and I have been a part of the Limestone Leaders BNI group, he has taught us that what sets them apart is that they will always check the decking of any roof, and never just "shingle over existing shingles or felt. All work is guaranteed for five years, and if there is something that wasn't done right the first time, they'll take care of it. "We start off by using the right products," says Michael, and they explain to the homeowner the importance of the proper shingles, underlayment, decking, and structural soundness. RCRS also teaches about some of the environmental issues that are important to good roof care, such as keeping leaves from piling up. This is important because the leaves can cause water to back up under the shingles which can result in leaks.
Whether you are dealing with the aftermath of a storm or are looking for a quality outfit to repair or replace your roof, you would do well to contact River City Roofing Solutions today. Simply stated, River City is the real deal. Call them today.
By: Ali Elizabeth Turner