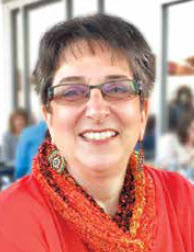 By: Lynne Hart
It is so hard to believe it has been over a year since I retired from one of the best non-profit organizations in Limestone County! The time has flown.
As some of you are aware, the past year has been spent taking care of my mother who moved in with me from Ohio 2 1/2 years ago. The timing of my retirement was perfect because mom's health took a turn around Christmas of last year. It has been a difficult, challenging, but absolutely beautiful experience caring for my mother at home until her recent death on her 96th birthday. I spoiled my mother and she deserved it. Anyone who had the pleasure of meeting my mother enjoyed her spunk and sense of humor. I miss her dearly but can honestly say I have no regrets.
So, now with time on my hands, I find myself filling in at the Recycling Center and KALB office while they are a bit short-handed. It is bittersweet, but truly good to be back. So for a little while, you may hear my voice on the other end of the phone if you happen to call!
I may have been busy, but I never took my eyes off of this organization which I truly love. The KALB Commission couldn't have found a better director than Leigh Patterson. Leigh and I have kept in contact mostly because working with her was one of my greatest blessings, and she is one of my dearest friends. I left KALB with absolutely no doubt that Leigh would flourish in her new role and grow the organization with fresh insight and new ideas.
Since I left the organization in 2020, Leigh continued my quest to provide Household Hazardous Waste Collections to Limestone County residents. This was one of my greatest challenges. Thanks to important partnerships with the Limestone County Commission, the City of Athens, Solid Waste Disposal Authority of Huntsville, and others there have now been two of them with a promise of more to come!
I have seen articles and Facebook posts about the many new litter cleanups that have taken place throughout Limestone County. New volunteers and so many more businesses and organizations have come on board to help with these events. I couldn't be more proud of our community!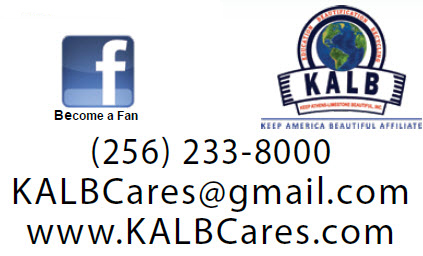 In the short 15 months since Leigh has become director, fundraisers have grown, gardens have been planted, household hazardous waste continues to be at the forefront of concern, and awareness of litter and recycling continues to grow.
Yes, there is much work to be done. There always will be as long as there are people who do not understand or who just don't care about the environment. Nonetheless, awareness has increased in every one of my 21 years with KALB, and Leigh is continuing the work to involve individuals, businesses, and organizations in an effort to share information and increase understanding.
If you don't know Leigh, get to know her and jump on her bandwagon to make Athens and Limestone County one of the cleanest, most environmentally friendly places in Alabama. If you are looking for a great organization with which to volunteer your time, please check out Keep Athens-Limestone Beautiful. I promise you will have a great time with very good people. You'll be appreciated and your time will be put to good use.
I can rest easy in my retirement knowing Leigh has a tight hold on the KALB reins.
By: Lynne Hart
Former Executive Coordinator – Keep Athens-Limestone Beautiful