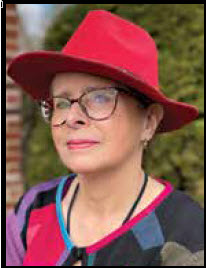 By: Ali Elizabeth Turner
About a week ago, if she were still alive, my mother would have been 103 years old. I was blessed to travel to Seattle for her 100th birthday, and it was smack dab in the middle of COVID. I was not allowed to touch her, and we were able to sit outdoors at the assisted living center where she resided. I could see her through a clear plastic curtain, talk to and with her, and that was the last time I saw her alive. While I was visiting with her, about six blocks away from her residence, the Capitol Hill area of Seattle had been taken over by thugs and renamed CHOP or CHAZ, which stood for Capitol Hill Occupied Protest, or Capitol Hill Autonomous Zone. At that precise moment we were visiting, they were trying to burn down a police station. Six blocks from my 100-year-old mother! Thankfully we didn't know about it until after the festivities, and "her" day was just perfect.
Since I have been learning to be an adult orphan (seeing as both my parents are now gone), I have found that my gratitude for what they did, taught, and gave my siblings and me only continues to increase. There was a time when that was absolutely not the case, seeing as I was seduced by the '60s and its siren call of rejecting my parents' values and breaking their hearts. But even at my worst, there was something my mom did in the '50s that I always appreciated, and I want to tell you about it.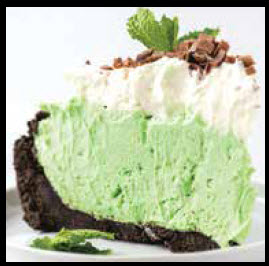 My parents were avid bridge players, and they were part of a bridge club that would meet once a month. They would rotate whose house would be hosting that particular month's gathering, and the soirée would always include dessert and coffee. We had apple, black cherry, and Bing cherry trees in our yard that overlooked Puget Sound, so most of the time my mother would make a pie. Sometimes I got to be the one to climb the tree to pick the cherries, and climbing trees was a favorite pastime. But every once in a while, Mutti (pronounced MOO-tee and German for mama) would make crème de menthe pie, which is also known as grasshopper pie. I almost always got to have a taste before I went to bed. It would be many years before I would find out why, sometimes, when we had an abundance of fresh fruit that one of us would pick for the occasion, the menu choice for the evening would be the pie that was sweet, soft, green, and had a crushed chocolate cookie crust.
It was because Fred Wildish and his wife Jan were going to be amongst my parents' guests. Fred was a survivor of the Bataan Death March of WWII, and my mom understood that there was a particular trauma to which Fred had been subjected, and she wanted to protect him from anything that might trigger a horrific memory. The Japanese would first starve our soldiers, killing multitudes, and then put rocks in the food they did give their captives. They knew that food would be wolfed down, and the hope was that either teeth would be broken or stomachs would be torn up. My mom was not willing to take the risk that a cherry might not have been perfectly pitted, and didn't want Fred to encounter anything that would seem like a rock. So, if Fred came for bridge, cherries were out, and crème de menthe was in. It was a simple act of kindness, and I don't think Fred or anyone from Bridge Club knew that she did it. Eventually I did, though, and I am glad to be able to tell their story. These days are filled with news of people acting inhospitably, to put it kindly, and I just thought that we could all use a slice of Mary Ellen Hersman White's crème de menthe pie to remind us to be thoughtful, and more importantly, pay attention to the needs of those around us.