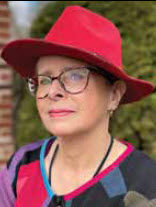 By: Ali Elizabeth Turner
For weeks now, I have been talking with great anticipation about the recently-released film, Sound of Freedom in just about any way that I can to just about anyone who will listen. I have written about it in this column (see Spreading The Sound Of Freedom, May 19, 2023,); I have talked about it on my radio show (The TN Valley Spotlight on Mondays on WKAC 1080 AM); at my BNI group, Limestone Leaders; on Phil Williams' show, Right Side Radio; on Facebook; and most importantly, on "Facelook," meaning eyeball-to-eyeball with real live human beings. I have done something I have never done, and that is watch the various versions of the trailers at least 50 times, conservatively. I have also spent hours watching interviews with the principal players in this remarkable story; Tim Ballard, the one whose team rescued the kids in the film; Jim Caviezel, who plays Tim Ballard; Eduardo Verástegui, the producer; and Alejandro Monteverde, the award-winning director.
I went with three teenagers to see it on July 3, and afterwards they were uncharacteristically quiet, except for the 15-year-old who said, "That was a great movie, and I want to see it again." I am not sure what was going on in their minds, but I said to one, "Look out for your friends, and don't go it alone." I received a nod. That's okay. I believe that an important set of seeds were planted, and harvests take time. Around the country, some theatre patrons have stood to their feet and given a three-minute standing-O, and others reportedly have been as quiet as church mice. Mel Gibson, when he saw it, told Jim Caviezel that he was "stunned," and has put out a very strong 21-second call-to-action to go see it. He says, "One of the most disturbing problems in our world today is human trafficking, and particularly the trafficking of children. Now, the first step in eradicating this crime is awareness. Go see Sound of Freedom."
I echo the sentiments of Mr. Gibson. I could tell by the quality of the trailers that the film was going to be impressive simply from the standpoint of being a cinematic work of art, and on that level, it more than delivers. I learned recently that in the movie world, amongst movie-makers, that there is a difference between a movie and a film. A movie is something like Night At The Museum, and a film is something along the lines of Lord of the Rings, To Kill A Mockingbird, or Schindler's List. But think of this: Schindler's List was made when WWII and the SS were safely in our rear-view mirror, yet imagine making Schindler's List while Nazi Germany was still fully in power! That is essentially what these brave warriors have done, and the very least we can do is back them as well as join them.
Let us fight with our wallets, with our mouths, with our hearts, and on our knees. And, let us demonstrate categorically that "God's children are not for sale." Go see Sound of Freedom, and join the movement!