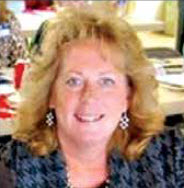 By: Sandra Thompson
Deborah was born in 1966 in Columbus, GA, while her father (Col Mel McLemore) and family were stationed at Ft. Benning Army Base. Being the typical "Army brat" she grew up traveling throughout Europe and the U.S., places that included FT. Rucker, AL; Germany; Maxwell Air Force Base, AL.; McDill Air Force Base, FL.; and FT. Meade, MD.
Deborah says she was inspired by her father and other Army civilians to serve as a Department of the Army Civilian (DAC) in support of our uniformed service members who defend our nation. Her first primary job was a two-year internship as an Item Manager for the PATRIOT Missile System. Upon competitive application and acceptance to the Army Material Command Internship, she was placed in the SEL Supply Management Program, then located at Red River Army Depot, Texarkana, TX. She completed her first year of in-resident academic studies there. Following the successful completion of the academic phase, she was transferred to the former Army Missile Command (MICOM) located at Redstone Arsenal in Huntsville where she trained as a secondary Item Manager for the PATRIOT Missile System.
When asked to recall some of her most memorable moments growing up, Deborah said, "My most memorable travels as a young Army brat was during the time our family was stationed in Heilbronn and Heidelberg, Germany, from 1974 to 1978. It was a very educational experience at the right age to learn and appreciate the history associated with WWI and WWII, and the role of the U.S. Army past and present in that region of the world. Part of this valuable education included visiting the concentration camps that had a profound impact on my personal interests and ambitions as I got older. Equally memorable travels include learning to snow ski in the Alps of Switzerland and visiting iconic castles such as the Neuschwanstein in Bavaria, the castle copied by Disney World. Collectively, our time in Europe was by far the most memorable and enjoyable experiences growing up in the military."
Deborah also said, "My most memorable travels as an Army civilian have been in direct support of three separate Army Base Realignment and Closure (BRAC) directives, a congressionally authorized process to reorganize Department of Defense posts, camps, and stations for cost savings and increased efficiencies in support of the military. Among my most memorable BRAC support assignments include a three-month extended tour of duty to the former Presidio military post at San Francisco, California in 1993. As a freshly graduated intern, I was assigned the duty to transfer the U.S. Army logistics Intelligence capabilities to the newly formed Logistics Support Activity (LOGSA) located at Redstone Arsenal, AL. The assignment required me to learn from ground up all functional and technical processes for identifying and tracking assets across the DoD supply pipeline, from warehouse to coastal port to airport to supply points, for Army units located worldwide. This was considered a critical BRAC transfer of major Army logistics functions with very few impacted employees moving from California to Alabama. I've had numerous other memorable assignments and travels associated with other BRAC transfers from the East coast region involving classified force structure management of the entire U.S. Army Force worldwide."
Beyond her Army civilian occupation as a logistician and program manager for aviation and missile weapon systems, Deborah maintains an active involvement in professional and volunteer associations, these include the Association of the United States Army (AUSA), the Army Aviation Association of America (AAAA), and the International Society of Logistics (SOLE). Her volunteer activities include the annual Athens Veterans Day parade, which is hosted by the Alabama Veterans Museum. Deborah feels it is a privilege to support such activities in recognition of our military veterans as she comes from a large military family which includes her father, COL (Ret.) Mel McLemore; fully supported by her mother, Wanda Crow McLemore (aka PEARL for Army Aviation Digest); her sister CW4 (Ret.) Stormy Ripley, and brother-in-law SFC (Ret.) Jim Ripley.
Deborah is grateful for all that her three children Christina (23), Brandon (21), and Catherine (20) along with Athens and surrounding communities do to support and recognize our service members both past and present!
By: Sandra Thompson
Director, Alabama Veterans' Museum