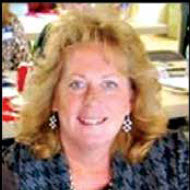 By: Sandra Thompson
Meet Retired Chief Warrant Officer 4 (CW4) Stormy Sandi McLemore Ripley, born at Fort Rucker, Alabama, in 1962. When I asked about how she came to be known as "Stormy," she said she was given the name Sandi at birth and went by it as a child. While in high school in Heidelberg, Germany, she played guitar and would sing the song "Stormy Monday" and the name Stormy just stuck. She legally changed it at age 19.
Being an "Army brat," Stormy grew up all over the place including Ft. Rucker, AL; White Sands, NM; Fort Benning GA; New Jersey; Kansas City; Florida; and Germany. She says that a strong family tradition is what turned her toward a military career: "I always wanted to join when I was a kid playing Army with the other military brats. I specifically wanted to join the Military Police when I was little, even before women were allowed in these career fields. I was told, 'Girls can't be MPs!' I said, 'Then I will be the first!' By the time I joined the military police, there were already lots of women there, but not many in the combat support MP companies, so that is where I volunteered. I was also at Ft. Rucker as a kid in the early 70s when the first woman became an Army helicopter pilot."
Although she entered the Army as an enlisted soldier, Stormy quickly rose to the rank of E-6; she then decided to apply to Warrant Officer School and then Flight School. Right out of flight school as a Warrant Officer 1, she started flying the UH-1 Huey Helicopters and later transitioned to the UH-60 Blackhawk. She held a Chief Warrant Officer 5 (CW5) position when, after 27 years of service, she retired as a Chief Warrant Officer 4 (CW4.)
Stormy had many memorable experiences in her long fascinating career that took her all over the world. She was sent to many different locations, including places like Yuma Proving Ground, AZ; Fort Bragg, NC; Fort Benning GA; Panama; Korea; Honduras; Egypt; and a 15-month deployment to Iraq. Some of the most memorable times include her first dispatch as a new MP when she was sent to get a herd of wild horses off the Post Headquarters lawn at Yuma Proving Ground, she ran from killer bees while on jungle patrol in Panama, and she even traveled to the White House to meet President Bush Sr. Her meeting with the president came about because of her participation in Operation Just Cause. Along with some fellow soldiers, they met with the president in his conference room, and then they got to travel to the Pentagon where they met Arnold Schwarzenegger. All the soldiers wanted a picture with Arnold!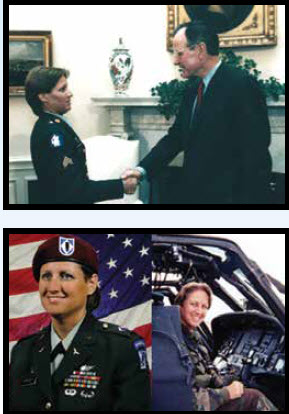 Stormy also worked in Iraq with the Joint Personnel Recovery team to help find missing military and civilian government workers who had been taken by enemy forces or local kidnappers. She was assigned to the Joint Personnel Recovery Coordination Cell (PRCC) to help locate isolated, missing, detained, or captured (IMDC) personnel of all U.S. services, coalition forces, and contractors in country. There were more civilian contractors missing than military. As an Army wife, Stormy worked with the Family Readiness Group assisting family members of those soldiers killed in combat, she says "I remember watching a new military family move into our neighborhood and a Blue Star flag (indicating deployment) go up in their window. In the same month, the same window changed to a Gold Star flag (indicating a death while serving). Within a couple of months, it wasn't long before the moving truck came and they were gone…"
After retiring, Stormy volunteered with local veteran organizations in the North Alabama area and also volunteered at the Limestone County Emergency Management Agency (EMA) working with Voluntary Organizations Active in Disaster (VOAD.) In 2014, she was hired as Airfield Aviation and Safety Officer at Ft. Bragg in NC. In 2019, she was hired at Redstone Army Airfield where she still works and she also assisted the Redstone Arsenal Emergency Management Operations to track COVID 19. She is still working there. Stormy is a member of AMVETS and a lifetime member of the VFW.  She likes to stay plugged in with other veterans and be a part of veterans' activities. Stormy would like to see more updates from Veterans Affairs on issues affecting retirees and perhaps reach out to widows of combat veterans and invite them to the Alabama Veterans Museum. She would also like to see younger veterans join our local service organizations.
Stormy is married to Jim Ripley, who is a retired Green Beret. They have one son, Shane Ripley, who is 21 and works as a journeyman plumber in Huntsville. She is also the daughter of retired Army aviator, Col. Mel McLemore; her mother, Wanda McLemore, was the famous PEARL Safety model for the Army. She has one sister, Deborah McLemore, who works in logistics at Redstone Arsenal.
Being musically inclined, Stormy has written a song, Defend Until The End, that you can hear at www.soundclick.com/stormy or follow the link https://www.soundclick.com/artist/default.cfm?bandID=189319
By: Sandra Thompson
Director, Alabama Veteran's Museum