By: Ali Elizabeth Turner
For decades, McCurry Motors has been a well-known name in the Tennessee Valley, and it was "taking a risk and meeting a need" that launched the newest branch of the business: car and van rentals. Gary Stewart, who does outside sales and marketing for McCurry for all four of their North Alabama locations, told me the story that changed the trajectory of the business. "We were, at that time, a 'buy-here-pay-here' lot, and we had a van on the lot for sale. A family that was here for their vacation had a national chain not honor their reservation, which really messed things up for them. They saw the van for sale, came in, and asked if we would consider renting the van to them so they could actually go on their vacation. My boss, Wes McCurry, said yes, took a risk with them, and now we have more than 700 units available," he said.
Gary is in Limestone Leaders, our local Business Network International (BNI) group, and we are both members of the Limestone Chamber of Commerce. I am so glad that our paths have crossed, and one of the things that has spoken to me is Gary's loyalty to his boss, Wes, and the company itself. "Wes changed my life," he said on Monday when I interviewed him on the Tennessee Valley Spotlight Radio show. It is refreshing to find someone who after several years is still so happy in his work!
Gary went on to talk about how the business grew quickly due to word-of-mouth advertising as well as online reviews, and what might on the surface appear to be only a local rental company has taken care of everyone from the White House to the Memphis Grizzlies NBA team. "White House?!" I exclaimed. "Yep. I was at work, answered the phone, and the voice on the other end sounded very serious. They claimed to be the White House, and I thought we were being punked. I put the call on hold, Wes then took the call, and at first, he thought the same thing. Then I saw his whole demeanor change, and something convinced him it really was the White House calling. Turns out Mike Pence, the vice-president was in town for a speaking engagement. He needed transportation for his staff, and we fixed them up with a Mercedes-Benz Sprinter van," he said.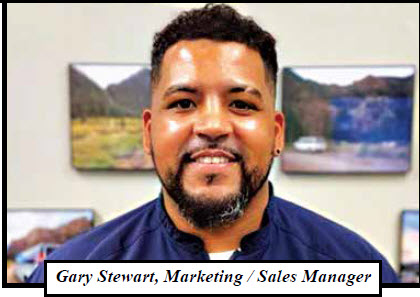 McCurry helps out Fed Ex, UPS, churches, sports teams, Toyota, and even other national car rental chains when they need it, and "the rental business, especially vans and fleets, have become our 'bread and butter,"' Gary told me. What sets them apart, and what has generated such a positive response from their customers, is that they don't require a credit card. You do need a debit card, but it as long as you have a valid license as well as proof of insurance, you are ready to go. There is no deposit required. They also don't overbook. If you have a reservation, it will be honored, period.
Another thing (besides keeping the fleets and cars in superb working order) that McCurry does to protect their customers while on the road is make sure they know that Pep Boys nationwide will help them out if the car or van breaks down, or a new tire is needed.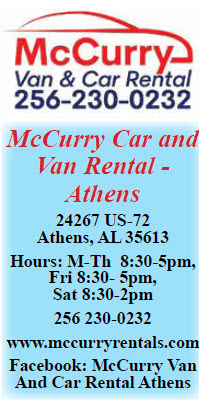 Here is what McCurry says about their products and services:
"McCurry Van & Car Rentals offers easy and affordable vans, cars, and trucks for rentals in Athens, AL, Madison, and the surrounding areas. Being a locally operated business, we strive to exceed expectations, provide excellent customer service, and offer a large variety of vehicles. Athens is our 1st location and one of four locations serving N AL, along with Cullman, Muscle Shoals, and Huntsville. We carry many vans, trucks, and cars to fit your needs. We also have parcel delivery vans, contractor, and job site vans. We rent short term as well as long term. Visit us at www.carrentalathensal.com, call, or go by one of our locations! Our team will do our best to ensure you have a pleasant experience! Rent local. Rent McCurry Van & Car Rental."
More importantly, here is what customers have said about them:
"I needed a rental to drive to a birthday party 2 hrs. away at the last minute, and McCurry Rental was right on time. Leah and John were so professional, courteous, and quick. I was in and out within 20 mins. I have found my new place to rent future vehicles from. If I could give them a 10-star I definitely would. Thank you, Leah and John. I look forward to doing business with you all again."  –Tara
"Wonderful service and wonderful cars with plenty of space!!"
"They have a wide variety of different options and ROCKSTAR CUSTOMER SERVICE."
"They are by far THE BEST RENTAL CAR SERVICE AVAILABLE HANDS DOWN!!"
If you are looking for a rental for yourself or your business, come to McCurry Car and Van Rental today, and find out what it's like to want to leave a "ten-star" review!
By: Ali Elizabeth Turner