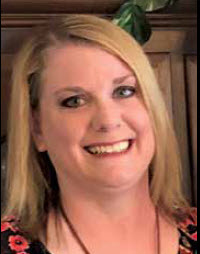 By: Leigh Patterson
We at KALB have so many things to be thankful for, and during this past year of uncertainty, though some events and programs were cancelled, we were still able to thrive and continue to do the important work that we do. This is all due to the wonderful support we receive from individuals, businesses, sponsors, and volunteers!
Earth Day & Outdoor EXPO
We recently held our Earth Day & Outdoor EXPO on Saturday, June 5 at Big Spring Memorial Park in Athens. It was a beautiful day, and we had lots of vendors and attendees with big smiles on their faces! We were so glad to be outdoors and enjoying a sense of normalcy!
Steve Trash, who has appeared all over the world, performed three magic shows with an eco-friendly message. Tiny Hiney's Travelin' Farm Petting Zoo was a hit with kids of all ages. There were vendors and exhibitors with environmental messages or eco-friendly products. Athens State University hosted guided tree tours on their campus, showcasing their historic trees. And there was so much more!
KALB would like to thank the following sponsors, without whom this event would not have been possible:  Limestone County Water and Sewer Authority, American Leakless Company, Indorama Ventures Sustainable Solutions, LLC, Limestone Pediatric Dentistry, Athens State University, and Athens Now. We would also like to thank all of our wonderful volunteers, who helped keep this event running smoothly from start to finish.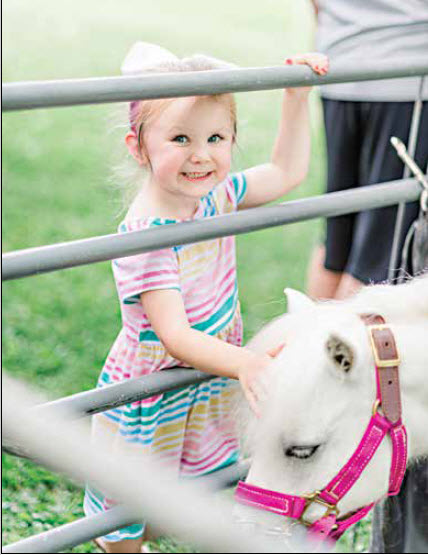 Look for our Earth Day event in April 2022, which is to be held on the campus of Athens State University. We are looking forward to seeing you next year!
2021 Membership Drive
Each year, KALB hosts its annual membership drive. Last year's drive was very important in that we had to cancel one of our larger fundraisers, the Duck and Run 5K. We asked our members to help us weather the storm, and that was an understatement for the support that we received!
This last year has been a struggle on our end, and even though we had to cancel some of our events and fundraisers due to the pandemic, KALB still managed to get out and make a difference in our city and county. We were able to engage hundreds of volunteers for outdoor socially distant cleanups, hold two household hazardous waste collections, and more. Now that things are beginning to return to some sort of normal, we hope to continue this important work and make an even larger impact on our community.
If you are currently a member of KALB, we are now humbly asking for your membership renewal/financial support so that we can continue to work towards a cleaner and healthier Limestone County with quality programs, education, and community service opportunities. It is dedicated volunteers and financial supporters who make our successes possible.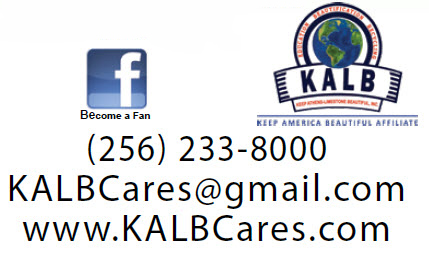 If you have never been a member of KALB, we ask that you consider becoming one. We offer several different levels of membership for individuals/families and for businesses/industries. Your donation is tax deductible, as KALB is a 501(C)3 nonprofit organization.
Because your donation is so important, we are providing thank you gifts associated with your membership level, which include a discount on the registration fee for the Duck and Run 5K (September 18) and free duck entries into the Wacky Quacky Ducky Derby (October 2).
If you are interested in becoming a member or renewing your membership, please visit www.KALBcares.com and hover over the "Donate" tab, then click "Membership" for a printable form with more information.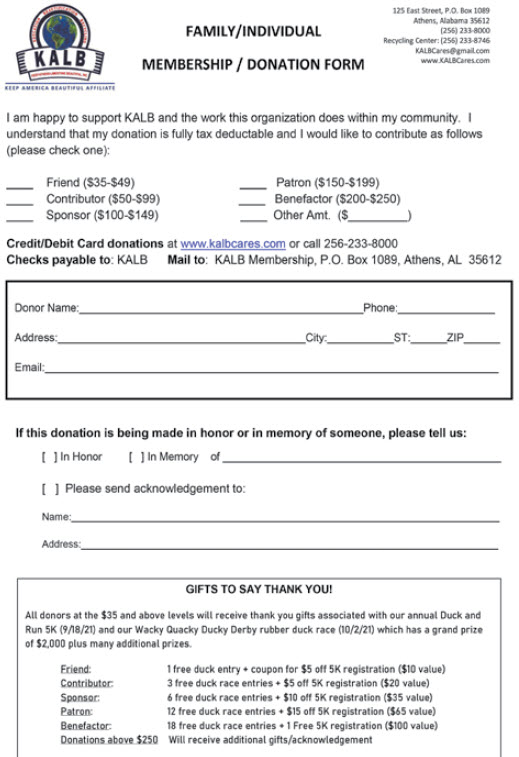 Thank you for all that you have done and continue to do to support KALB and the work that we do in Athens and Limestone County helping to make this a more clean, green, and beautiful place to live!
By: Leigh Patterson
Executive Director – Keep Athens-Limestone Beautiful