By: Jerry Barksdale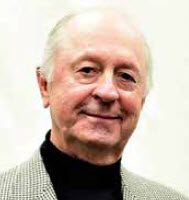 Six years of retirement doing nothing but sleeping late, reading, writing, and mowing grass had finally taken its toll. I was stressed. I needed a vacation. My good friend (and sometimes redhead) Pat and I decided to visit a foreign country –  Seattle.
Alarm clocks are untrustworthy.  I kept waking up and checking the clock and my cell phone to be sure they were working. Finally, I got up at 3 a.m. I was tired when we arrived at Huntsville International at 4:30 a.m. to catch our flight. At Houston, I purchased a dab of fried potatoes and toast for $17 and had just sat down to enjoy a leisurely breakfast when we were told we were at the wrong gate. We ran to board our flight just before the door closed. Anybody have Rolaids?
We were seated in the back row, just in front of the chicken coops. Pat was across the aisle near a sneezing and coughing guy. I was squeezed between a large, high- tech guy with ear phones, laptop and a nervous twitch. His elbow kept stabbing me in the ribs. A young woman in the window seat turned her butt to me and went to sleep. It was a five-hour flight to Seattle. I re-breakfasted on 14 pretzels and coffee. My butt went to sleep. I needed to pee. I reminded myself that I was happy, relaxed, and on vacation. Then, we encountered turbulence. "Holy crap!"  We just hit a hog in the road," I exclaimed. The woman turned around and smiled.  I asked if she went to sleep. "Oh yeah, I'm retired Air Force. Did you sleep?" she asked.
"No way. I was on duty while everyone else slept, listening to every squeak," I said. "There are over 100,000 screws in this plane and any one can break any second."
She tried to reassure me and told about her flight from Iraq aboard a cargo plane loaded with equipment and soldiers. The Sergeant seated next to her was nervous. She patted him on the knee and said it would be okay.
"Lady, you don't understand. I'm Crew Chief of this bird and it's a piece of ……"  I didn't need to hear that. Then she pointed out snow-covered Mt Saint Helen's, a volcano with the top blown off. "There are several volcanic mountains in the area that can blow at any time." I again reminded myself that I was happy, relaxed, and on vacation. We exchanged histories. She was divorced with a 13-year-old boy. I told her about my past troubles and eventual divorce.
"Anything with a uterus is trouble," she said. (I disassociate myself from that statement and demand that she apologize to all God's creatures with a uterus).
In Seattle, we rode a shuttle a hundred yards to our hotel, checked in, ate lunch and slept. The next morning, we shuttled back to the terminal and rode another shuttle to Thrifty Car Rental where I had the deal of a lifetime. When all the add-ons were added up, I paid double. I told the clerk if I ever caught him in Alabama, I'd get my money back.
We departed in our upgrade Dodge SUV. Finally, our real vacation had begun. I missed the I-5 exit and wound up back at the Thrifty garage. It was noon on the second day of our vacation and we were still within 100 yards of where we had landed. Pat was sneezing and coughing. I gave her my handkerchief. (Memo to self:  apply for a government grant and research why women won't carry a handkerchief.)
In downtown Seattle, we searched for our hotel. Pat pulled out her iPhone and asked Siri for directions. In a moment Siri said, "You- have-arrived."  God Bless Siri. I parked in front of our hotel, walked inside, and informed the blonde that I had reservations. "I don't think so.  This is an apartment house." I walked up the street. Wrong hotel. I blamed Siri for my troubles and wondered if she has a uterus. (I move to strike that thought and apologize to all women). Again, I reminded myself that I was happy, relaxed, and on vacation.
Finally, I walked into the Palladin and checked in.  The following morning, I lost my wallet stuffed with cash and credit cards. We tore the room apart searching for it. That hussy Siri was harassing me again. Luckily, I found it in the lobby, undisturbed.
You know you are in Seattle when you see half of the Japanese nation; smell marijuana smoke (I didn't inhale), and see young men and women dressed in black with eyes glued to a cell phone while clutching a $5.00 cup of Starbucks.  There are over 200 Starbucks' in Seattle. Marijuana is legal. I figured it out. Get people stoned, and they'll pay five bucks for a dollar cup of joe and think they're getting a steal.
We could have taken a cannabis tour and seen where pot is grown and sold, but instead decided to get high by going to the top of the Space Needle. Homeless people were occupying the nearby cafeteria. Pat gave her breakfast bagel to a young homeless boy (memo to self: but for the grace of God there go I).
I saw numerous "Bernie for President" signs. Bernie proposes to give away other people's money. Great idea! As long as it isn't my money. (Memo to self:  What happens when Bernie runs out of other people's money?)
We dined at Ivar's on the waterfront. Verrrryyy expensive. Tips aren't expected. Our waiter said that the minimum wage had been raised to $15.00 an hour. That's over $31,000.00 annually, plus employees are paid 8% of the profits. Now I know why our meal was verrryyy expensive. Didn't see a McDonald's and 62₡ senior coffee anywhere.
We drove south to Vancouver on the Columbia River, checked into a hotel, then walked up town for a sandwich. We passed three young people at a bus stop passing around a joint. (Again, I didn't inhale). Back at the hotel, the plastic swipe key wouldn't open the door. That hussy Siri was back screwing me over again. I headed off to the front desk to give them a piece of my mind. Looked at the key holder.  "Oops! Wrong floor." I'm happy, relaxed, and on vacation.
Across the river in Portland, Oregon, an enlightened city, "known for its eco-friendliness, microbreweries and coffee houses," cops were running off the homeless camped along the 15 mile walking and bike trail. The spandex-clad, Starbucks sipping yuppies, wearing ear phones and riding $1,000 bicycles had a bellyful of the homeless. After all, poor folks are unsightly and often smell bad. Pat was incensed and said the Mayor should be arrested.  (Memo to self:  I prefer people-friendly over eco-friendly).
It's against the law to pump your gas in Oregon. At a Chevron station, I paid $2.49 for regular. The attendant said he was paid $9.75 an hour to pump gas. I suppose that's the reason the gas was expensive.
We drove to picturesque Cannon Beach on the Oregon coast where the surf crashed against rocky cliffs and seagulls squawked.  Mother Nature was putting on a show. Then, I saw a disturbing sign: "TSUNAMI HAZARD AREA." Evacuation instructions were in our room. Mother Nature would just as soon kill us as entertain us. I didn't sleep well that night.
To paraphrase the comedic actor, W.E. Field, all things being equal I'd just as soon be in Athens drinking a 62₡ cup of McDonald's coffee.
By: Jerry Barksdale