By: Ali Elizabeth Turner
When she was in her early 20s, Delois Fletcher Bailey experienced what can only be described as a calling to take care of seniors in need. This came about as a result of helping care for both of her grandmothers and then her aunt in their sunset years, battles with disease, and subsequent passings. "I have always wanted to care for people," she told me. With a smile, she went on to say, "I may not be the greatest singer or dancer, but this is my gift." Delois's auntie died of cancer, and on her death bed she made Delois promise she would continue to pursue a career in nursing. Delois could do no other, and that calling currently has her heading up two specialized and intimate care communities known as Limestone Manor and Limestone Lodge, both of which are located in Athens.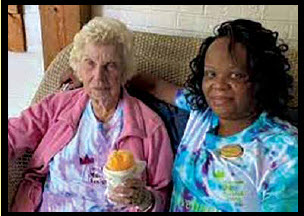 Over the course of her career, Delois has pursued continuing education as it pertains to senior nursing care and has several certifications. As a young woman, she became a certified nurse's assistant (CNA). She went on to become a licensed practical nurse (LPN), has Alabama certification as an assisted living administrator (ALA), and has national certification as a certified dementia practitioner (CDP). As it pertains to dementia, when Delois was a young woman helping care for her grandmother, she found that intuitively she was doing things to help her grandmother stay engaged and present. As we spoke, I came to realize that I had always used dementia and Alzheimer's disease almost interchangeably, and now understand that there are differences.

Delois explained that Alzheimer's is the most common form of decline and is specific. Dementia can have several symptoms. Alzheimer's affects the ability to retain new knowledge and can become more physical, resulting in trouble speaking, swallowing, and memory loss. Dementia is a decline in mental ability, including reasoning, memory, and other cognitive skills. In a word, dementia is an umbrella term, and Alzheimer's is a form of dementia. Why is this important to understand? Because a person may be struggling themselves or may have a loved one who is struggling, and everyone in that situation needs to know that there are compassionate, competent people who are well-trained, and most importantly, love to help. And, there are two excellent communities in our area that offer residential opportunities that are small, intimate, and ready to make the best of a difficult situation. They are Limestone Manor and Limestone Lodge.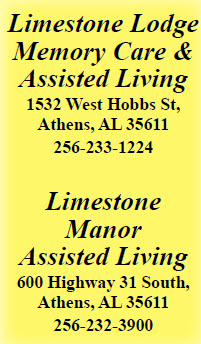 While we are especially blessed in Athens-Limestone by the presence of outstanding care facilities, the Lodge and the Manor are small and closer to being like a residence. The Lodge, which is located at 1532 W. Hobbs, has 16 beds and is more specifically oriented to deal with memory care. The other building at the Lodge also has 16 beds, which are assisted living. The Manor has 24 beds and is located 600 Highway 31 S. In 2020 and 2021, Limestone Manor was voted the Reader's Choice by the Athens-News Courier, and Limestone Lodge won that same award in 2022.
Anchoring people to their life is an important part of excellent care, and one of the things that happens when someone comes to live at the Lodge or Manor is that they and their families work on a Life Story. It includes memories, accomplishments, family member stories, and photos. Another is having a number of activities, and hands down, the two favorites are Bingo and Jazzercise. Bonnie Johnson and Brooke Hagemaker are the activities directors at the Lodge and Manor respectively. Stephanie Brodka is the unit coordinator at the Lodge, and Bridgette Crenshaw is the lead resident assistant at the Manor. "I want to thank them for their help, and I want them to know I couldn't do what I do without them," Delois told me. The small number of beds in each community makes it possible for the residents, their families, and the staff to know each other. They all greet each other, and the atmosphere is warm. I know from my own experience while interviewing Delois at the Lodge that I had the joy of getting to meet a dear, cheerful man who sported a Roll Tide T-shirt and was enjoying coloring. His demeanor lifted my spirits, and I could tell he felt safe and loved.
Here is what Delois says about both communities over which she keeps a caring eye:
Our assisted living and dementia care communities are designed to help residents maintain as much independence as possible, while offering comfortable living accommodations and assistance from our passionate staff.
If this is what you are looking for in an assisted living or memory care community, contact Limestone Lodge or Limestone Manor today to see how they can help you "live happy."
By: Ali Elizabeth Turner