By: Ali Elizabeth Turner
Lilly Mae Jones-Kelly was one of those women who loved and cared for anyone who crossed her path. She applied that gift of love to Chicago's Cook County (not exactly an easy place to do so), and it didn't matter who you were — homeless, in trouble, or down and out — Lilly saw past your "stuff" and saw you as a beloved creation of the Most High. Her love was legendary, and it deeply affected her great granddaughter, Jacqueline. Jacqueline and her family moved here in 2004, and she graduated from Bob Jones High School. She married an Army service member who served two tours in Iraq. They actually met as competitors at a dance audition, have four kids, and a wonderfully active life of faith.
Jacqueline's mom, Pamela Jones, is a dialysis tech, and Jacqueline always knew she wanted to be in nursing. She got her LPN degree from Drake State. She worked at Huntsville Main in the Ortho Trauma Unit, where she met her trainer and future business partner, Kaylie Davis. The two became fast friends, and discovered that they both felt called to restore an idea whose time has come again, and that would be visiting home health care with an emphasis on compassion and competency. Jacqueline is heading toward her RN degree, and ultimately wants to get her advanced nursing degree and become a nurse practitioner. Jacqueline has had experience working in nursing homes, rehab facilities, and hospitals and deeply loves her patients and her profession.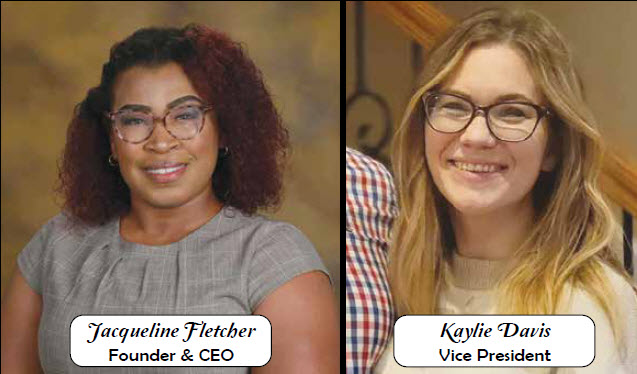 Kaylie is a CNA, is married and the mother of three, and is currently attending Athens State University as a business major. She wants to help run the "business side of the business" and help Lilly Springs navigate the complex demands of the health care industry and system. Kaylie spent several years working in various health care settings, including Hospice Family Care in Huntsville, Huntsville Main Cardiac Unit, and Huntsville Main Ortho Trauma Unit. She has extensive experience dealing with all manner of illnesses and palliative care.
Both Jacqueline and Kaylie were real troopers throughout the COVID crisis and to me they are among the heroes who got us through the worst of that time, but they felt that the whole experience signaled that it was time to start working together on their long-time, shared dream.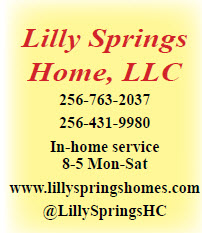 Every health care service worth their salt takes the time to hammer out their working philosophy, values, and practices. It encourages me to know that Lilly Springs Home puts an emphasis on compassion as well as the power of humor. The role of humor in healing, cognitive function, and quality of life has long been documented, as well as the power of relationship and a sense of community. And don't forget love! Lilly used to tell Jacqueline, "Always love thy neighbor, and have the love of God." Jacqueline and Kaylie also love to quote Helen Keller when it comes to what they do and why they do it: "The best and most beautiful things in the world cannot be seen or even touched. They must be felt with the heart." Both of these women are committed to the "best and beautiful" when it comes to you or your loved one.
Here is some of what Jacqueline and Kaylie want people to know about what they offer to their clients:
Lilly Springs Home is here to assist you or your loved ones with a variety of in-home services. Were you recently released from the hospital and aren't quite ready to jump back into your normal daily routine? Have you had surgery and need assistance around the house? We understand that your safety, privacy, and independence are top priorities.
With over 20 years combined experience, we are confident that we can help you or your loved one live life to the fullest! We currently provide the following services, and much more.
Post-operative Assistance
Hygiene Assistance
Transportation
Light housekeeping
Safety and Fall Prevention
Activities of Daily Living
Sitting Services
Companionship
Let us help make your recovery or aging at home both safe and rewarding by running routine errands and providing a helping hand with the everyday tasks that often become more difficult for the elderly and recently-hospitalized. Staying at home does not have to result in isolation and loneliness; in fact, care for our patients will bring opportunities for companionship, humor, and loving friendships.

If this is the kind of care that you need either for yourself or someone you love, then give Lilly Springs a call today and let them help you. That is what they are here to do, to carry on the loving legacy of Miss Lilly.
By: Ali Elizabeth Turner