By: Ali Elizabeth Turner
In 2017, Nicole Stiltner and Levi Alexander partnered together to create a unique law firm called Legal Journeys. When I say "unique," I mean a place where their law office has toys and books for kids and serves snacks during appointments. I also mean that this is not a place where three-piece suits are the order of the day; "snappy casual" is accepted office garb, and when you come in for an appointment, there is a welcome sign with your family's name on it. The dogs that belong to the partners are part of the ambience, and Legal Journeys' whole approach to serving their clients is a new operating and business model. We'll talk more about that in a moment, but first, a bit of bio.

Nicole will be the first to tell you that she literally is a "coal miner's daughter." She was born in Virginia, and is the first person in her family to get a college degree. Her grandmother had to quit school before finishing the 10th grade, and was the one to instill in her grandchildren the belief that education was highly important. Nicole not only had an academic scholarship to the Appalachian School of Law, she also spent a summer at the University of Valencia in Spain, as well as time at Cambridge in London. She passed the bar exam in 2012, and as someone who is married, has two kids and two dogs that are like kids, Nicole is a warrior for children, parents, grandparents, and the elderly.
Levi was born into a military family, settled in Alabama when he was six, and graduated law school from Michigan State University. Levi is a dad, husband, step-dad, granddad, "dog-dad," son, and grandson, which allows him the unique opportunity to look through the lens of each of these roles while guiding his clients through their life's journey and keeping his clients out of court and conflict. His family ranges from his 1-year-old grandson to his 92-year-old grandmother. In 2018, Levi was honored with the coveted "Personal Family Lawyer®" (PFL) designation. A PFL has specific certification that is designed to protect clients "from womb to tomb," a concept rooted in the days of "mom and pop stores," "country docs," and the "Atticus Finch" kind of lawyer so beautifully portrayed in the Alabama classic, To Kill A Mockingbird.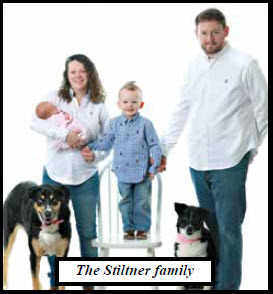 This personal and certainly more human approach to practicing law largely eroded away in our culture due to a number of factors, not the least of which was the age of the internet and the birth of "documents law," such as going online, paying a fee, downloading papers, filling in the blanks and thinking you have a rock solid plan in place, when in reality that is a disaster waiting to happen. Personal Family Lawyers practice under a new business model that allows them to help their clients be better parents, better business owners, and better citizens of the community rather than just putting in place form documents that may or may not work when the family needs them.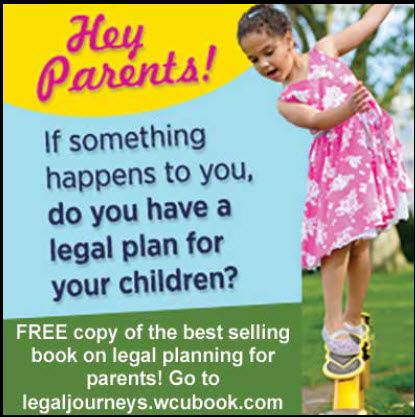 One of the things that sets Legal Journeys apart is that everything is done by a flat fee. You know ahead of time what it is going to cost, and are not going to go into "dox shock" by getting billed 70 bucks for an extra email. Besides the fact that Levi and Nicole endeavor to treat their clients with the same care they would wish for themselves or their loved ones, they also have the desire to have you choose them to be your "lawyer for life." That can't happen unless their clients feel safe, heard, and secure.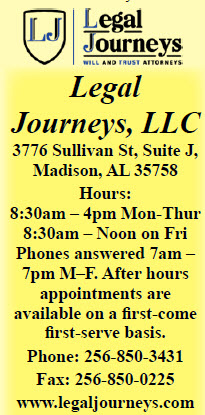 Legal Journeys not only guides their clients in creating custom-drafted wills and trusts, but one of the functioning values of Legal Journeys is to educate their clients about choices and responsibilities, especially as it pertains to being parents of young children. Nicole told me that, for example, if I had young kids, went away for the weekend with my husband after having left them with a trusted neighbor, friend, or even grandparent, but didn't have a short-term guardian nomination in place, they could actually end up in foster care! "What?" I exclaimed. She went on to explain that in the event of our unexpected death, DHR would be required to temporarily place the children in foster care, while they were already dealing with the death of their parents! That is just one example of why you want someone on your side who knows what is going on in the land of jurisprudence, and will put things in place to protect you that will actually hold up in court.
Legal Journeys realizes that even with a well-crafted plan, times, needs, assets, and situations change in the lives of families, businesses, and individuals. That is why they work hard to be in it for the long haul with their clients, and they truly see running Legal Journeys as a calling. If this personal, professional and down-to-earth approach to the practice of will, trust, and business law is what you are seeking, call Legal Journeys today at 256-850 3431. For more information, check out their free online class Wills & Trusts 101 by registering at willandtrustattorneys.com.
By: Ali Elizabeth Turner