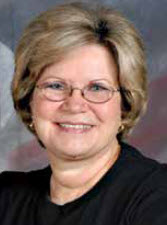 By: Yvonne Dempsey
The last few weeks have been busy ones for the Alabama Veterans Museum and Archives. Now that schools are out and many people are traveling, we have had quite a few visitors. While we are blessed with our regular visitors and supporters stopping by often, some of our visitors are locals who have never been to see our museum, others haven't been in a while, and several are just passing through on their way to other destinations. We've recently had visitors from the Netherlands, Great Britain, Poland, Germany, Ireland, Australia, and other faraway places. All were impressed by our museum and loved the Athens area.
Sometimes it's hard to believe that we have been in this building for two years this July. Much planning and work went into getting the museum moved and set up in this location, and if you haven't seen it, drop in sometime for a tour. Our hours are Monday-Saturday 9 a.m.-3 p.m. And we remain free of charge but gladly accept donations.
From the outset, we had plans for further expansion and improvements for our museum complex. We are excited to announce that Phase 2 of our plan is now underway!
Most area residents are familiar with the property between the museum and Pryor St. with the storage units and the small house at the corner that had housed an accountant's office. The museum purchased the property and work is currently being done to dismantle the house and demolish the storage units. The plan is to create a beautiful area that will become a military park.
We have tentative sketches and plans for the layout of the park which will include a fire pit for flag disposal ceremonies, monuments and plaques for the various branches of service and military battles, walkway, benches, and beautiful landscaping. The helicopter will be repainted and be on display as well another vehicle or artifact. Museum director Sandra Thompson says that bids for the project should go out in August. "We really hope that we can have the park completed by Veterans Day this November," she said.
Work has also begun inside of our building to remodel the event venue. A new audio system will be installed, and the building will get a new, more energy-efficient heating and cooling system. The stage and dressing/storage rooms are being dismantled and all of the wood will be salvaged and repurposed. This will open up the area, give more useable floor space, and allow for additional event seating. Instead of the large permanent stage, we will have a portable stage that can be set up when needed.
These are exciting days, busy days, and we look forward to sharing the finished projects with our friends, benefactors, and visitors as we continue our mission to honor our veterans and preserve history for future generations.
By: Yvonne Dempsey