By: Ali Elizabeth Turner
As a young child, Charlotte, NC, native Katie Mucci moved here to Athens with her family. As an adult, Katie worked for T-Mobile, had a job she loved, and the same applied to that company for whom she worked for 17 years. She also went through two disastrous events that caused her to learn firsthand what a difference can be made by an insurance company that truly cares about their customers and is also competent. The first was the 2011 killer tornadoes that changed life in Alabama forever, and her home needed extensive repairs. "The Alfa adjuster was in our driveway right after the storm, handed us $500  and told us to go get what we needed right away," Katie told me. They endured being out of power for close to three weeks as well as all that went with that tough time in our state. Throughout that process, Alfa was there. The second event was an electrical fire that started in the garage, and blew up everything from her husband Zac's motorcycle to the lawn mower and paint cans. Zac had been up when the explosions began, came and got her and the children out, and they lost everything except two pieces of heirloom furniture. They were able to build a whole new house, and once again experienced the difference a reputable and responsive insurance company can make.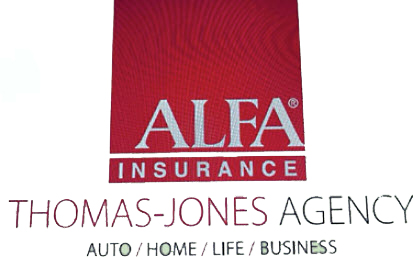 Eventually Katie found that standing for long hours on a hard surface began to take a toll on her knees to the point that she had to have back-to-back surgeries. During the ten weeks she was off from work, with the encouragement of family and friends, she decided to "go for it" and become an insurance agent. After passing the exam on the first try, Katie chose to come and work for Matt Thomas and Randy Jones at the Alfa office located at 605 US-31 S, Ste. A-1, in Athens.
I first met Katie when she joined our BNI chapter in Athens, and was struck by her kindness as well as her commitment to giving excellent service. If she didn't have an answer, she worked until she got what her customer needed. I asked her why she chose Alfa, and she said, "I wanted to keep doing something that helped people." As I sat in their office, I got to see firsthand how she did just that as she took care of people in need. "One of the things I have learned in the past eight months is that people are going through terrible things, and I want to be there for them," she told me.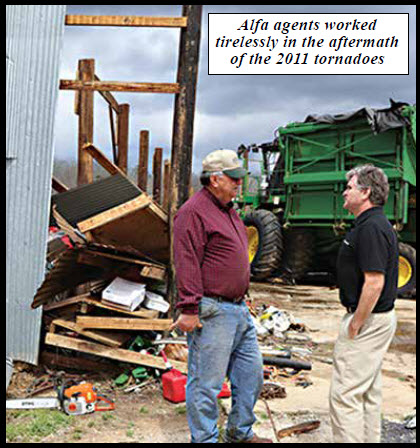 The following is a bit of history of the insurance company that was started here in Alabama and is headquartered in Montgomery:
As an outgrowth of the Alabama Farmers Federation, Alfa Insurance Companies began in 1946 to provide quality fire insurance to federation members, who were primarily farmers. John Tucker Harris, a prominent Lee County farmer and past president of the Lee County farm organization, sent in the first pre-insurance application. Since then, Alfa has grown to offer an excellent array of insurance coverages including life, property and automobile to its clients and has also become known for superior customer service. Alfa and its affiliates now provide insurance and other financial services to more than 1 million customers in 14 states.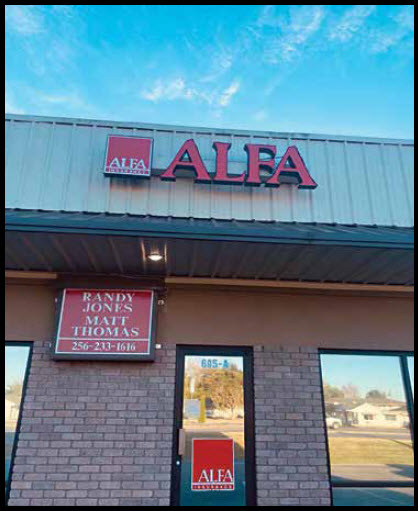 Here is some further information from the Alfa Insurance website:
Alfa Life Insurance Corporation currently has more than $27 billion in force and Alfa's property and casualty companies service over 700,000 policies. There are 353 service centers with more than 2,300 people dedicated to serving customer needs.
Their property, casualty, and life insurance companies and policies have an A rating with A.M. Best Company, which is the "go-to" ratings group for insurance companies.
Lastly, here is a brief description of some of the ways that Alfa supports customers and gives back to our communities: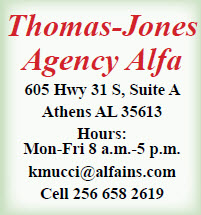 The Alfa Difference and
Alfa Cares
Our community makes us different – we're more than an insurance company, we're a family. We are committed to serving our community and serving you by providing personalized insurance you need with the local service you deserve…that's the Alfa Difference.
Alfa Cares grew out of an October 2015 campaign to raise money and awareness in the battle against cancer. Today, Alfa Cares is a year-round, company-wide initiative to recognize and encourage benevolence and service. Providing for our clients means more than just selling insurance – it means going the extra mile to support the communities where they live and work.
Alfa® personnel work daily to support charities, promote education, and back area organizations with the goal of making our communities better.
Stop by today to get a no-obligation quote from a woman and a company who do what they do because they truly care — Katie Mucci and Alfa Insurance.
By: Ali Elizabeth Turner