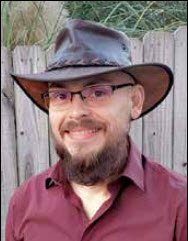 By: Benjamin Lawrence Bradley
A couple of weeks into my new position as Executive Director of Keep Athens-Limestone Beautiful, I am blown away by the support and dedication of the Board members and volunteers who have bolstered this organization since its inception on March 15, 1977. Forty-five years on, this affiliate of Keep America Beautiful has grown to become a lion in bringing the citizenry of Athens City and Limestone County together with a sense of responsibility and pride in this beautiful bit of Earth we call home.
I stumbled upon KALB a few months back when I was assigned to organize a community service project picking up litter on Hwy. 72 and painting over graffiti on the Swan Creek Greenway National Recreation Trail in Athens. That was when I met Mrs. Lynne Hart and learned that KALB's director position was open. Soon after leaving the KALB office, enthusiasm began to grow within me at the thought of being involved in such work. Two hours after consulting Lynne about my service project, I texted her asking for another meeting. I laughed and said to my wife, "She is probably going to be thinking, 'What does he want now?'"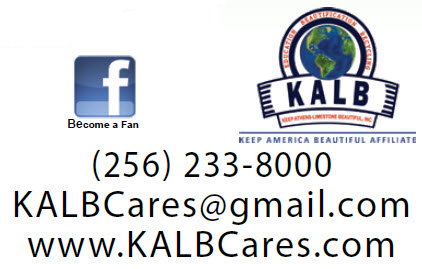 I felt like I had no time to lose. An exciting energy was swelling inside me, and I felt helplessly drawn to the call. It truly feels less like employment and more like a calling. I came to understand early in life that the kind of work I did was more valuable to me than whatever money I made doing it. I am honored to serve our community in this capacity and look forward to meeting many more of my fellow Athenians in the course of doing so.
My gratitude goes out to Mrs. Lynne Hart for the years of dedication and service that she has provided to us all in building this nonprofit into what it is today. Without the stalwart diligence of Lynne, former director Leigh Patterson, our esteemed members of the Board, and the trove of volunteers over the years, this noble cause would not be the pillar of the community that it is today. I am humbled to be entrusted with such public-spirited work and am determined to be worthy of building upon the legacy that is KALB.
So here we are, and first on the agenda is the legendary 22nd Annual Wacky Quacky Ducky Derby on October 8 at 4 p.m. at Big Spring Memorial Park in Athens, Alabama. As I have lived in Athens for many years, I am reticent to admit that this will be my first duck race. I will be surrounded by well-seasoned rubber ducky racers, so I guess I'll just have to wing it. Be sure not to miss the chance to wet your beak with the $2000 Grand Prize. Paddle your way across the pond to our office and adopt your rubber ducky racers today to take a quack at winning this or one of a long list of other impressive prizes graciously donated by our sponsors. If you are not free to waddle across the park, fly straight to our website (in V formation, of course) and adopt your ducky racers online at www.kalbCares.com. The more bills you enter, the greater your chances to roast the competition, and you just might get more than your canvasback. If all the ducks are entered into the race, I will promise to never make another duck pun again.
Check out Papa Murphy's $25 Quack Pack. Six ducks for the price of five, plus a coupon for 25% off any order from Papa Murphy's that never expires. Join the fun and support your environment in an exciting way. See you at the race! (Need not be present to win)
By: Benjamin Lawrence Bradley,
Executive Director Keep Athens-Limestone Beautiful