By: Ali Elizabeth Turner
Josh Winn is an Athens native, an Athens High School graduate, and is a member of the family that started Catfish Cabin. He grew up working in the iconic restaurant, and told me, "I did it all," which of course means everything from busing and waiting tables, to cooking, to cashing out, to cleaning, to any and everything involved in running the place. Josh was planning on getting his Doctor of Pharmacy  (PharmD) degree, and then an accident occurred that changed the direction of his life. Two friends were killed, and he promised one of their families that he would finish his education and make his life count. He chose to get a degree from Alabama in management/marketing instead of PharmD and graduated in 2006. He found that he loved marketing and numbers, then went to work with Wachovia. He was a credit manager, handled small loans, learned about mortgage, and endured the merger with Wells Fargo in 2008. He eventually became a retail branch manager.
Josh then oversaw and managed four PNC Bank branches in Tuscaloosa, but it was his time in Birmingham as a 30-year-old working for Ralph Lauren and managing a large young work staff that prepared him for the radical change in the American mortgage industry as it transitioned online. He joined Loan Depot, which is the largest provider of mortgage closures in the country.  Josh has had to learn to merge what on the surface appear to be two disparate approaches to making a huge investment — buying a home. He explained to me that because younger clients "buy everything online, including houses, they don't really want someone all that much involved. Contrast that with many other people who want and expect a high level of personal customer service, and you have Loan Depot. We are kind of a hybrid—1/2 tech, 1/2 old-fashioned service."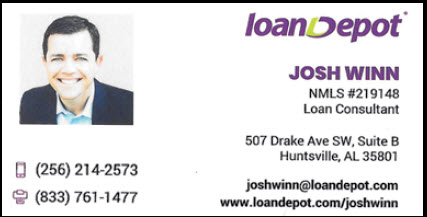 I have found over the years that the best mortgage loan officers are the ones who are committed to educating their clients about the buying process from start to finish and are the ones that generally get the most repeat business. That being said, how do you educate a client who may not understand that they need much education? By having online tutorials, and that is one of the things that makes Josh's website shine.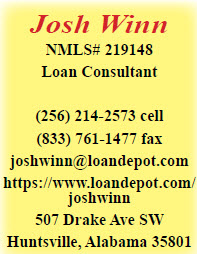 Josh's Loan Depot website, which is www.loandepot.com/loan-officers/joshwinn, has a section known as "the Knowledge Café," which covers such varied topics as what lenders are looking for in a buyer, how to decode all the unfamiliar terms and shorthand that show up in the paperwork, things to consider when buying a historical home or a vacation home, understanding the appraisal process, navigating multi-generational home buying/remodeling, and much more. There is an educational video that discusses all the approaches to financing a home. There is also a calculator for figuring out how much a mortgage or refinance is going to cost. On Josh's site there are also tutorial tabs for purchasing, their legal department, investing, refinancing, and more.
And, if you are not someone who wants to figure that website stuff out by yourself, you have Josh to help you buy a home "the old-fashioned way," and walk you through the process every step of the way. Josh is fierce with resolution when he says, "You can't replace good service."
It is apparent that Josh genuinely loves what he is doing, and when I asked him why I should come to him if I am looking to buy a house, here is what he told me: "I am trustworthy. In my heart I will do what's right. I will fight for my customers."
It is important to Josh for people to have an idea of who he is and what makes him tick as a husband, father, businessman, and believer. He greatly enjoys being autonomous in the planning and execution of his sales goals and strategies, and he likes that his job allows him to assist people in ways they might not be able to themselves. When he isn't working, Josh enjoys spending time with his wife and their son who was born this year. His hobbies include golfing, hiking, finding waterfalls, snow skiing, studying history, and playing with his three dogs and two cats.
Whether you are a young, first-time home buyer, or have owned several homes and want to safely explore the hybrid mortgage option with a professional who has your best interests in mind, then you need to contact Josh Winn today and let him help you the Loan Depot way.
By: Ali Elizabeth Turner