By: Ali Elizabeth Turner
Since before Limestone County came into being, the Isom family has been a vibrant part of our local heritage. Wes and Marlene Isom have been married 41 years this year, and the Isom Orchard fields and produce stand have been their life's work. The orchard stand is located at 24012 US-72, in Athens, and the U-Pick field is right across the road.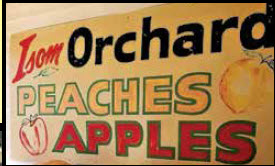 Wes grew up working the land that was purchased by his grandfather, and Wes has always felt like he was walking in his calling. Wes's grandfather, Edison Kent Isom, was born in 1889. He served during WWI, and bought his first parcel of land on what is now US Hwy 72 back in 1915. He purchased more land in 1933, a full forty acres for three hundred dollars! "Back then," Wes told me, "90% of the people always farmed." Edison Isom was also a generous man. Wes told me with a full heart that his grandfather always made sure that the sharecroppers that worked the land had the very best land to work, and Edison worked what was left over. The land was worked by mules, and the use of trucks came comparatively late. The Isoms used a book that was published by Auburn University that served as a guide for what could be robustly grown on the acreage without wearing it out. For generations, the Isoms have rotated crops, let the land rest, and have nourished and replenished it so that it yields nutritionally dense produce and preserves the soil. They recognize that they are blessed, need to be good stewards of what they have been given, and Wes's working philosophy is "We try to do the best we can." And, with a smile, he describes Isom's Orchard as "old and unimproved."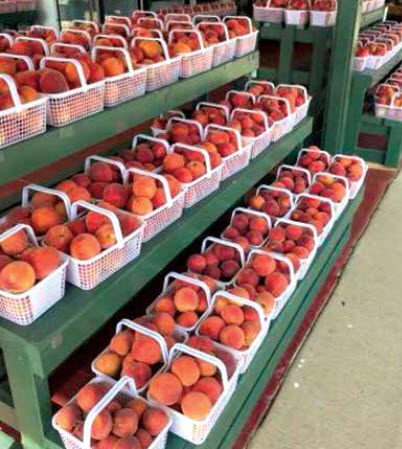 Joseph Isom spent some time working in the Mercury Space program mixing rocket fuel. He also started the now famous peach orchards in 1957, and the apple trees were added in 1966. Wes grew up working the orchards, and as a boy used to go hunting for arrowheads. He has always been interested in archaeology, but working the land and having the pleasure of growing beautiful fruits and vegetables for him is this side of heaven. Currently the Isoms own 320 acres, with 60 planted in peaches, 40 in apples, and the rest in all manner of fruits and veggies.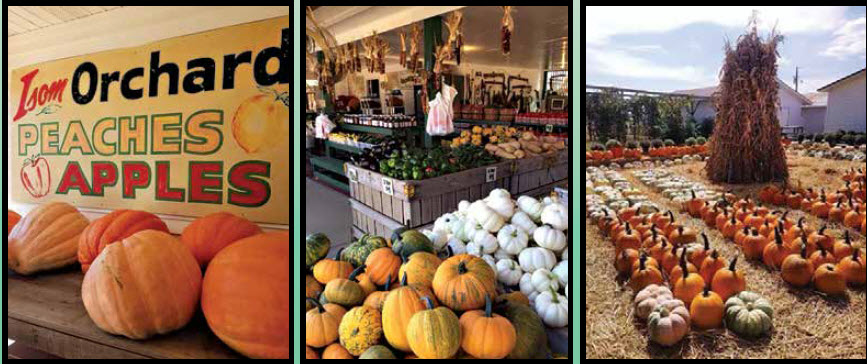 Wes gave me a bit of an "Ag" education as it pertains to peach trees and apple trees. I learned that peach trees last for 15-18 years, and they die from within while still looking healthy from the outside. So, it's necessary for trees to be started in a sequence so that when the old trees need to be taken out, there are new ones ready. Apple trees, if cared for well, can last up to 25 years. The best of farming techniques is no match for twisters, however. "When we had the tornadoes of 1974, we lost everything," said Wes. So, as farmers always do, they started over, and over  time, Isom's became the iconic local source of several types of peaches, strawberries, produce, apples, cider, local honey, homemade jellies, pumpkins, Martin gourds, grass -fed beef, and more recently, flowers. I asked Wes if he had a favorite crop to grow. He grinned as he told me, "Pumpkins." Isom's is still going strong in the fall, and since 1979, pumpkins have been an important one of their offerings as is the scarecrow contest. During the winter, the Isoms attend conferences on growing, trade shows, tend to the equipment, celebrate the holidays, and even rest a bit!

Wes and Marlene's son Kent is married to Brooke. They are in charge of the U-Pick fields, which are located right across the road, at 23615 US-72. Kent got his degree in agronomy from Auburn University, and has worked alongside of his father since he was just a kid. Brooke is a wonderful photographer, and supplied the beautiful illustrations for this article. Her passion for "making pictures" gave her the idea of planting a field of flowers that could serve as both an opportunity for people to come and pick their own flowers and to provide an outdoor backdrop for professional photographers to capture that perfect shot of or for their clients.
When Kent and Brooke started the flower field in 2015, they held a one-day U-pick event that paid for the cost of the planting. They started with sunflowers, have added zinnias and gladiolas, and every year the flower field has had added features that have made it the "go-to" place for "fresher-than-fresh" bouquets. Because Brooke understands that for the serious photographer the time of day, the angle of the sunflower, the weather, and available light can make the difference between a fabulous photo and one that is not-so-much; this year they have designated a "photographers-only field," and the sessions are reasonably priced. Reservations can be made by calling or texting Mary Alice Isom Blizzard at 256-777-5683. Mary Alice is in charge of marketing for both the orchard and the flower fields.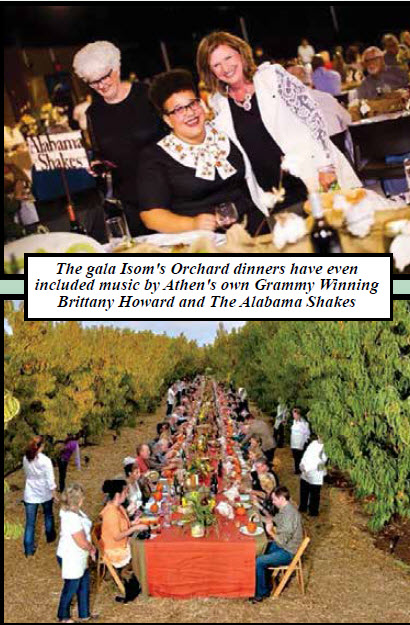 During the Summer of COVID, the U-Pick field provided a safe opportunity for people be outside and experience the life that is unique to growing things, and the life that is unique to building community. The sheer beauty of the fields certainly strengthened my heart, and it was a delight to see families together outdoors, even if they had to practice social distancing.
Kent and Brooke have hopes to eventually expand the U-Pick possibilities with regard to various fruits, and the recent abundance of rain may cause the flowers to bloom a bit early. The U-Pick grapes should be starting the third week of July, and Brooke said, "Please keep checking Facebook and Instagram to see our updates and announcements." You can park in the Classic Sign Works parking lot and safely walk to the fields.
The Isom family has always been involved in giving back to the community, and on two occasions they sponsored a gala fund-raising dinner that was held in the Isom fields. One such event featured the Alabama Shakes, and Grammy Award-winning Brittany Howard sang her heart out in the orchard. Marlene is also an avid quilter, and the Alabama Veterans Museum is the proud recipient of the Threads of  Honor Quilt, which was a huge, community quilting project that Marlene and several others produced to honor our veterans and raise money for the museum. Wes told me that they are considering the possibility of holding a 5K race on the property.
At 61, Wes is still climbing ladders in the orchard, and is dogmatic that he will continue to do what his crew does when it comes to work for as long as he can. "You've got to keep going," he said. Wes also surprised and delighted me when he said, "Everybody should have a garden at home. It's fun to watch things grow, and you get to see God's creation." You can come and see, sample, and purchase some of that loving creation every day from 8 a.m. until 6 p.m. now until the end of November. I need to warn you, though, there may be a line, and you'll be glad you stayed in it!
By: Ali Elizabeth Turner