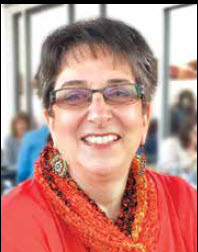 By: Lynne Hart
Well, here I am again!  I was recently told that I need to take a class in retirement because I'm doing it all wrong.
KALB has been in transition over the summer, and unfortunately we are in transition once again. You may see me or Marilyn Ford, who was office secretary here many years ago, in the office on occasion working to pull things together. We currently have no set hours of operation as we are working from the office and from home and juggling other jobs. Please call us if you need anything and we will accommodate your needs the very best that we can.
There is a lot going on and we are working hard to keep the organization moving along as seamlessly as possible. Here are some updates:
RECYCLING IN LIMESTONE COUNTY
The recycling center on Lucas Ferry Rd. is completely emptied and keys have been turned in. All of us at KALB would like to thank Keri Chalmers and the workers that remained to get everything sorted, moved, and cleaned up, and handling all of the loose ends. Keri has done a great job working with the County Commission to help them understand the recycling process and work toward the provision of recycling for Limestone County residents once again.
The County Commission has voted to move ahead with creating a recycling program in the county, which we are very happy about! Please be patient as the process of hiring someone to oversee the program and the development of the program will take a little while. Just know that it's coming!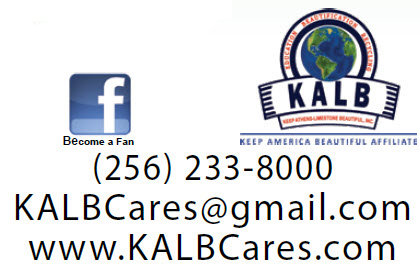 FALL FUNDRAISERS
Duck and Run 5K: Sadly, because of the transition in directors, the work necessary to hold this event was not completed. Therefore, the KALB Commission made the difficult decision to cancel the race for this year, and bring it back in 2023. It is important to all involved that we provide an exceptional experience for our runners, which could not be accomplished in the short amount of time available.
Wacky Quacky Ducky Derby: We are working our feathers to the bone getting everything ready for this important fundraiser. We are seeking sponsorship for the grand prize, additional cash prizes, gift certificates, and other fun things to give to the winners. If you would like information, we would be happy to email you a packet that will detail all sponsorship levels.
Membership:  Those of you who have paid your membership to KALB in past years may have realized this year's membership letter has not been sent out. Again, this is due to the transition and we are working diligently to get those letters out now. Please watch for them in your mailbox, or in your email box as we will also send out a newsletter with the option of renewing or establishing membership online.
LITTER CLEANUPS
We have information on some cleanups that were scheduled to happen in the near future. We will be making contact with organizers to confirm the information we have. Please feel free to contact the KALB office just to be sure we have all correct information available so we can provide you or your group with the supplies you need. We are happy to support any and all litter cleanups within Limestone County!
As always, the KALB Commission and all who are working in the office to hold down the fort have a great love for this organization and will do everything we can to keep things rolling until a new Executive Director is hired. Please continue to support the organization through your membership, sponsorship, and volunteerism.
By: Lynne Hart