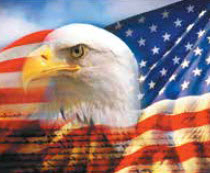 By: Ali Elizabeth Turner
Rick Roberson honorably served our country in Vietnam, and is a volunteer at the Alabama Veterans Museum. Recently, I had the privilege of sitting in Mr. Taylor's history class at Tanner High School the day before Veterans Day to hear Rick tell some most engaging stories about his adventures. But the "story of his heart" is not about his own life, it is about his grandfather who was killed in France five days before WWI was over, and I promised Rick I would tell that story here in the All Things Soldier column. Here it is, largely told in Rick's son Jonathan's words, which will be in italics.
USMC PFC Eulie Thurston Goolsby died in battle on November 5, 1918 and November 11, which we used to call Armistice Day, was the day that was supposed to mark the end of "The War To End All Wars." If he had only been able to live another five days, this story might be significantly different.
The beautiful cemetery in which Eulie is buried is known as Meuse-Argonne American Cemetery, and of the thousands who are buried there, General John J. Pershing said, "Time will not dim the glory of their deeds." Because their bodies never came home, in 1928 the U.S. government paid for families to go to France to visit the graves of their loved ones. However, there was something that no one knew about Eulie that his great-grandson Jonathan Roberson wrote on Memorial Day, and it is important to the Roberson family that our community (which is dedicated to being grateful to veterans for their service of any kind in any campaign) finally come to  know.
Jonathan's words:
On this Memorial Day, I honor the sacrifice of my great-grandfather who gave his life in service of his country in Champagne-Ardenne, France, November 5, 1918, just six days before the armistice that ended the Great War. I do this for the first time as, until recently, a deeply held family secret kept his identity and life history hidden from us. Now that the mystery has finally been solved, I'd like to share with you the story of a life cut short by war and the repercussions for those that survived.
This story begins for me shortly after New Years 2004, in the twilight of my Grandfather Roberson's life where, on his death bed, he revealed to my father that he had been adopted by James Thomas Roberson. He was adopted as a young child after his mother, Elizabeth Dupuis, married James sometime in the early 1920s. Of his biological father, my grandfather was only ever told that he died in the Great War and was discouraged from ever raising the topic. To me, this always seemed a convenient story told to a child born out of wedlock in 1917, but with little information to go on, it seemed we might never find the truth. How wrong I was. Now with the aid of DNA and a volunteer genealogist, we finally know his name: Private Eulie Thurston Goolsby, USMC.
Born 23 Aug 1899 in Blythe, Richmond County, Georgia, to parents William Fulton Goolsby (1860- 1942) and Harriet Ellen Whitaker Goolsby (1860-1931) Eulie was the youngest of five children and the only one not to live a long life. His older brother, George, was the last of his siblings to die at the age of 99 in 1994. Every other sibling lived to at least age 89. From what I've discovered, it appears the Goolsby siblings were successful in business, active in their community, and a tight-knit family.
More than 20 million others lost their lives in World War I. Many, many more survived but carried their wounds for a lifetime. I'm only now, 115 years later, learning the personal impact that war had on my own family. Today, I honor the sacrifice of those that gave their lives for our freedoms and pray that someday we will know a world without the scourge of war.
May God bless the Robersons for this story.
By: Ali Elizabeth Turner