By: Ali Elizabeth Turner
For more than 25 years, Roy and Gwen Williams have served the people of Alabama and beyond by making wholeness possible through supplements, education, cutting-edge services, and exceptional customer care. And for several years, it has been the pleasure of Athens Now to start off each new year by telling you how they can help you be your "best you." They have two stores, one in Athens at 622 S Jefferson St., and the NEWtritional Health Care Store located at 1861 US-72 in Killen. In short, they love us and it shows.
NEWtritional Health Care is the parent company for all of the patented supplements offered at both stores as well as online that have been developed through painstaking research and formulation. Roy has always had a heart to educate, and can be heard on WKAC 1080 AM as well as his own podcast. The radio show is broadcast on WKAC from 9 to 9:30 a.m., Monday through Friday, and the name of the show is Today's Health Update. Roy's show is also carried by WBTG AM and FM in Sheffield. The podcast is available on Podbean at NHC 19. In addition, they can be heard on the Facebook page, which is Herbs & More Athens.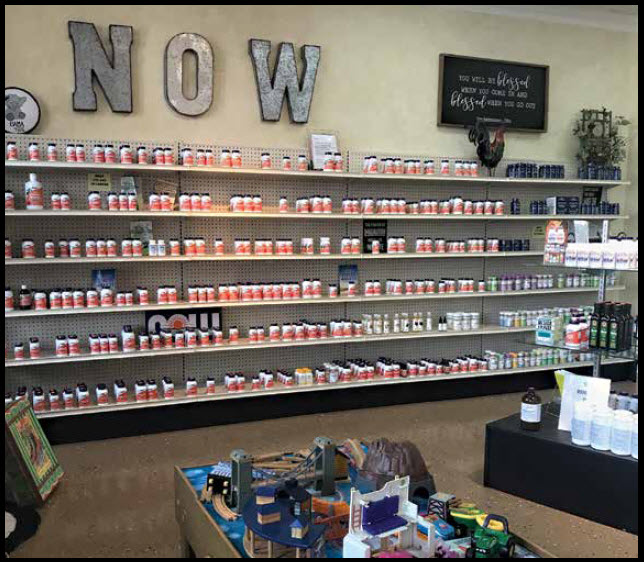 We are going to start off by talking about supplements, then services, then the Herbs & More/ NHC staff. I can speak from experience that all three categories are top notch, and am unapologetically a raving fan. The NEWtritional line features supplements that can help with everything from inflammation to your immune system. They have been developed over the last two-plus decades, and their online reviews are enthusiastic and touching. Both stores work tirelessly to live by the following premise:
NEWtritional Healthcare recognized our over-dependence on an understaffed and misguided health economy. Many times, people are given medicine to maintain rather than improve their quality of life. NHC strives to change this mindset. Better health is achievable and much of it grows naturally. We pride ourselves in a product that is far purer and more organic than many of our competitors. We don't strive to be the cheapest; we want to be the best. Thousands of our customers, from all ages and walks of life, benefit from our line of supplements that improve health from head to toe.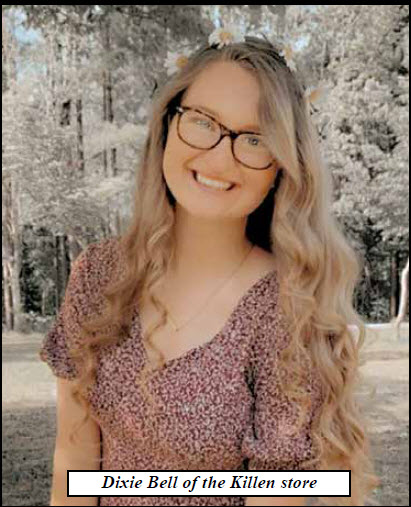 Herbs & More also carries an extensive selection of NOW products, from supplements to essential oils. The NOW line is a classic and can be found in most health food and even some big box stores. It was founded in 1968 with the mission statement and commitment "to meet consumer need for health foods by offering affordable, high quality natural products."

Roy speaks at length below about a product line that has become a best-seller because of its ability to harness what is known as subtle energy, which is an actual term used by the National Institutes of Health. Here is what he told me:
Over the last 3 years, Herbs & More and NHC Herb Shop decided to carry a new line of outstanding supplements by Positive Power Nutritionals. After being introduced to these products, I got to know the owner, Burt Golding and he agreed to start doing radio shows with me about their product line.
Talk about an impressive man with credentials of over 30 years in his field! Burt explained what has made his supplements some of the highest rated in the world. It is the first line that even comes close to our own line, NEWtritional Health Care. He teaches about how energizing his product line is because of the "subtle energy" frequencies they release in the body.
Subtle energy is what your body can use at a cellular level. This energy can be absorbed by living cells. Burt describes it as a friendly or healthful frequency that raises the electrical flow, allowing your body to maintain balance and gives your body the energy it needs to heal. For instance, their oldest and best-selling product, called Cell Power, delivers 13 million on the Bovis energy scale. In comparison, reverse osmosis water comes in at 6,500. Anything less than 6,500 actually depletes your energy levels dramatically.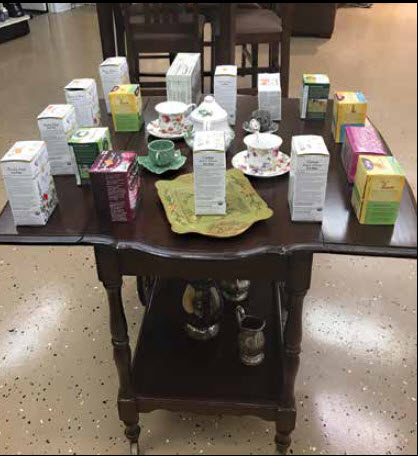 Some good examples to help you understand — natural vitamin C comes in from 7 to 10 thousand Bovis energy points. Fresh-picked ripe raspberries have the highest naturally occurring Bovis points at 26,500. Remember, when we consume any food or drink that is below 6,500 our energy levels are quickly depleted, which may explain why low energy is the number one complaint received in the medical profession.
During the past 71 years, Positive Power Nutritionals has provided products to the public; they have been able to formulate many that are now recognized as the highest on the Bovis Subtle Energy scale. Their highest ranked is their High Energy C-Complex 1250, which comes in at 115 million on the Bovis scale. It is now recognized as the highest of any supplement on planet earth.
Their Anti-Stress B-Complex Power 90 comes in at 4 million, the highest B-Complex on the market. Cell Power is at 13 million and Super Sicilia at 6 million. As you can see, Positive Power Nutritionals is one of the most successful supplement companies in America, and now you know why.
Herbs & More offers several alternative and complementary services. They include the use of an infra-red sauna, a BEAMER energy mat, foot detoxes, the Whole Body Vibration machine (which was developed to help astronauts who returned from floating around in the International Space Station regain their bone density,) and several types of massage (including deep tissue) by therapist Stacy Litchford. Stacy has had a highly successful practice in Decatur, and has moved her practice here.  Two people in the store told me that the massage she gave them was the best they had ever had, and Roy described her as — "Stacy is the one with the giving touch."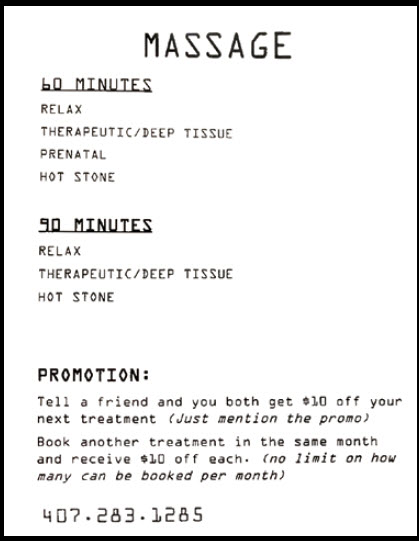 New to the Herbs & More lineup is the Prife ITera therapy wand, which combines heat with tera hertz frequencies. It empowers the body to detox, regenerate cells, increase blood flow, and reduce healing times. It sounds and feels like a blow dryer for your hair, and I can attest that it works.
None of the supplements or services would be able to do the job fully without a caring and experienced staff. Abbie Cooper and Shay Frost are on deck at the Athens store, and they go the extra mile to take care of everyone who comes in. "Casey Carnes has managed NHC HERB SHOP in Killen for 15 years. He is very knowledgeable about the NHC product line. Casey makes SURE NHC products are in stock! He's the silent one that holds us together," said Gwen. Dixie Bell also works at NHC, and she does emotional coding work. Gwen says, "This is a gift that Dixie has which enables her to get to the root of some ailments." Dixie also writes articles for Athens Now along with Roy, and you can read her Alternative Approach article in this edition. Gwen finished by saying, "Our services are important; they get people in the store. Product can be ordered online from anyone, but services have to be in person."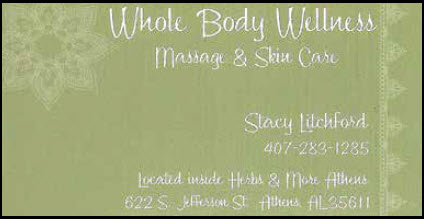 I would add that it is the "in-person experience" that has made such a difference for me. I go to the Athens store sometimes six days a week, and each time I walk in the door, I am treated like a family member by people with combined decades of nutritional experience. Over the years they have proven that they want nothing but the best for the whole of me. But don't take my word for it; read this common type of review about the Herbs & More staff, service, and supplements:
I can't say enough about these kind folks that own and operate Herbs and More. They are friendly and extremely knowledgeable about their products, and the human body. They sell quality products that are worth every penny. To name some items I would buy 100 times over: MSM+C, Floradix iron and herbs, and Feminine Factors; this last one literally saved my life and my marriage. Thank you, Roy and Seth for taking the time to talk to me.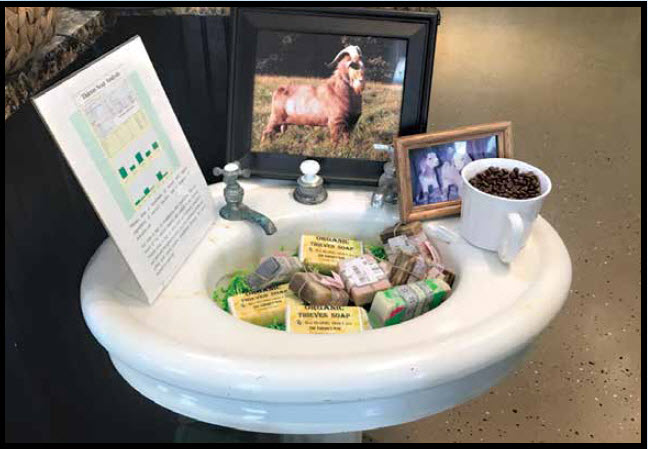 To learn more about their products or any other supplemental program, come by Herbs & More in Athens or NHC Herb Shop in Killen or call 256-757-0660.You can also check them out by going to www.nhcherbs.com, or listen to Today's Health Update on WKAC 1080 AM in Athens or WBTG AM and FM in Sheffield.
By: Ali Elizabeth Turner