By: Ali Elizabeth Turner
A year ago last May, Scott and Kim Barnhart closed the doors to a church in Huntsville that they planted in 2012, which was known as The Freedom House. It was not because of COVID. They had received new assignments from God and one of those was to prepare for revival and bring it to Athens. On the way to completing their Kingdom task, they went to Florida to have a custom-made tent made for them by a man named David Wine who had been born blind. When he was at an Oral Roberts Tent Revival as a young kid, he received his sight and the first thing he saw was the tent. Ever since then, David has spent decades making all kinds of tents for a living.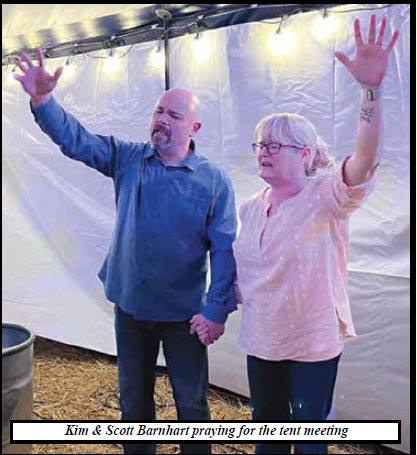 The next part of preparation was searching for a site, and the first "God Encounters Tent Revival" was held at the Sheriff's Rodeo site in January 2023. The Barnharts have felt that they should give people an opportunity to "encounter God" several times this year, so the next series of meetings will begin on Friday, May 12 and go through Tuesday, May 16.
For several weeks throughout the fall and winter, there was a "prayer-walk meeting" each Wednesday morning at 8 a.m. at the Sportsplex in Athens, where God was sought in order for the tent revival to be done His way, and only His way. Prayer was also for the city of Athens to break strongholds preventing real revival. Those have started back up, and the information for location is on Facebook at Walk & Pray Athens.
I can say from having attended the tent revival in January that the meetings were wonderful — a true drink of cool spiritual water in a hot desert. I personally saw lives touched and heard moving testimonies, and when I got together with Scott Barnhart for this interview, I got to hear more.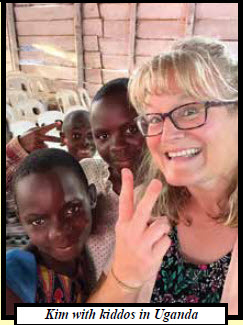 "Of course, our focus will always be on people getting saved and baptized," Scott said. Even though it was winter (and thankfully there was a heater), people who received the Lord had the option to be baptized immediately in what is affectionately known as "the trough." This is a portable baptistry that looks like it could be used to water livestock, but it is clean and gets the job done. Oh, the joy and the wet hugs!
Scott added, "And so much more happened in addition to that. Last time many came who had addictions and were set free," he said. "Several more experienced what we call 'inner healing' (a deeply personal encounter with Jesus, where wounds of the past are dealt with just between you and the Lord), and lives were changed," said Scott. Back in January, I joyfully watched while a woman who had been badly abused by her dad forgave him and then experienced the powerful and healing love of the Father. That memory still brings happy tears to my eyes.
However, there is something about a miracle that is medically documented by a doctor that carries a lot of weight, and Scott told me about a healing that no one knew about for a few days, including the fellow who was healed. A man had to go in for a job-related physical, which included bloodwork. This man had type I diabetes that had been insulin-controlled, and that fact was part of his medical records; no surprise to him or his doctor. After the examination, the doctor took him aside and said, "I know that this is not why you are here, but I want to tell you that you no longer have type I diabetes." To say that the man was dumbfounded was an understatement, because, as Scott then told me, "No one prayed for the guy! He just came to the service and found out later that he was healed!" "That's our God," I responded.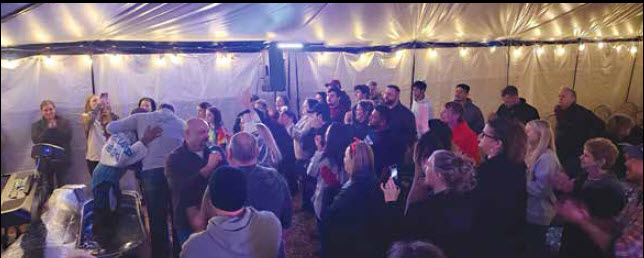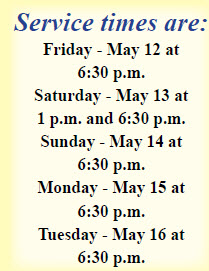 For the January event, people came from several states, including Tennessee, Mississippi, Georgia and Arkansas, and the Barnharts are hoping more states will be represented this time. They also wanted people to know that God is moving powerfully in Uganda, where they have established ten churches and an orphanage. If you are interested in sponsoring a child, please see the information at the end of the article to do so.
One of the blessings last time was how local churches came together to support and participate, and if you are wanting to help, you can go to www.GodEncountersTentRevival.com.
Scott mentioned that because the weather will be warmer and pleasant, there will be no heater, and the tent flaps will be drawn up so that it can be an open-air event. The site will be in Athens on some privately owned land located at 19837 Myers Road, Athens, AL. For directions and more information, go to the website and Facebook page below. See you there!
For more information about God Encounters Tent Revival, or if you are interested in becoming a partner, visit their website at www.GodEncountersTentRevival.com or email at freedomhousehuntsville@yahoo.com.
For information on Walk & Pray Athens, email Kim at freedomforthenations@gmail.com
If interested in sponsoring a child at their orphanage or the mission in Uganda, Africa, please visit www.thefreedomhouseafrica.com
Facebook: Walk & Pray Athens
By: Ali Elizabeth Turner