By: Ali Elizabeth Turner
In April of 2015, just a day after we celebrated the Resurrection, Chris Spain lost his two kids in a car wreck. His daughter, Erin, died at the scene, and his son, Peyton, was transported to UAB where he died the next day. The kids were students at Hueytown High School near Birmingham, and were on their way home from soccer practice. Thus began what Chris calls "The Gauntlet of Grief," which is also the title of his book that has just been released. Gauntlet is now available at Frame Gallery of Athens as well as on Amazon. It is raw and conversational. It is real, challenging, and has surprise touches of humor. When you read it you feel like you are sitting across the table from Chris, and it's a conversation that will deepen your faith or perhaps give it a swift kick-start to rev it afresh.
By way of back story, Chris was a single dad, and had had sole custody of the kids since they were little. Next to God, they were his whole life, and in a moment, they were gone. The book is the blow-by-blow account of Chris's wrestling match with everyone from God on down during the first two years after he lost the kids, and has been described by one reader as "heartbreaking but inspirational."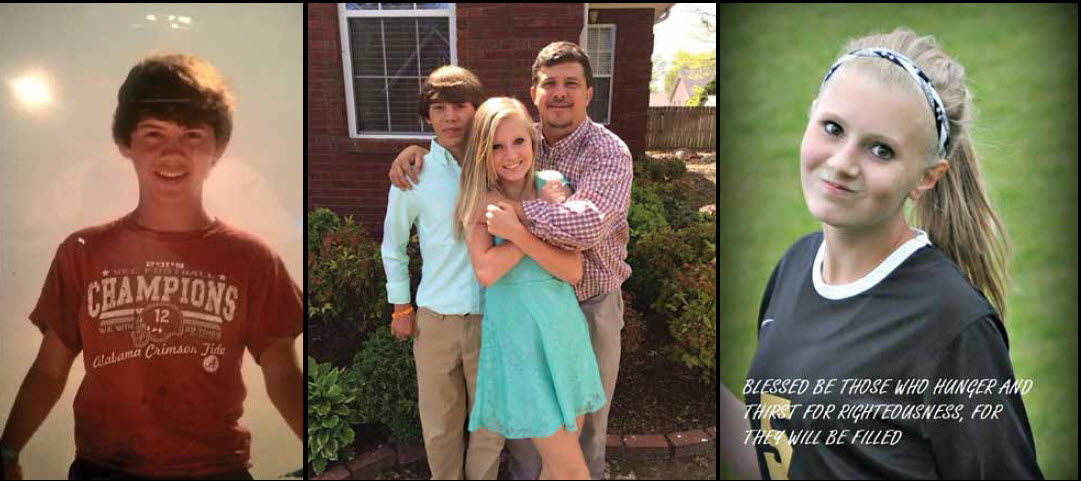 Chris Spain is now married to his former high-school sweetheart, Tracie. They had just re-connected via Facebook after many years. Both were single parents, they had dreams of building a blended family, and those dreams were shattered in a moment. Recently, when I had Chris on my radio show, I asked him a question to which I already knew the answer: "Would you have made it through without Tracie?" He slowly shook his head and said, "No, probably not." Tracie was not the only one who pulled Chris through the unthinkable, and she continues to support him as he still "walks the gauntlet."
It's time to introduce "the Hedge," the term of honor and affection that Chris gives a group of five that surrounded him like the Secret Service around any American president moving through life and needing protection. They were comprised of family and childhood friends. They never left his side, and in addition to Jesus and Tracie, they gave him what he needed to survive, stay sane, and deepen his walk of faith when the Valley of Death was more than a shadow.
A tragedy like this is mind-blowing, heart-blowing, spirit-blowing, and soul-blowing. What made it even more intense was that it also became a media event, and there was nothing Chris could do about that. There were media crews at the hospital, at the funeral, at the high school, and it was the Hedge that was there as well.
In the blur of that time, Chris found strength from on high to comfort the kids' friends, speak at the high school, speak to the soccer team, and painstakingly, when it was time, give away some of their trinkets and treasures to friends who would appreciate them. Chris also got to experience actual life in the midst of devastating death.
Peyton was an organ donor, and later Chris got to meet the young man who now lives because Peyton died. He not only met him, but his family and his church family as well. They worshipped together, cried, prayed, and laughed together. Chris and Jamal know in an uncommon way that we are all of the same blood, and Chris knows that if he ever needs prayer or needs anything, for that matter, they are an extension of the Hedge.
In the years since the death of the kids, Chris and Tracie married and purchased Frame Gallery of Athens. On Sunday, August 13 at 3 p.m., they are hosting a book signing at the shop, which is located at 125 S Marion Street in Athens, just off the Square, and you can get a chance to experience the good that has ultimately come forth from the unthinkable.
What is some of that good? First of all, Chris passed a fierce test of obedience. He knew he was supposed to write a book, and it was the last thing he wanted to do, but he did it. He already has fruit from that decision, with more to come. He has been referred by other counselors to people who are going through their own "gauntlet," and he has been able to be a part of their "Hedge." What's ahead? Chris told me recently, "God has been sending a lot of people to us that have lost their children. We want them to know they are not alone. I don't know if He is after me next to start a support group, but it looks like He's sending me down that road." I know this because I know Chris — "What the enemy meant for evil, God meant for good." And, that good is just getting started. Buy Gauntlet of Grief. Read it, soak it up, and give away what you experience and maybe buy it for someone else. The Spain kids and all of Heaven will thank you for it.
By: Ali Elizabeth Turner