By: Ali Elizabeth Turner
In 1818, during a period known in secular and church history as the Second Great Awakening, there was a revival that drew 4,000 people to Athens during the summer for what became known as a Camp Meeting. The location, which is on Cambridge Lane about a mile south off of US Hwy 72, is marked by an official National Historic Society metal roadside sign, and the church is part of what is known as the Hallelujah Trail, a collection of churches in the South that go back for centuries and are still going. However, the sign is inaccurate in that it says that what happened there has essentially faded into memory. This Methodist church is anything but a historical relic, and its pastor, John David Crowe, has a burning vision to see "Christ in every heart, wholeness in every life, the power of the Holy Spirit and people involved in active ministry."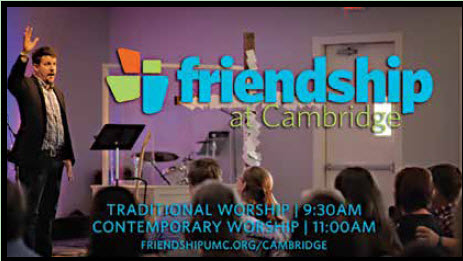 John David entered the ministry 20 years ago and has been involved in both denominational and non-denominational ministries in his native Alabama as well as in Texas. While he never saw himself as a pastor, he did feel called to the ministry, and "learned how to do it all." For several years, he ministered at Friendship United Methodist Church essentially as a "guy Friday." He has led youth groups, worship, driven the bus, run the sound booth, cleaned toilets, and is also in demand in our area as a videographer. He is someone I would describe as "excellent in the Word and Spirit." He and his wife, Jessica, are also bereaved parents, having lost a young son, Noah, to a rare form of cancer. John David is quick to say that this community walked with them through that valley of weeping, and as a result, I would say that unusually great compassion has been worked in both of them. Jessica is involved in the Women's Resource Center in Athens, and both of them have a heart to see people restored and walking in their God-designed purpose.
Friendship Church took over the historical site at 14004 Cambridge Ln, Athens, and built a new building adjacent to it right in the middle of the pandemic. Right now, there are two worship services held on Sunday: a traditional one at 9:30 a.m. and a contemporary service at 11 a.m. On the first Wednesday of every month, there is an all-church worship service, and the other weeks are allocated to the youth ministries group.
In 1940, the Cambridge congregation built an addition that is perpendicular to the 1874 building, and it has been remodeled to accommodate the younger members of the congregation. One of the things about which John David is most excited is the trail that goes through the woods and encircles the building. "I'm of the belief that there are times you need to get out of your prayer closet and into nature, and my desire is that people who choose to walk here and pray will encounter the Holy Spirit," he told me.

John David is one who understands the value of intercessory prayer, and the first Saturday of every month there is a morning prayer meeting that is dedicated to seeking God for revival in Athens, for our country, and for the advancement of the Kingdom as directed by the Holy Spirit. Other ministries at Friendship at Cambridge include DHR-approved supervised visitation for parents and children who are rebuilding their relationship, men's and women's ministries, small Life groups, and more. Earlier this year they had a tent service and music ministers from Lee University came to provide the worship.
Another thing that is important to John David is that the grounds be beautiful, and I can tell you, they are, all year round. "People have volunteered for everything, including keeping the grounds up, and I am grateful for their hard work," he said. I can say from experience that there is something quite special about the Cambridge location. After we finished our interview, I stayed for a while and spent some time swinging on an old-fashioned style swing that hangs from a monstrous oak that has to be as old as the 1818 revival. I found myself imagining what it was like to have 4,000 people there for weeks at a time, and I know that the only way a Camp Meeting of that magnitude can happen is if people become hungry for God's Word, God's Spirit, and a desire to seek the Kingdom, irrespective of the cost. If this is what you are looking for in a church, come to Friendship at Cambridge. You will be welcomed warmly.
By: Ali Elizabeth Turner