By: Ali Elizabeth Turner
It has now been two years since Friendship At Cambridge had their first service at the location of one of the most powerful revivals of the 19th century's Second Great Awakening. The congregation has embraced ways to serve the community that have included building a prayer garden and walk which I have personally experienced as reflective and refreshing, along with partnering with other churches for cross-congregation services, community outreaches, a tent revival, and more.
Recently the congregation, which is pastored by John David Crowe, decided to start an Upward Football and Cheer program, and the doors of provision to make that happen have opened widely. "The church needs to get out of the building," John David told me. He is personally bothered by the fact that the lion's share of peoples' tithes and offerings go to church property and not the gospel, and he also knows that these days, presenting the gospel is akin to what the Apostle Paul meant when he said to be "all things to all people." You have to find ways to get the Word out that perhaps are not through the use of traditional methods. Sports are huge, especially in the South, and Upward is a way to have a clean and safe place for kids to play sports, and "They and their parents get to hear the gospel every half-time," he said.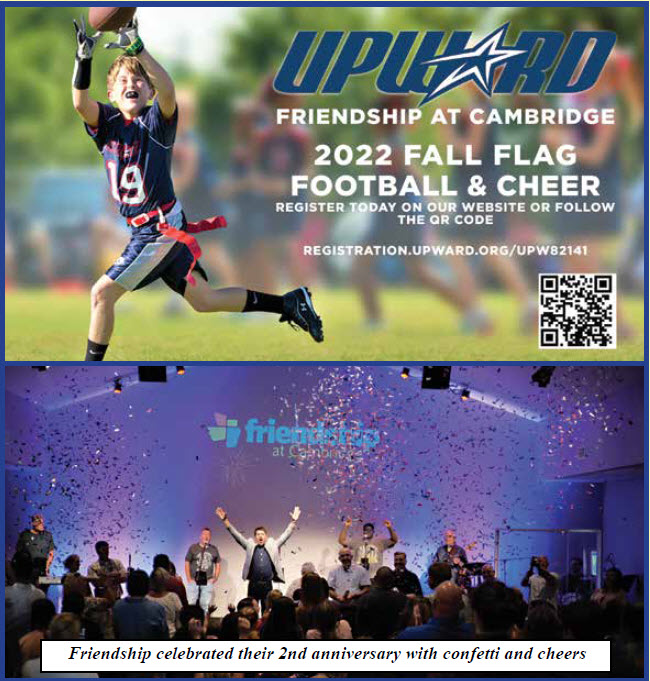 By way of background, the Upward organization has this to say about who they are and what they do:
Founded in 1995 out of a church in Spartanburg, South Carolina, founder Caz McCaslin had a passion for sports and a deep desire to reach his community. He created a sports experience that met the unmet needs of children and their families, focused on the sports experience and sharing the love of Jesus Christ. This vision for one community quickly grew into a team of individuals committed to supporting churches everywhere to maximize their unique resources and personalities to serve and meet the needs of their communities.
Today, there are over 2,800 Upward sports experiences across the U.S. serving hundreds of thousands of young athletes playing basketball, soccer, cheerleading, volleyball, and flag football. What began as a local, recreational basketball league focused on reaching the surrounding community with the message of Jesus Christ has grown into a nationwide movement helping churches use sports to engage their local communities with the gospel.
Several churches in the Athens-Limestone area have offered Upward to their congregations for years, and Friendship At Cambridge felt they needed to get involved as well. "We may be in our front yard, but at least we are out of the church building," John David chuckled. The decision to do Upward set miracles in motion. For example, the contractor who was doing the "dirt work" at Friendship was contacted by Buckee's right when dirt was needed to finish upgrading the Friendship field, and Buckee's donated several thousand dollars' worth from their new facility being built on Lindsay Lane South. All Friendship had to do was move the 260 loads of dirt, and that effort was donated.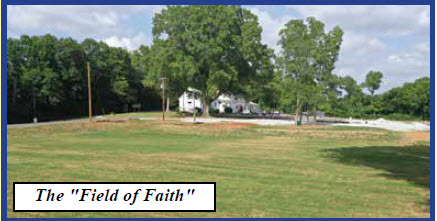 A couple by the name of Clark and Crystal Cook were building a home at the end of Cambridge Lane, and felt drawn to Friendship At Cambridge. They made it their church home, and coincidentally, Clark has extensive experience running Christian sports camps. Clark heads up I AM Sports Mission at Cambridge.  On and on it goes, and this is consistent with the kinds of things that have happened at Friendship At Cambridge from the get go.
Future plans include an enclosed playground that younger kids can use while parents watch their Upward children play flag football or cheer. Friendship also wants to add a soccer team to the Upward ministry opportunities. They are going to hold a tent revival in the fall on the original historical site with faith that revival will occur there once again.
"We aren't building a Field of Dreams," said John David, "we are building a Field of Faith, and we want to be excellent stewards of what we have been given in all that we do." It has been the testimony nationally of the Upward organization through the years that parents as well as kids who would not otherwise consider darkening the door of a church receive ministry that results in them making decisions to follow Christ, and that is what it is all about! If this is something in which you want your child to be involved, then go to iamsports@friendshipumc.org to register. Early registration for both programs ends on June 30.
By: Ali Elizabeth Turner