By: Tracie Spain
Frame Gallery's featured Artist of the Month is award-winner Reesa Pearl Milam. Her framed work will be for sale in our showroom from now through the end of December. Reesa has had other shows with Frame Gallery over the years and this show in particular is inspired by different genres of music and scripture from the Bible. She says that is what inspires her to do her art. Her new style of art, "the new abnormal" as she calls it, is a vast array of whimsical drawings to add to her other etchings and art that are for sale in the store. We hope you will come by and look and purchase some of her incredible artwork. All of her new works are originals and one-of-a-kind. These pictures would make unique gifts or would be great in a special place in your home.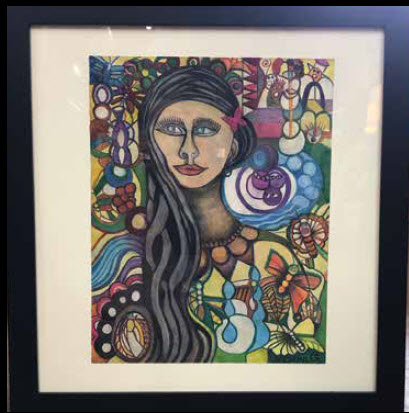 A little bit about Reesa – She was born in KY with her family settling in North AL in 1972. She attended Ft. Payne High School and at that time, the school did not offer art or music classes. She made sketchbooks of the Lookout Mountain area and was given the honor of co-editing the student scripts which sparked her passion for photography and graphic images.
Reesa moved to Huntsville, AL, and attended college at The University of Alabama Huntsville and graduated Honor Scholar in Art/English. She also attended University of Missouri/Columbia for a special art study while pursuing her degree at UAH. Her junior and senior years she worked as Art Gallery Director at UAH where she designed displays and helped with exhibits and advertising.
Reesa is skilled in most art media except for the newer technologically-based modalities. She has a very wide range of experiences which include photo/etching, etching, stone lithography, woodcut and linoleum cut, and silkscreen printmaking.
After graduation Reesa was in a number of juried and non-juried shows all over the U.S. She won many awards in the early 1980s for visual statements which focused on shows dealing with women's issues. Her award winner, "I Stayed Home With Mine," was highly favored in many shows as speaking to a range of contemporary women.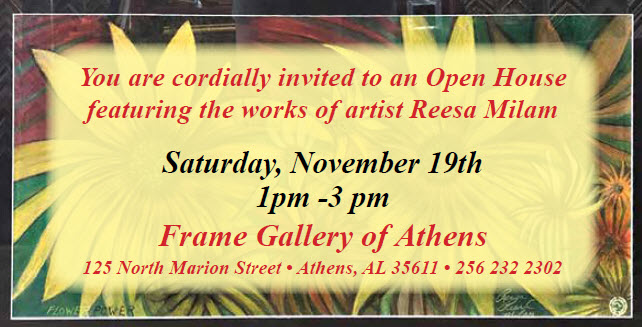 In 1988, Reesa was featured in a political art show which was at Highland Gallery Atlanta. She has been in international-juried print exhibitions ranging from University of Montevallo to Traveling Portfolio along with the Matrix Gallery in Chicago. She has given several demonstrations at museums, schools, and civic organizations. Her work has been displayed in Decatur's Second Street Gallery; Adrian Ford Gallery in Florence, AL; and Maralyn Wilson Gallery in Birmingham, AL, to name a few. She has been in many local exhibits including Panoply in Huntsville, AL, and The Old Time Fiddlers' Convention here in Athens, AL. She also has two different pieces of art in permanent collection at the Huntsville Museum of Art, which is shown often in their gallery. Her artwork has been featured in various newspapers and magazines, and we are honored to have her with us at Frame Gallery.
Frame Gallery of Athens would like to invite you to an Open House featuring the works of Reesa Milam that will be a part of the 36th Chamber of Commerce Christmas Open House festivities later this month. The Open House will be held on Saturday, November 19 from 1-3 p.m., and the public is invited. The artist will be on site, and her pieces will be for sale.
Reesa has always been appreciative of the support she has received from the people of North Alabama, and indicated to Athens Now that she wanted to especially thank Tracie and Chris Spain, the owners of Frame Gallery of Athens for making this Open House possible. "I couldn't possibly do this by myself," she said. She hopes you will take time during the Christmas Open House on November 19 to come and see if what she has created is waiting for its new home, your home. All are welcome, and we shall see you then!
By: Tracie Spain