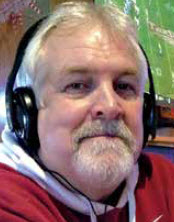 By: Tim Lambert
Congratulations to James Clemens' Jack Mitchell and Gracee Prince for signing golf commitments to Alabama and Calhoun. The Jets' Colten Payton and Andrew Lawrence signed with Wallace State and East Tennessee State baseball. Luke Davenport will play baseball at Auburn. Elkmont's Mykell Murrah is also on his way to Wallace State for baseball. Lindsay Lane's Max Morrison and Ray Anderson signed with Calhoun and Northwest Shoals Community College baseball teams respectively while Lindsey Murr is headed to Blue Mountain College to play basketball. East Limestone's Lily Hosmer inked with UNA soccer and Shauna Fletcher signed with UAH basketball. Athens High's Nolen Wolfe is going to Samford to continue his golf career.
James Clemens' Jamal Mayers and Gio Lopez were chosen to play for the North All-Star football team. The annual North-South game will be played on December 16 at Hancock-Whitney Stadium at the University of South Alabama in Mobile.
Football and volleyball wrapped up for local teams. Athens ended their year with a gutsy 32-31 come-from-behind victory over Russellville. East Limestone put the wraps on their regular season with a 45-6 win over Mae Jemison. The Indians were defeated in round one of the Class 5A playoffs by Arab 54-14. Athens Bible School swept Brilliant in round one of their Class 1A Super Regional volleyball tournament; the Lady Trojans advanced to play Meek where they were eliminated. Athens blanked Huffman and moved on to a meeting with Mountain Brook, who took out the Lady Golden Eagles. Clements lost to Danville, James Clemens fell to Hoover and Lindsay Lane beat Westminster-Oak Mountain and Holly Pond to advance to the semifinals with Pleasant Valley, who defeated the Lady Lions; Lindsay Lane topped Fyffe in the third place match to qualify for the state tournament and were eliminated by G.W. Long in round one.
At sectional cross country meets, Athens Bible School's Jack Bradford finished third in 1A-2A boys; the Trojans also came in third as a team with the girls placing second. Elkmont's Alex Kuntz was second in 3A boys and Clements' Emma O'Connor finished third on the girls' side. Athens High's Catherine Johnstone was runner-up in 6A girls. James Clemens' Luke Alverson and Kylie Gero were second-place finishers in 7A boys and girls as both Jets teams also were runners-up. The Ardmore boys came in second as a team in the 5A meet at Scottsboro. At the state meet, Elkmont's Alex Kuntz posted a third place in 3A boys. James Clemens' boys were fifth in 7A, led by Luke Alverson's tenth place finish; the Lady Jets were sixth with Emma Bothern finishing 12th. Ardmore's boys were seventh in 5A. The ABS boys came in eighth in 1A-2A, with Jack Bradford finishing 12th; Destiny Burns and Kaylie Key placed sixth and seventh for the sixth place Lady Trojans. Lindsay Lane's Sydney Perkins was 15th in 1A-2A girls. Athens High's Catherine Johnstone also came in 15th in 6A girls.

The Calhoun women's basketball team dominated Motlow State 100-43 in the school's first game in 21 years. In high school action, James Clemens' girls topped Central-Phenix City 43-38. Against Grissom, the Jets held off the Tigers 49-47; the Lady Jets had an easier 64-36 victory. Lindsay Lane's boys held off Clements in overtime 53-47, but the Lady Colts ran to a 63-33 victory. Lindsay Lane's girls were 53-24 winners over Oakwood Academy. James Clemens' boys got by Sparkman 49-46. East Limestone's varsity boys beat West Limestone 54-51 while the Lady Indians also won 48-32. The Lady Indians also came out with a 61-55 win over Priceville. West Limestone's varsity girls knocked off Brewer 55-38 and Moody 43-38. Elkmont's girls came up short to Rogers 49-45. Tanner's boys beat Clements 65-54, but the Lady Colts galloped to a 76-18 victory. Ardmore's boys turned back Athens 48-33; the Lady Golden Eagles got by 45-42.
Lindsay Lane bowling teams defeated Westminster.
By: Tim Lambert
Tune in for the PlayAction Sports Update, three times each weekday on 1080 AM WKAC.
Visit us online at www.pasnetwork.net! email: playactionsports@hotmail.com