By: Steven Bates and Sandra Erickson
"Everyone has a story!" says Darlene Hartman to the local writers' group bi-weekly meeting at the historic Houston Memorial Library. Darlene, also known by her pen name Simon Lang, is a prolific writer who loves sharing her knowledge, creativity, and guidance to nurture talents of other aspiring writers in the community.
Darlene, 88-years young, has her own amazing story. As a young girl, Darlene didn't let early onset juvenile arthritis or her wheelchair use slow her down. Darlene and her husband not only had 6 children of their own, but adopted a total of 14 more! Even with her love and time invested in 20 children, 42 grandchildren and 20 little 'angels,' Darlene has written novels, essays, articles, and much more. She has traveled around the country as a motivational speaker on subjects such as "Raising Handicapped Children," "Fun with Sign Language," and "Teaching the Unborn." She was an artist-in-residence at a magnet school in Orlando, Florida. By her own words, she is a "Eucharistic Minister, a gourmet cook, Master Gardener, artist, non-stop talker, and award-winning writer" but "does not do floors or windows."
In the comfort of the historic Houston Memorial Library, Darlene guides writers of various ages, backgrounds, and genres to share their experiences and exchange ideas as writers. Darlene, with the help of her daughter, facilitates the sessions, ensuring everyone has an opportunity to participate and feel welcomed. This group meets bi-weekly, giving members ample time to write and revise their pieces before sharing them with the group.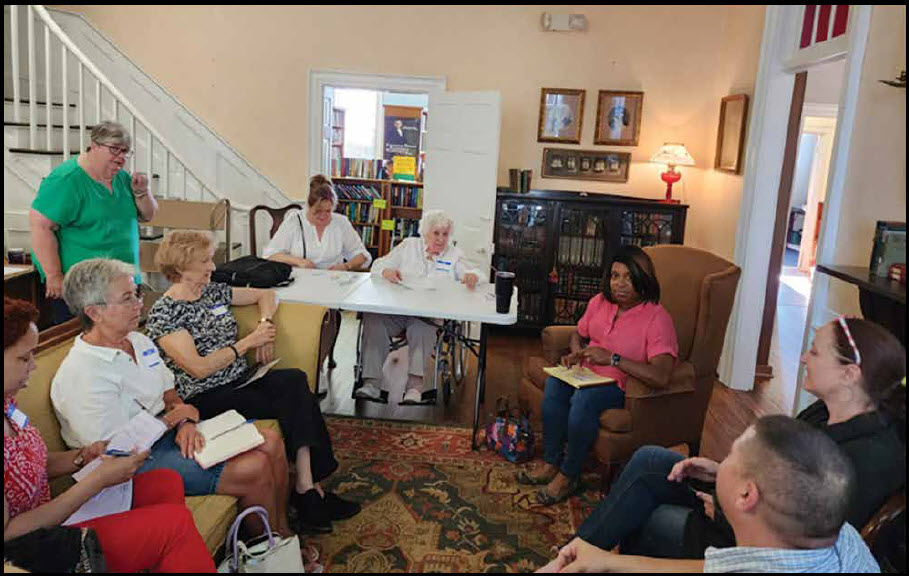 "God doesn't give two people the same story to write," said Darlene. Darlene's dedication to nurturing the next generation of storytellers and fostering our writing community is already leaving a lasting impact on the members. Perhaps this new group of budding writers will produce the next Hemingway, Steinbeck, or perhaps even another Simon Lang! Any aspiring writers interested in joining the group are welcome. Meetings are every other Thursday night at 6 p.m. at the Houston Memorial Library, 101 N Houston St, Athens. The next meeting will be on August 10, 2023.
By: Steven Bates and Sandra Erickson