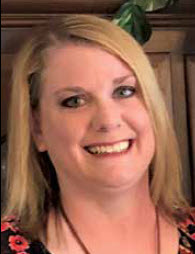 By: Leigh Patterson
Limestone County is a beautiful place to live, isn't it? Our waterways definitely add to that beauty. It is a such a shame when the careless acts of some take away from that beauty.
Litter is one of the things that can make an otherwise lovely area look more like an eyesore. People carelessly throw out their trash onto roadways, lands, and near streams and rivers. Even if litter is thrown out nowhere near the Elk or Tennessee Rivers, it can still find its way there by wind or water blowing or washing it into ditches and sewers, which lead to streams, creeks, and eventually one of our rivers.
We need to have a better understanding of how litter moves, and how something that is thrown out carelessly affects more than just the spot where it was thrown down. These items do eventually end up in our rivers and can even reach the ocean. We need to take better care of our waterways. The Elk River is one of our main sources of drinking water here in Limestone County, and we need to care what ends up in it!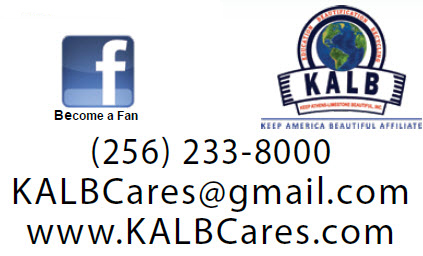 As part of our yearly Trash Attack series, we are planning to spend time cleaning up the Elk River and surrounding public lands, and we would love for you to join us! KALB invites individuals, families, businesses, groups, and organizations to help us with this effort. Volunteers will meet on March 12 at the Hatchery Road Boat Launch off of Hwy 99 in West Limestone at 8 a.m. to check in, and to pick up supplies including litter grabbers, gloves, vests, and trash bags. Refreshments will be served at check in. After picking up supplies, volunteers will then disburse to different areas along the Elk River to clean. This is a great opportunity for those needing volunteer hours to get out and make a difference in our community. See below for event details:
KALB'S ELK RIVER CLEANUP
DATE AND TIME: Saturday, March 12 from 8 a.m. to noon. 
LOCATION: West Limestone – Hatchery Road Boat Launch off Hwy. 99 in West Limestone
SPONSORS: We are grateful to Tennessee Valley Authority (TVA) for their sponsorship and support of this event. We are also thankful for the support of Keep Alabama Beautiful in partnership with the Alabama Department of Transportation.
BREAKFAST:  Donuts and coffee provided to volunteers at 8 a.m.
LUNCH:  Lunch will be provided to volunteers at noon.
REGISTRATION:  Please email KALB at KALBCares@gmail.com or call 256-233-8000 to let us know you will be participating. This information is helpful to ensure we have enough supplies and provisions for breakfast and lunch. Registration is not required to participate; however, is helpful to organizers.
HOLD HARMLESS:  All adult participants must sign a Hold Harmless Agreement which will be available on the day of the event. All participants under the age of 18 must have a Consent Form and Hold Harmless Agreement for Minors signed by a parent or legal guardian. All minors must be accompanied by a responsible adult.
SUPPLIES:  Trash bags, gloves, vests, and litter grabbers will be provided by TVA, KALB, and KAB. Gloves will be available, but participants are encouraged to bring their own. Participants may bring rakes, shovels, chains, waders, and other equipment, if desired, to help remove difficult debris.
PROPER DRESS:  Participants should wear long pants and footwear appropriate for the work to be done. No sandals.
WATERCRAFT:  Boats, canoes, and kayaks are welcomed to help remove litter from the Elk River and other waterways as appropriate. All required safety equipment must be on board.
Contact KALB with questions by calling 256-233-8000 or email KALBcares@gmail.com.
By: Leigh Patterson
Executive Coordinator – Keep Athens-Limestone Beautiful