By: Ali Elizabeth Turner
After the 2014 tornadoes that wreaked havoc in the western portion of Limestone County, Matthew Williamson and the crew from District 3, with whom he served, worked around the clock running chainsaws to clear trees, clean up roads, and check for anyone who might be trapped because of the twister. For their part, the storm had struck so close that they found it necessary to hole up under a bridge, wait it out, and then get to work. He still remembers how loud the storm was as it came through.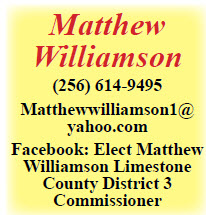 Now, you might not think of the guys who typically build and repair roads as having tree service be a part of their job description, but they will do whatever it takes to make sure we can get around the county — storm or no storm.
"I grew up on a 1200-acre farm, and farmers are friends who help people out," Matthew told me. He is a fourth-generation farmer who still farms row crops. A native of Ripley, Matthew graduated from Clements in 1997, where he played baseball, basketball, and golf.
In 2005, Matthew received his Associate of Applied Science in Aerospace Technology Structures and Technologies and worked as a DOD contractor for ten years on Redstone Arsenal. He taught soldiers how to launch Javelin and TOW missiles. But, as much as he loved being able to help defend our country and equip warfighters, he knew that it was time to change careers.
"All my life, I have loved heavy equipment, and being raised on a farm, we always had to grade roads and put in gravel," Matthew told me. During the ten years he worked for Limestone County on the road crews, he learned the importance of having the suitable materials and equipment to get the job done right the first time. It is undoubtedly frustrating for the workers and the taxpayers to have repairs made repeatedly in the same spot when a few adjustments in the mixture could make all the difference. Those are some of the things Matthew will address if he gets elected.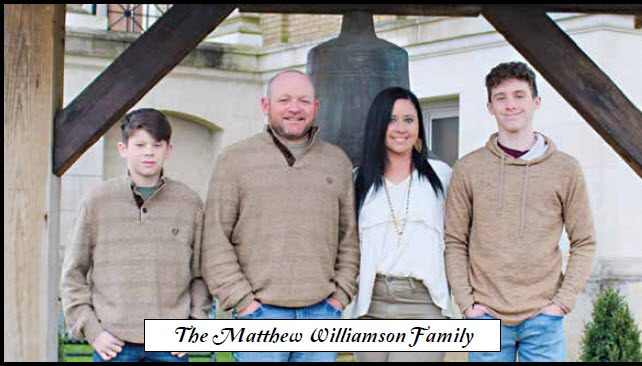 Matthew is married to Daphne, and their two sons, Cam and Chevy, attend Clements High. He told me something I had never thought of, and that is how easily a school bus can hit a pothole and end up in the ditch. "I want kids to be safe on the roads and to be able to get to and from school in one piece. I want them to have a decent place to go to school, and part of that is having good roads."
Another part of being a commissioner is making sure that first responders have safe roads to handle heavy trucks.
To run for Limestone County Commission District 3, Matthew had to retire from the road crew. So last February, he began to work for Grayson Carter & Son Contracting Inc., and while he was already experienced, Matthew has learned things about asphalt mixes and road repairs that he hopes to bring to District 3. All asphalt is not "created equal." It takes a trained eye and someone who understands soil, rain, and asphalt to keep the roads "running." "I will try to get a better mix that seals up and make sure that the base of roads is repaired first and not just put a patch over it," he told me. With Matthew, the word "infrastructure" is not just trending; it is a requirement for a county to run well.
Matthew knows that both the people and their money deserve respect and has pledged to keep his district in a shape where transparency and accountability are the rules and not the exception. He also knows that students need vocational training and opportunities to learn with changing technology. When I asked him why he was running, he replied, "For the love of the community." He added a qualifier when he said that it is "all about the work and the workers." "I am not afraid to go to Montgomery to fight for what we need to do the job, and I have the experience to show them what we need," he said. Matthew added, "I am a native; this is my home, and I want to make it even better." He respectfully asks for your vote in the May 24, 2022, Limestone County Republican Primary.
By: Ali Elizabeth Turner