By: Ali Elizabeth Turner
Blake Williams, founder of Blake Williams Communications, is offering a service to all who are intimately familiar with the business benefits of social media, and he calls it "spring cleaning." As someone who usually confines the practice to doing a deep dive, digging out my garage rather than my occasionally dysfunctional digital world, I chuckled at the use of the term, and asked Blake what he meant. "Spring is the time when people react," said Blake. He further explained that "This is when things get moving again, new life is coming, and everyone wants a fresh start after a long winter. That applies to social media, too." For those of us who were not born with texting thumbs, the idea that someone can successfully arm wrestle with algorithms, understands branding as well as market trends, and can keep their sanity (as well as yours) cheerfully while they do deep digital cleaning is a welcome relief in the 21st century. It can also increase your business's bottom line.

For those of you who may not know Blake, here is some of his background:
Limestone County, Alabama, native Blake Williams studied public relations at Mississippi State University. After moving back home from Starkville, Williams launched Blake Williams Communications to help small businesses, nonprofits, and government agencies with strategic media planning, digital media marketing, website development + maintenance, social media management + content creation, and direct mail marketing. 
Backing up a bit, while still in high school at East Limestone, Blake volunteered to help local government organizations with their social media programs, and while in college he interned for two summers with WHNT News 19. Currently Blake is looking to expanding his business with more clients.
Blake has assembled a creative team which includes a graphic designer, a videographer, and a photographer, and that makes it possible for the social media team to specialize this spring in helping businesses optimize their brand and increase their reach. Here is more of what they offer: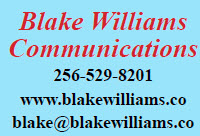 Blake Williams Communications (BWC) promotes multiple digital and print media marketing opportunities. Through extensive networking, the BWC team provides several options to market your business through television, radio, print, social media, and more.  Need to get information out quickly? In today's world that means social media – and a lot of it!  The BWC social media team believes in powerful and engaging content. Creating content and managing all the different platforms requires research, planning, implementation, and evaluation. 
Because today's marketing often centers around the concept of creating an experience for the customer, great skill is needed in doing that through an online venue. Blake offers a social media "audit," which analyzes what has worked, what hasn't, and plans for a new season. "We look at the data and find out what people engage with," said Blake. Then, BWC designs a custom package that runs for a six-month period. "Some people do their campaigns around holidays, seasons, and big events. They realize that time is money, they want a return on their investment, and we provide proof that it is working," Blake told me. BWC also helps people determine what is good timing for the client's communication needs. Should it be once a month, like a blog? Once a week? Once a day? BWC can give you answers and the reason for the answers.
Here is some of the feedback Blake Williams Communications has received from satisfied clients:
"Blake Williams has been a key contributor to Athens Main Street's marketing and promotion efforts for the last several years. He was instrumental in the creation of our website and continues to keep it highly relevant and running smoothly. His social media savvy has helped grow our social media platforms to more than 12,000 unique users across three platforms. Each year, we look to Blake to help us create our Marketing and Promotion Plans. His advice and understanding of our community are invaluable. I would highly recommend engaging Blake Williams to help your organization or business take your marketing to the next level."  –Tere Richardson, Executive Director, Athens Main Street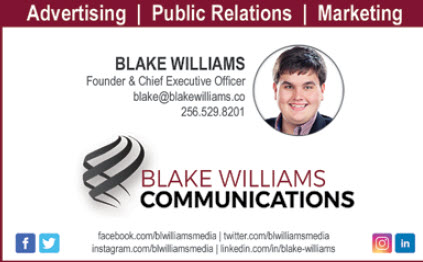 "Blake Williams is an asset to the Greater Ardmore Chamber. As our communication consultant, his expertise has been invaluable. The Greater Ardmore Chamber's presence online and in print has improved drastically over the past year with Blake's website design, social media management, and media relations skills. His purpose-driven marketing has helped us connect with a targeted audience and helped us be successful when planning and implementing our goals and events. Also, Blake has assisted with the overall communication within the Chamber of Commerce which is perhaps one of the greatest measures of success I am most proud of because communication within any group is a key to success." – Yolandia Eubanks, Director, Greater Ardmore Chamber of Commerce
Blake finished our time by saying, "I can't control algorithms, but I can control the quality of the content, and you'll get my 110%." Call him today or go online to "clean house" and build your business.
By: Ali Elizabeth Turner