By: Ali Elizabeth Turner
On November 18, 19, and 20, the annual Chamber of Commerce Christmas Open House is going to officially usher in the 2022 holiday season in Athens-Limestone County. This year's theme is Christmas In Candyland, and all three days are packed with creative ways to celebrate what Chamber Executive Director Pammie Jimmar calls "an Athens Christmas that is truly like a Hallmark movie." That is the way she describes her first Christmas here, and wants to preserve and expand for the whole community that special feeling she has so enjoyed. The Chamber team along with Athens Mainstreet, Tourism, Ardmore, Elkmont, Mooresville, musicians, artists, and vendors are working together to help us celebrate Christmas in Limestone County.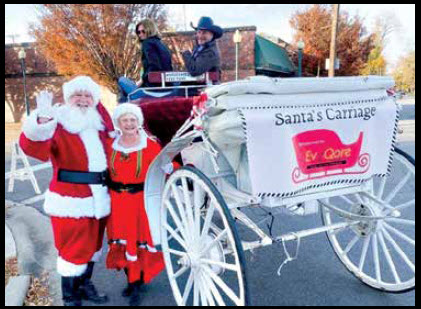 Pammie told me, "There are a lot of new things this year, and I am so excited!" The Merchants' Alley Tree Lighting will take place on Friday evening at 5 p.m. to be followed by a Kick-Off Street Party that begins at 6 p.m. The party will feature DJ KZ Zillion, so please remember to bring your lawn chairs for all of the weekend festivities. Merchants will also stay open late, so you can get in your dancin' and your shoppin' done all in one night. Athens-Limestone County Tourism Association will have a Tree Lighting Ceremony on November 29 from 4:30-5:50 p.m. kicking off the beginning of the 8th Annual North Poll Stroll on December 1.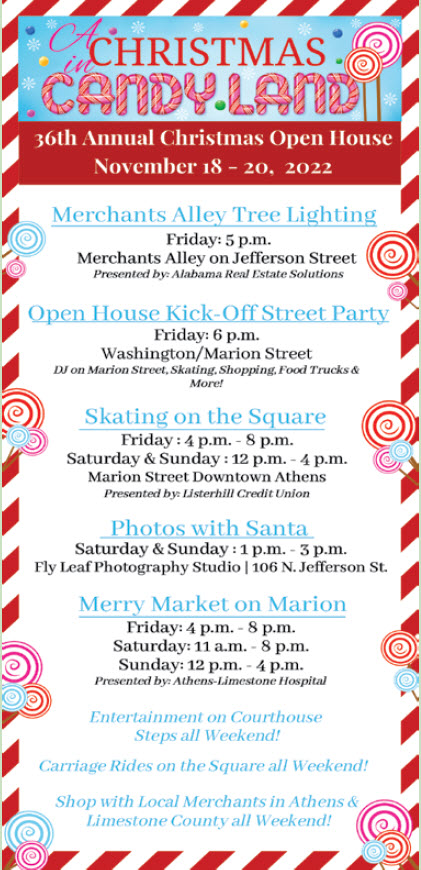 The traditional lighting of the Limestone County Christmas tree will be held on the steps of the Courthouse on Dec 1, the night of the Christmas Parade. New this year are the extended days of the "ice" skating rink; they've added Friday night from 4-8, which gives skaters an extra day to make their way around the rink. If you are like me, and that would mean not exactly an experienced ice skater, you can use the rail. It is great fun, and skates are included in the price of the experience. Skating will also be available on Saturday and Sunday from noon until 4 p.m. There will be food trucks throughout the weekend.
Other new features will be gospel singers singing Christmas carols that emphasize Jesus as the "reason for the season" on Sunday on the Courthouse steps, and if all goes well, the community will also have the chance to do some caroling as well, with more information on that to come. There are several entertainment acts lined up during the weekend, including a band called Utopia! Back by popular demand are the horse-drawn carriage rides around the Square can be taken all three days, and are one of the most popular and traditional features of the event.
Photos with Santa will be held on Saturday and Sunday from 1 p.m.-3 p.m. The new location is Fly Leaf Photography, and the cost for a photo is $10.
Once again there will be a Merry Market, which is designed for vendors and home-based businesses. It will be held on Marion Street on Friday from 4-8 p.m., Saturday from 11 a.m.-8 p.m., and Sunday from noon-4 p.m. "Small businesses are the foundation and backbone of our economy. They contribute to local economies by providing jobs, purchasing local goods, paying sales and property taxes, and utilizing local suppliers and support services," said Pammie.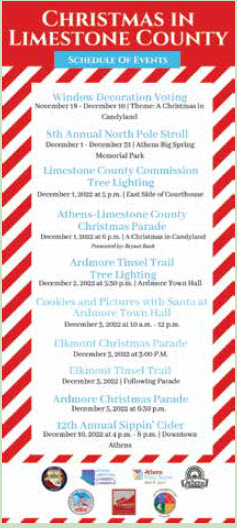 The attached schedule for Christmas in Limestone County features all activities in and around Limestone County.  "There is something for everyone," says Pammie. She then added, "The Christmas Open House brings the entire community together to celebrate the reason for the season. People will be able to stroll through historic downtown Athens during the weekend. Merchants will have extended hours for shopping for that special person on your Christmas list. We hope everyone will come hungry because there will be several food trucks, and we encourage everyone to also support the local restaurants while shopping on the square." Pammie also wants people to know that there are sponsorships still available for the event. For more information with regard to sponsoring or participating as a vendor in Merry Market, contact Brooke Pettus at brooke@alcchamber.org, or call the Chamber of Commerce office at 256-232-2600.
Save the date, come participate in one of the best things about our community every year, and explore Christmas In Candyland.
By: Ali Elizabeth Turner