By: Ali Elizabeth Turner
Last week was the homecoming/ bicentennial celebration of Athens State University, and very soon the student cafeteria in Sandridge Hall will be opening under the capable leadership of Chuck and Angie Clark, owners of C & A Catering. Over the years the college café food service became available several times, but Chuck and Angie just didn't feel led to pursue it. "Then the door opened," they told me, and they went through it.
"We asked for suggestions for a new name for the café, and Café 1822 was the winner," said Chuck. The café is going to start off with sandwiches, salads, burgers, fries, and drinks — standard college fare — with the possibility of the menu growing based on student requests. The Clarks are hoping that eventually they'll be able to add a "meat-and-three" option.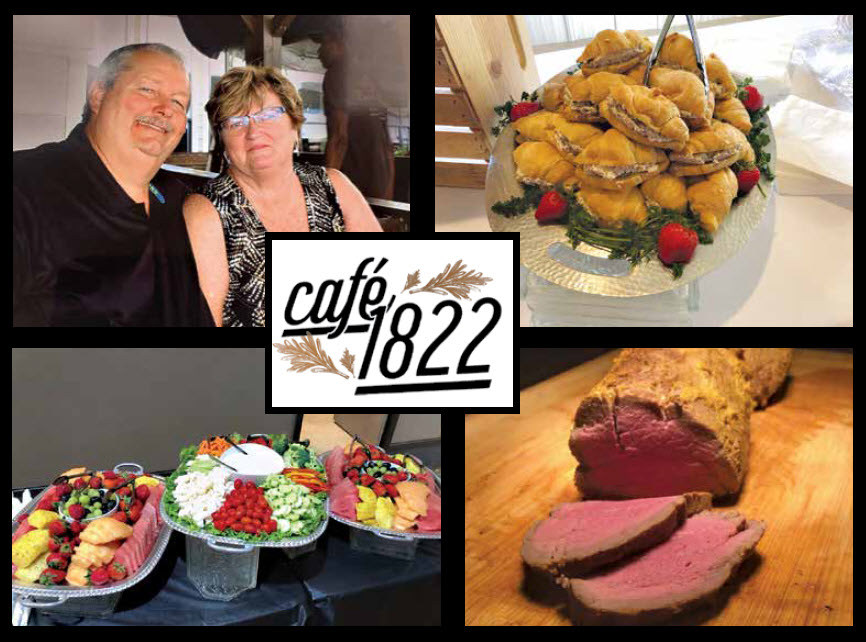 By contrast, the gala held the last night of the bicentennial had a plated chicken kabob, a beef kabob, rice pilaf, and a salad with raspberry vinaigrette. The college provided a commemorative cake for the occasion. I have had the pleasure of sampling Chuck and Angie's fare for years, and can say they always make my tummy and my tastebuds happy.
C & A Catering opened in 2006, and except for just a few years at a chemical plant, Chuck has always been in food service. He learned the catering business in the years he worked at the Space and Rocket Center when two experts in the field took him under their wing. He did everything from provide food for Space Camp to preparing the food for elaborate special events. As much as Chuck loved what he was doing, like so many, he had a hankering to own his own business. Angie had worked outside the home for years, and as people of faith, they prayed and felt that the time had come to start C & A Catering. "It was a struggle at first," Angie told me. Now, between getting Café 1822 up and running and catering everything from weddings to corporate breakfasts and doing massive numbers of box lunches during COVID, they and their crew are keeping busy. "We are just back from the bridal fair, and have twenty appointments for weddings next year," said Chuck. They are excited about all of it—opening Café 1822, weddings, special events, anniversary parties, holiday parties, picnics, showers, and more.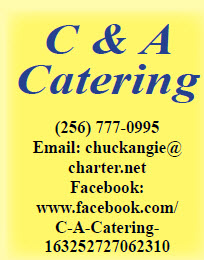 Over the years, C & A Catering has found that the best way to build that all-important aspect of the food service business — raving fan customers who come back year after year — is to commit to doing one event a day. When it comes to weddings and all the taut nerves that often go with that "special day," being able to focus completely has been something for which they have been thanked years later. Angie told me about a bride who recognized her ten years later and thanked her again for their role in making her wedding a memorable celebration.
I asked Chuck if he has a signature dish, and he quickly answered, "Beef tenderloin." He went on to tell me that his favorite thing to do is stand at the carving station, carve the tenderloin, put it on the plate, and see the smile of satisfaction and anticipation on the face of the one holding the plate. C & A Catering is also well known for their chicken salad. For her part, Angie loves to bake. She calls it "casual baking," as she doesn't do wedding cakes, but turns out mean pies, cakes, and pastries.
Speaking of "pies," Chuck and Angie laughed as they told me told me about the most unique wedding they ever did, and it was a "Pi" wedding. The bride and groom were mathematicians, and because the formula for Pi is 3.14159, they chose to get married on March 14 at 1:59 pm. They had no wedding cake, but instead had Angie bake individual apple and cherry pies for each guest. The bride and groom were thrilled. Angie loves to do pecan pies, sour cream coconut cakes that have had the time for the flavors meld together before they are served, and pineapple upside-down cake.
Chuck describes himself as being a "big guy," and always has been. His tagline is "C & A Catering, where you never trust a skinny chef."  He and Angie have built a solid business in an industry that is anything but predictable, love what they do, and are waiting to serve you. I can say from experience, they and their food will make you smile and come back for more.
By: Ali Elizabeth Turner