By: Ali Elizabeth Turner
Since 1941, there has been a "secret gem" in North Alabama known as Pryor Field, or more properly, the Pryor Field Regional Airport, located "behind Calhoun College" just west of Hwy 31. People who have lived here all their lives have no idea that this airport has such a rich history as it pertains to everything from training pilots during WWII, to being the place where the Buc-ee's and Mike Huckabee's planes landed, to being among the top 25 busiest air freight facilities in the entire nation. But Airport Manager Adam Fox plans on changing all that in June by bringing the 2023 North Alabama Airfest to Pryor Flight Center, (also known as KDCU by its airport code) on the weekend of June 10 and 11.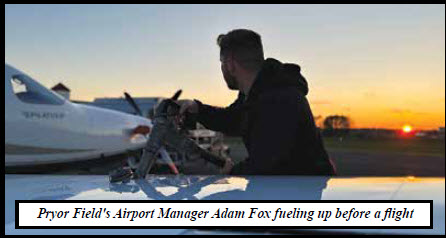 Adam grew up in the Dothan area, and as the family legend goes, "pitched a fit" at the age of seven about wanting the chance to go up in a plane with his dad, who flew all over the world for his job. Adam was granted his request, sat on his dad's lap in a Cessna 172, and "flew" the plane. Years later, he would find out that the plane was on auto-pilot the whole time, but it didn't matter. From that point on Adam was bitten by the aviation bug, and has made all things aviation his life's work. He got his degree in aviation management from Auburn University, which has one of the best schools of aviation in America. He served in the Alabama Air National Guard, deployed to Afghanistan, and has been the manager of El Reno Airport in Oklahoma. While at El Reno, Adam and his crew put on two other air shows, and both were highly successful.
Adam's excitement about the Airfest is contagious, and his desire is to give people a chance to discover just what it means to have an airport that is what he calls the Gateway to the Tennessee Valley/North Alabama run deep. "The air show is for folks to have an opportunity to get up close to the aviation industry, to an airfield, or maybe an actual aircraft for the first time. They will be able to actually "get in." You can even purchase a ride in a Huey helicopter from the Viet Nam era," he said.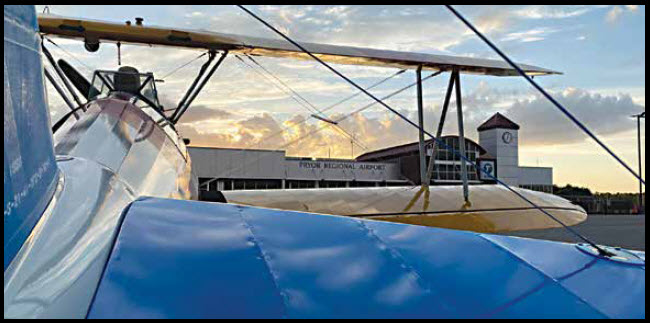 Of course, there will be all kinds of planes, both new and old, doing all kinds of amazing things up in the sky. There will be demonstrations of high-speed quick maneuvers, performances by the Army Silver Wings Parachute team, an aerial comedy act, and even the opportunity to purchase a ride in a Lamborghini. "When I announced that California Maverick (a Tom Cruise Top Gun impersonator) is going to be here, joined by Ice Man, we immediately sold 1,000 tickets," said Adam. Tickets, by the way, cost a more-than-reasonable ten dollars, and can be purchased at flydcu.com/airfest. Kids five and under are free.
In addition to planes, there will be a kid zone that has bouncy houses, along with a number of food trucks. What I found intriguing is that the Airfest is also open to having vendors of all kinds come and display their wares. Their products and services do not have to be related to the aviation industry. Having a booth starts at $150, and when you consider that it is not at all unreasonable to forecast 5,000 to 10,000 people coming, that is a bargain. Adam told me that when they did the air shows at El Reno, people came from seven states to specifically attend. The Airfest is also seeking sponsors, and will be managed by David Schultz Airshows.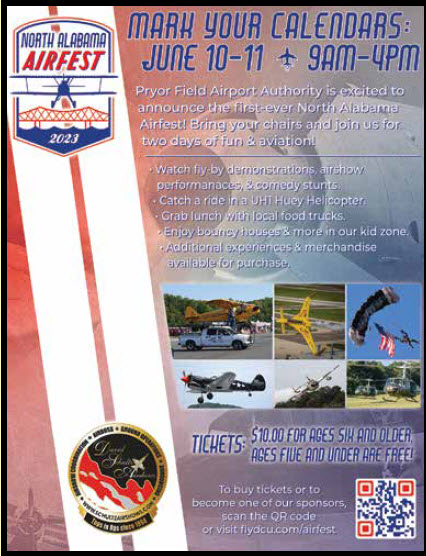 Besides the fact that having such a grand opportunity to enjoy a family day together, what Adam wants the people of our area to understand is that Pryor Field is wonderfully positioned to be a part of the economic boom we are experiencing here. "More than 12,000 visitors were here last year, and we brought in $16.8 million in revenue," he said. Adam also loves to educate kids about flying, the aviation industry, and career opportunities. "We had over 150 kids come through last year, most of whom had no idea that there are a number of high-paying aviation industry jobs that go beyond being pilots," he said. Adam told the story of a young woman who wanted to be a veterinarian, and then realized that she could also be a pilot who transports shelter pets from our area to places up north where there is an actual shortage of pets. Nurses, medical personnel, accountants, educators, there isn't an area or discipline around that is not somehow connected to the aviation industry.
Whether you are trying to figure out your career path, are retired and are considering learning how to fly, or looking for a wonderful chance to see what skilled pilots can do to thrill those who attend the show, you need to make sure you get to Pryor Field on the weekend of June 10 and 11 from 9 a.m.-4 p.m. and enjoy our gem of a regional airport. See you there!
By: Ali Elizabeth Turner