By: Ali Elizabeth Turner
A few weeks ago, I finally had the chance to visit one of Athens' newest restaurants, Chicken Salad Chick. What I experienced in that hour was a pure delight from start to finish – from the way I was greeted, the food I ate, the time I spent with manager Leah Hayden, and the completely clean bathrooms with laugh-out-loud signs, I knew that "The Chick and Athens" are a match made in heaven.
I love back stories, and Chicken Salad Chick's story begins with Stacy Brown, who suddenly found herself as a single mom who needed to get and keep food on the table and a roof over the head of her kiddos. Stacy went door-to-door selling her signature chicken salad, and the neighborhood soon referred to her as that "chicken salad chick." However, it wasn't long until the health department came knocking, as Stacy and her business partner and future husband, Kevin Brown, were cooking out of Stacy's home kitchen. They happily moved their operation to a takeout-only restaurant, with a health department-approved kitchen and no seating for guests. When their customers staged a "sit-in" and sat on the floor of the takeout facility, Stacy and Kevin knew that they needed to take the next step. Soon after, the first full-service Chicken Salad Chick restaurant was opened in our very own city of Auburn, Alabama.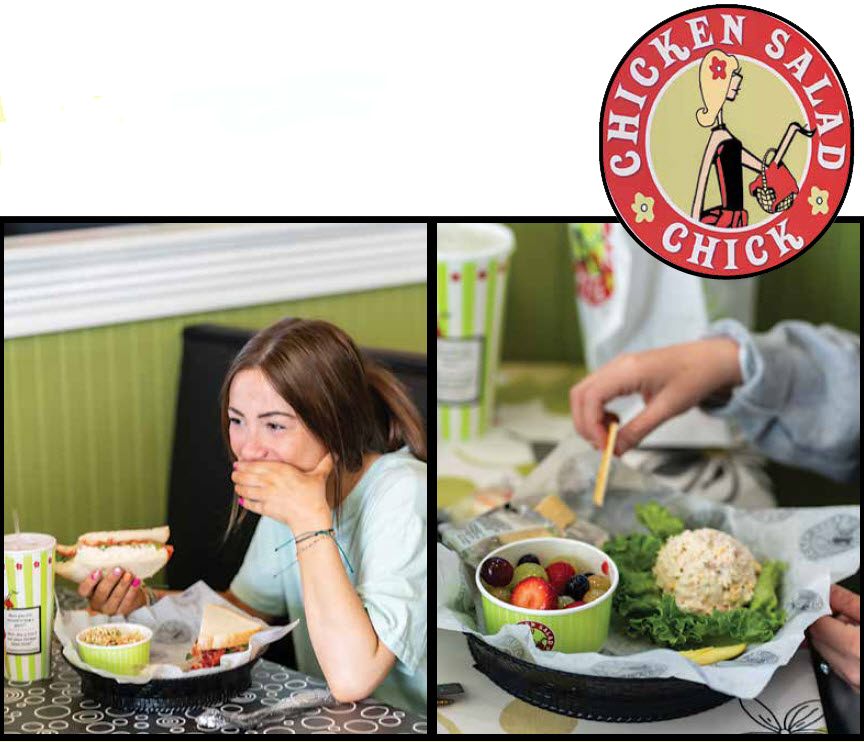 Fast-forward fifteen years later to 2023. There are now over two hundred Chicken Salad Chick franchises across the United States, mostly in the South but expanding to states such as Colorado and New Mexico. It is important to note that Chicken Salad Chick is unashamedly Southern; the décor is bright and inviting, the menu is simple and compelling, and the chicken salad choices are named after real people, all of whom are friends or kinfolk of Stacy. The chicken salads are made from scratch each day, and they serve their guests in numerous ways, from beautiful catering to offering a generous rewards program.
Here is their unique and delicious menu:
Classic Carol and Olivia's Old South— The two traditional chicken salad flavors on their menu. Classic Carol is their flavor that started it all: all white-meat shredded chicken with finely minced celery, mayonnaise, and their secret seasoning! Olivia's Old South is a traditional recipe of their chicken salad mixed with diced eggs and sweet pickles.
Buffalo Barclay, Kickin' Kay Lynne, and Jalapeño Holly – These are the spicy flavors and are anything but traditional! Kickin' Kay Lynne is a combination of three flavors: Buffalo Barclay (mixed with buffalo sauce), Jalapeño Holly (mixed with diced jalapeños), and Sassy Scotty (mixed with ranch, crispy bacon, and cheddar cheese)!
Lauryn's Lemon Basil, Sassy Scotty, Barbie-Q, and Dixie Chick – These four are the savory flavors. Barbie-Q has that familiar hickory-smoke taste to it, and I can say from experience that the minced onions in Dixie Chick makes you say, "Oh, wow!"
Fancy Nancy, Fruity Fran, and Cranberry Kelli – All of these flavors have fruit, with Fancy Nancy and Cranberry Kelli also adding nuts for that sweet and salty combination.
Chicken Salad Chick also serves several flavors of pimento cheese, egg salad, signature sandwiches, house-recipe soups, desserts, kids' menus, and of course, tea.
One of the things that will greet you when you sit in the Athens dining room is a collection of beautiful black-and-white photos taken of various historical buildings on the Square. Chicken Salad Chick does that for each new location, and it goes a long way to make people feel like this is "their" location.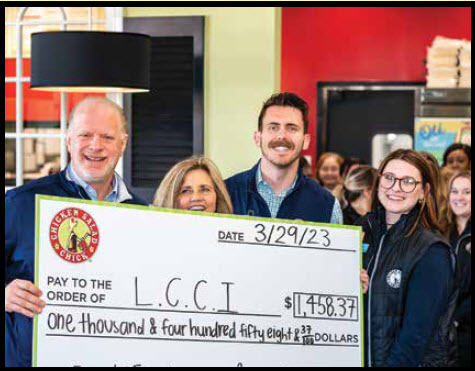 Now to do something I have never done before: talk about the restrooms. First of all, they are absolutely immaculate. On top of their cleanliness, the signage on the inside of both the men's and the women's is laugh-out-loud funny, and perfect for each gender. (Yes, I had permission from the manager to check out the men's room, and yes, I made sure no one was in there first, in case you are wondering.) The sayings and quotes are clever, utterly dear, and simply Southern.
Lastly, Chicken Salad Chick is highly involved in their community. Stacy's late husband, Kevin, who was also the co-founder of the original restaurant and served for several years as the franchise's CEO, fought a hard fight with cancer. Here is what CSC says about Kevin and their CSC Foundation:
The true purpose of our founders, Stacy and Kevin Brown, was to have a positive impact on people, and the duo saw the opportunity for a philanthropic avenue within just a few months of opening the first Chicken Salad Chick location. After Kevin's diagnosis of stage-4 colon cancer that had spread to his liver, the direction of the Chicken Salad Chick Foundation became clear.
In addition to finding a cure for cancer, the CSC Foundation is passionate about ending hunger in America. This cause is a natural fit for our foundation since, as a restaurant concept founded with an appreciation for health and family, feeding families in need closely aligns with who we are as an organization. Food insecurity affects one in six people in America, reaching every community in every state. The CSC Foundation partners with Chicken Salad Chick locations in our various markets to give back to local food banks and food-related charities.
True to our mission of spreading joy, enriching lives, and serving others, we're honored to have the ability to give back through our Chicken Salad Chick Foundation. Through this foundation, we have tremendous opportunities to impact the lives of our friends and neighbors in need and in doing so, help secure the future of our philanthropy by setting a positive example across the Chicken Salad Chick organization. Whether fighting cancer or feeding the hungry, this foundation allows us to affect the lives of so many in our communities, as well as on a much broader level.
To continue the philanthropy left by Kevin, the Chicken Salad Chick Foundation raises money at each Grand Opening's private Friends & Family event and donates it all to a local charity. For Athens, the Chicken Salad Chick Foundation raised nearly $1,500 for Limestone County Churches Involved.
Come for the chicken salad, stay or get it to go, and just know that you will be treated to true Southern hospitality!
By: Ali Elizabeth Turner