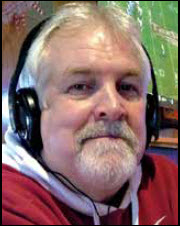 By: Tim Lambert
Since the issue for our column was skipped last month, some catching up is in order — The annual Sports Week was held during August; West Limestone's Justin Taylor coached the North boys' All-Star team to a 93-85 win over the South. James Clemens' Avani Singireddy and Santiago Castillo and Lindsay Lane's Angela Kahler also posted singles tennis match victories as the North boys' and girls' teams swept the South. The North girls' softball team swept the South 11-8 and 6-1 in their games; Athens High's Emily Simon had two hits in the extra inning game one victory. Tanner's Manuel Felipe scored a goal in the North boys' 3-0 soccer win.
Athens Bible School and Lindsay Lane Christian Academy were two of 131 schools who were recognized Friday at the 14th Annual AHSAA Sportsmanship Luncheon during this year's Summer Conference. The luncheon recognized schools who had no ejections or fines for this past school year.
Reagan Conley finished first for the Athens Gators in the girls' 9-10 breaststroke at the ARPA State swim meet. Cooper McClendon came in second in the boys' 11-12 division and third in the 11-12 butterfly. Joseph Prickett placed third in boys 15-18 breaststroke. Jace Duncan won the boys 6 and under backstroke. Catherine Evans was third in the girls' race.
Congratulations to Athens High baseball players for their college commitments: Cooper Cochran (UT-Martin), Connor Beck (Bevill State), Braeden Harrison (Wallace State). James Clemens' Noah Berry also made his baseball commitment to Samford.
Football (through week 4):
Ardmore 49, Tanner 6; Athens 41, Fort Payne 40; Wilson 34, Clements 28; Rogers 37, East Limestone 20; Randolph 48, Elkmont 7; James Clemens 32, Murphy 0.
Ardmore 33, Elkmont 13; James Clemens 47, Athens 7; Mars Hill 26, East Limestone 7; Lexington 53, Tanner 20; West Limestone 55, Clements 28.
Ardmore 34, Brewer 14; East Limestone 24, Lee 14; Phil Campbell 55, Elkmont 8; James Clemens 35, Bob Jones 28 (OT); Tanner 20, Section 14; West Limestone 21, Deshler 19.
Ardmore 27, Lawrence County 7; Athens 56, Hazel Green 7; Phil Campbell 37, Clements 14; East Limestone 14, Mae Jemison 12; Colbert Heights 37, Elkmont 0; James Clemens 31, Austin 14; Tanner 20, Ider 17; Central-Florence 33, West Limestone 21.

Volleyball:
Athens Bible School recorded wins over Whitesburg Christian, Columbia, Tanner, and Falkville. Ardmore defeated Brewer, Tanner, and Lee. Athens High topped Randolph, Decatur, Muscle Shoals, Westminster and Enterprise; Ramsay, Jasper and Hartselle in the Juanita Boddie tournament. East Limestone had victories over Clements, Columbia, Winfield, Danville Decatur, and Priceville, along with Lake Placid, Central Point, Ysleta (TX), Springstead (FL), Rosebud-Lott (TX) in the Disney World tournament. Elkmont bested East Lawrence, West Limestone, and Decatur. James Clemens came out on top against Muscle Shoals, Athens, Randolph, New Hope, Austin, and Madison Academy. Lindsay Lane beat Ardmore, West Limestone, and Oakwood Academy. Tanner posted wins against Lee, Mae Jemison and Oakwood Academy. West Limestone turned back ABS and Columbia.
Cross Country:
Elkmont's Alex Kuntz finished first in 1A-5A varsity boys at the Bob Jones Friendly First Chance 2.1. He also won the 1A-4A division at the Brooks Invitational; Athens High's Jack Anderson finished third as the Golden Eagles came in 2nd in 5A-7A. At the Pepsi Challenge cross country meet, the varsity James Clemens boys won the large schools division, the Lady Jets were second and Andrew Gohlich's first place led the James Clemens boys to a runner-up spot in the boys' 2-mile race. Elkmont's Kuntz was second in the boys' small schools division.
Announcements:
The 17th Annual Duck and Run 5K will be September 18 at 7 a.m. at Big Spring Memorial Park. Proceeds benefit Keep Athens-Limestone Beautiful. For more information on registration cost, contact Eric or Leigh Patterson at duckandrun5k@yahoo.com or call 233-8000
Fall archery registration is going on through September 20 at the Athens Rec Center for ages 8 and up. Cost is $30. Youth basketball registration continues through October 15 at the Rec Center for ages 5-16. Cost is $60. For more information, call 233-8740
By: Tim Lambert
Tune in for the PlayAction Sports Update, three times each weekday on 1080 AM WKAC. Visit us online at www.pasnetwork.net! email: playactionsports@hotmail.com