By: Ali Elizabeth Turner
Lawler of Edward Jones Financial Services in Athens is someone who loves to take complex monetary and financial concepts and make them simple for his clients. He believes this is what he was made to do, does so with a passion, and I have had the privilege of hearing several people thank him personally for helping them get on track with their money.
Caleb grew up in Florence, Alabama, and graduated from UNA with a degree in computer information systems. As a kid he was involved in sports, music and his church youth group, and also describes himself as having a bit of a "nerdy" side. When he was getting his degree, he greatly enjoyed studying finance and accounting, but never dreamed it would become his actual career. He interned with TVA at Browns Ferry, and later, a DOD contracting firm out of California hired him to work in their Huntsville office. He loved the work, but soon realized that being all alone in a huge building day in and day out in front of a computer screen with no human contact was not how he wanted to work at all.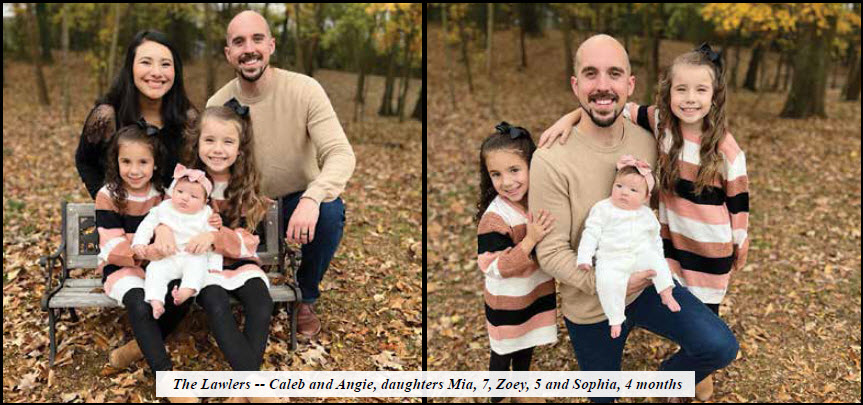 When Caleb and his wife, Angie, were newlyweds, they attended a well-known biblically based financial education course that Caleb now teaches at his church. They were spared years of what statistically is the number one marriage killer: fights over finances. Caleb knew he wanted to help others avoid the pitfalls that are so common in our culture, and both the Lawlers very much wanted Angie to be able to stay at home once they became parents. The question was, could Caleb make such a huge change in his career and fulfill their goals for their family? The answer came at a BBQ held in his own backyard. Caleb had a friend he had known from kindergarten and was literally cooking burgers when he opened up to his friend, who happened to have several family members in the finance industry. "You need to look into it," said his friend.

Enter Edward Jones, which is a privately held, solid, reputable financial advising corporation well known for how it gives back to the community and teaches its advisors to do the same. I asked Caleb for an example, and he said, "When I was taking my training, they had seasoned, veteran agents come in on their own time and teach us how to help our clients — what to say to say to them, how to ask the hard questions. That's how they do business, and that's why I took the 'leap of faith.' I was finally getting to really help people." Edward Jones has a rigorous ten-point hiring process which Caleb passed, and he has never looked back. On a personal note, I met Caleb two years ago at our Limestone Leaders BNI meeting, and I am in a weekly book club with him. I send everyone I can to him because I trust him; I have seen him in action, and was especially impressed with his skill in answering money questions during the madness of the pandemic.
Caleb describes Edward Jones as a company that concentrates on getting to know clients by finding out their needs, goals and dreams, and then developing a strategy that meets those needs. Once Caleb finds out what is important to them, he asks, "Is this goal attainable? If not, how can we change things so that it can become attainable? How can we get them back on track?"
Caleb shines at illustrating how making small changes can make a huge difference in the long term. "If you spend four dollars a day, five days a week on coffee, that's a thousand dollars a year. That thousand dollars could really help you leave a legacy," he said. Essentially, when you hire Caleb Lawler, and by extension Edward Jones, you are hiring a financial accountability partner as well as educator. That does not mean living a life of nothing but tight purse strings, it means gaining a friend who is trained to see the trusted strategic possibilities that will help you get where you want to go.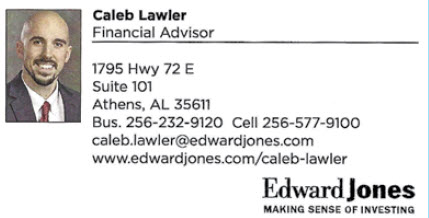 On the lobby wall of Caleb's office, which is located at 1795 Hwy 72 E, Suite 101 in Athens, there is an engaging black and white photo of Edward D. "Ted" Jones, the founder. He is with his horse and his dog, and it contains a quote that was Jones' response years ago to being questioned why he hadn't taken the company public. To me it illustrates in this new year why you want to schedule a no-obligation appointment with Caleb Lawler:
I am the richest man in America.
I have a wife who loves me in spite of my faults.
I have four dogs. Two love only me. One loves everybody. One loves no one, but still is very loyal and follows me everywhere I go on the farm.
I have a horse I love to ride around the farm, and best of all, she comes to me when I call her.
I have too much to eat and a dry place to sleep.
I enjoy my business.
I love my farm and my home.
I have a few close friends, and money has never been my God.
Edward D. "Ted" Jones, Jr.
1925-1990
Call Caleb Lawler today at (256) 232-9120 and let him help you with your "fiscal fitness" needs.
By: Ali Elizabeth Turner