By: Ali Elizabeth Turner
For decades, Keith Rowe of Cabinet Express and his family have been in various aspects of the construction industry and real estate development in the Tennessee Valley. Keith says, "I was born and raised a farmer, but as times changed and real estate development became dominant in our market, I moved into the construction industry. In 2017, I began buying and remodeling houses to resell. As I was rehabbing houses, I saw a need for quality cabinets at a great price, and that is how Cabinet Express was born."
I know from several conversations with Keith that doing things right, irrespective of personal cost, is one of his core values and how he does things. Since 2020, Keith's company has focused on bringing beautiful, affordable all-wood cabinets to developers, DIYers, and investors at a reasonable price and with a quick turn-around time. The cabinets have a custom look, but not a custom price. They have stayed busy, in spite of the uncertainty of the times, and they have added new services and a new staff member.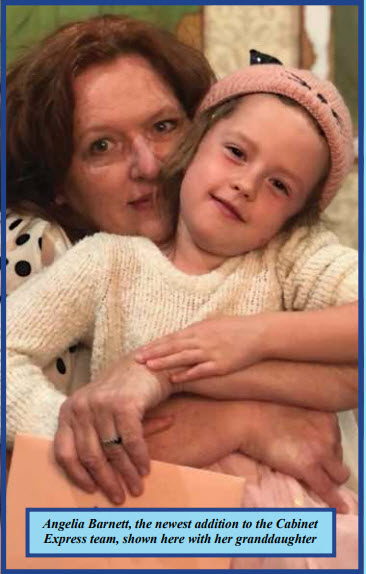 We are all aware that there are more than 100 ships stuck off the coast of California that are carrying all manner of goods needed by American consumers, including cabinets. As a result, both contractors and people handling their own remodel are being told that the earliest that they can expect to take delivery of their cabinets will be in April of 2022. That's not acceptable for the fastest-growing county in the state of Alabama, and because the five distribution centers for the brands of cabinets carried by Cabinet Express are not on the west coast, they can turn around the order in three to six weeks, depending on what has been selected. "Builders are thrilled that they are not going to have to wait for six to eight months," said Keith, and added, "They are also glad that the prices have basically stayed the same." Having the prices essentially stay the same for cabinets that are all-wood, comparable to custom-made, which use no pressboard and can support the weight of granite or cement countertops, is a tremendous blessing.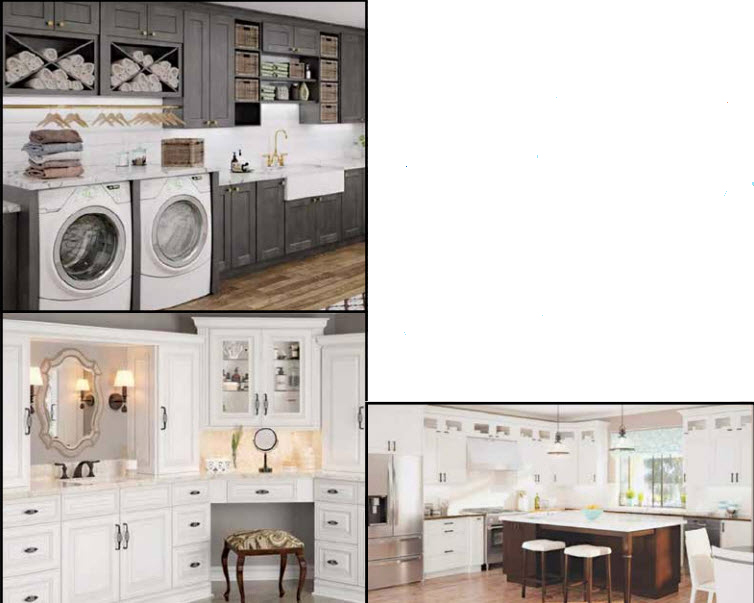 Full remodeling of kitchen and baths is the newest service now available at Cabinet Express. It used to be that they would do complete kitchens in brand new houses, supply cabinets for the do-it-yourselfer, and do installs for homes that had already been remodeled, but the demand has increased for total kitchen and bath remodeling services, and Cabinet Express has stepped up to meet that need. "For example, we were recently contacted by several clients of the Baby Boomer generation who had installed garden tubs in the '90s, and have since realized that they never use the tub. So, we will take out the tub and replace it with a large, modern walk-in shower," said Keith.
Cabinet Express will also do "medical remodels" for both the bath and kitchen. They include wheelchair accessibility, all manner of shelves, cubby holes and cabinets that can be easily used from wheelchair height in both the kitchen and the bath. All cabinets and drawers feature soft close, which means they just glide open and shut and never get stuck. Angelia said, "We can do everything from floor to ceiling, and our cabinets have a lifetime warranty." Cabinet Express offers financing for customers through Synchrony Bank.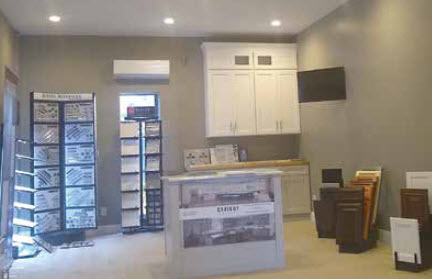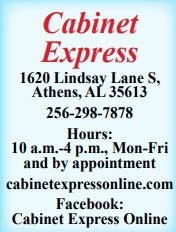 As far as new staff is concerned, Cabinet Express is pleased to announce that Angelia Barnett has joined their sales and design team. Keith put out an ad on Indeed.com, Angelia answered, and I am pleased to say that she has become a personal friend as well as a fellow Business Network International member. Angelia has nearly 30 years of experience as an entrepreneur in the design field. She did wallpaper, painting, and faux wall treatments (for example, the ones that are made to look like the weathered wall of an old Italian villa, barn wood, concrete, or exposed brick). She also did interior staging "before staging was cool." Angelia has an associate's degree in interior design from UAH, and is all about "form and function," the foundation of most design and architectural thought of the late 19th and early 20th centuries that is still used today. She also has a great sense of humor, and the three of us laughed out loud about the fact that wallpaper is making a comeback, but not the kind that has mallard ducks marching around the top of the wall of your den in the form of a border!
I asked both Keith and Angela why I should choose Cabinet Express for my bath or kitchen remodeling project, and here's what they told me:
Keith – "Time. Cabinet Express is able to move quickly in order to get to and finish projects quickly. We have added more suppliers of quality cabinets, and we have built relationships with them that are solid."
Angelia – "Relationships. I am doing what I absolutely love. Having the chance to do what you love is the very best."
Stop by the Cabinet Express showroom today for a free, no-obligation, computer-generated design and estimate, or make an appointment to first dream, design, and decide and do so for a reasonable price.
By: Ali Elizabeth Turner