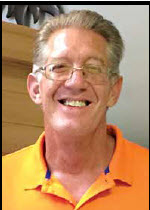 By: Roy Williams
It's that time of year when the weather is changing, leaves are turning, and celebrations are just around the corner. Harvest and Thanksgiving have passed and now, everyone is looking forward to Christmas.
With all that in mind, we may forget to take care of our health, and that is what this newsletter is all about. As most of you know, we are dedicated to making America healthy one person at a time. At Herbs & More and NHC Herb Shop, we have decided to do a Brown Bag Special, which includes our famous MSM+C capsules (120 count), Ultimate Fruit & Veggie (240 count), Ph Drops, and a sample bottle of MSM+C Lotion.
The MSM+C capsules are the all-time favorite NEWtritional Health Care product that we believe everyone should be on from birth to death. It has changed more people's lives than any other product ever. In just three weeks, most people notice softer, smoother, and prettier skin due to its ability to help your body produce collagen. It helps balanced pH in the digestive system
MSM+C is also an extremely effective anti-inflammatory, which helps reduce pain, lubricates the joints, improves the health of the circulatory and digestive systems, and helps detoxify the body at a cellular level, which is why so many people talk about their energy levels going back to where they were when they were 10 to 15 years younger. It is so good for the skin, reducing wrinkles and improving elasticity, that it is often called the beauty mineral.
Our Ultimate Fruit & Veggie product is unsurpassed because each daily dose has the nutrients contained in five servings of raw fruits and vegetables. Every ingredient is organically grown, without chemicals or pesticides. Along with all the nutrients, there are other support factors including pre- and pro-biotics, essential fatty acids, amino acids, enzymes, and antioxidants. Not only are the fruits and vegetables in the product, it also has some very impressive superfoods such as spirulina, sea kelp, alfalfa, and acai berry. None of the advertised fruit and vegetable supplements come close to the nutrient value of Ultimate Fruit & Veggie.
Most people are beginning to understand the importance of maintaining an alkaline environment within the human body. All disease begins with acidic conditions of the clear body fluids. Cancer, bone loss, tooth decay, diabetes, arthritis, gout, and many more disorders have been tied directly to a build up of acids in the body.
Our first patented product is called pH Plus or Alka-Pro. It has become famous because it is so easy to use. Just put one drop in each two ounces of water and drink at least 64 ounces a day and you will be able to help maintain alkalinity of the clear body fluids. Remember, an alkaline body is a healthy body. Many people have reported much better medical reports including, less pain, fewer colds and flu symptoms, and even weight loss once their body is alkaline.
Another famous NEWtritional Health Care product is MSM+C Full Body Lotion. To help introduce this wonder lotion, we have included it in the Brown Bag Special. It is wonder for all parts of the body but especially for dry skin, wrinkles, rashes, and any other skin disorder. The ingredients are all-natural and safe even for babies. Many women use it as a base before putting on makeup and men love it after shaving.
Remember, you can get a 120-count bottle of MSM+C, 240 count bottle of Ultimate Fruit & Veggie, pH Plus, and a sample bottle of MSM+C Full Body Lotion (our Brown Bag Special) with this article for only $75.00. Regular retail value is $95.00.
Just bring this article to NHC Herbs & More in Killen or Herbs & More in Athens and pick up your brown bag today. We also ship if you wish by calling 256-757-0660. To learn even more about any of our products, visit our website at www.nhchwerbs.com.
To listen to Today's Health Update, go to our website, scroll down to the microphone, and click on it. These are radio shows that run five days a week on 5 different radio stations that teach all about natural health. Each show is titled to help make it easy to listen to the information you are most interested in.
Your friend in health,
Roy P. Williams