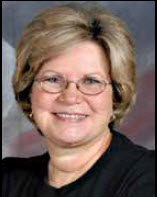 By: Yvonne Dempsey

On the evening of April 21, I joined many others at the Alabama Veterans Museum for the inaugural "Night at the Derby" fundraiser benefiting the Boys & Girls Club of North Alabama – Athens. Co-chairs Shannon Elliott and Jennifer Bridges did an excellent job planning and executing the event. The Kentucky Derby theme added an element of excitement and beauty to the night as people arrived dressed for the gala in their "Derby duds," which included the gorgeous women's hats that are associated with the race day.
Fundraising dinners and events for the Club have been done every year (but not since 2019 due to COVID), and this year's "Derby" theme made for a fantastic, fun social event. In the past, they have had a sport's speaker, but this year the Derby theme was chosen. It was such a hit, that they plan on making this an annual event…so get those fancy hats ready!
The event venue was breathtakingly decorated with beautiful floral arrangements by Athens Florist. The delicious food was prepared and served by Wildwood Deli. And no Derby event is complete without Kentucky bourbon and signature drinks. Limestone Legends Billiards did an excellent job manning the bars. There was musical entertainment as well as games and the ever-popular silent auction. The event was a huge success and garnered much need funds for the club.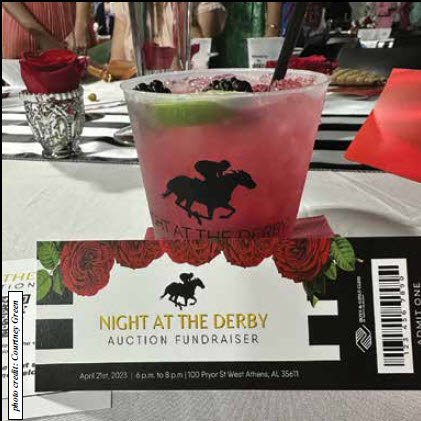 There are eight Boys & Girls Clubs in N. AL which operate autonomously and are responsible for their own finances. Like every institution, the Club needs funding to operate and provide the many services they offer. There is a weekly fee per child for after-school, school breaks, and summer as well as grants available, however, donations from individuals and businesses are always needed to cover operational expenses.
On my visit to the Club, I was very impressed with how much it had grown from when I had volunteered there many years ago. I spoke with Griff Redmill, president of the Club's advisory board, about exactly what the Club has to offer. He told me about the wide range of fun and age-appropriate programs that are available, such as sports and recreation, tutoring and educational activities, and meals and snacks are provided. There is a Drum Circle every Monday, led by the Athens Art League, where participants play different drums to create unique sounds. There are numerous activities related to the STEM program, which stands for science, technology, engineering, and math. Griff said that there are currently 130 kids in the Club.
The unit director for the Athens Club is Jarrett Collier. When I was there, he was quite busy with the young ones. It is evident how much he cares about the youth. I asked him why the Boys and Girls Club is so important in today's world. He said, "It is their mission to prepare young people to be responsible, productive, and caring citizens. They need to be nurtured and have a sense of belonging." Their focus is always on helping youth academically and socially, which some may not get elsewhere. Boys-to-Men and Smart Girls are grooming and etiquette classes. These programs, along with others, help to instill a sense of purpose and self-esteem that are so important for a successful future.
The teenagers at the Club are assisted in planning their future beyond high school whether it be college, trade school, or military. Something that impressed me was that once the participants graduate and leave the Club, the staff maintains contact with them and continues to encourage them. Many of the Club's alumni return to speak to the young people and volunteer where needed. The Club is truly a caring and loving environment.
Having raised my four boys and taught high school, I know how important mental health is, especially in the formative years of childhood and the angst-ridden teen years. I asked Jarrett if there were counselors or mental health personnel who worked with the youth. He said that at the current time there are none but that they were looking to begin training in that area in the near future.
Please support the Boys & Girls Club through donations or by volunteering. Although the school year is winding down, tutors are urgently needed for the next school year. No college degree is necessary. Just a caring heart, patience, and the desire to invest in our nation's future through helping the youth of today.
By: Ali Elizabeth Turner