By: Ali Elizabeth Turner
In 2019, Athens born-and-bred Tevvy McDole purchased Belles and Beaus from her friend Jenny as a different venue for expressing her love for children. She had gotten a psychology degree from Athens State University and had worked for DHR for several years. Trying to protect children in this day and age can take its toll, and Tevvy knew it was time for a change. "I wanted to still be around kids, and this was perfect," she said. Her grandmother, Camilla, and her mom, Whitney, backed her decision and have come alongside to support her, for which she is deeply thankful. "I could not do it without them," Tevvy told me. Camilla and Whitney told me that where Tevvy shines is in putting outfits together. "She can go to several shelves and find the perfect outfit," said Camilla. In that regard, Belles and Beaus is very much like a clothing shop of old where the staff takes joy in helping you find what you are looking for, and at a price you can afford.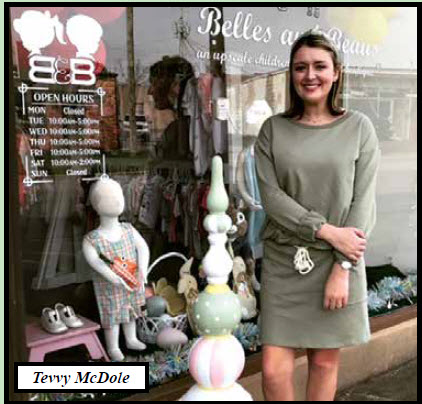 When Tevvy purchased Belles and Beaus, the shop underwent a face-lift; freshened by paint and new flooring, along with different stock, B&B was ready to help Athens parents purchase gently used, high quality children's clothing and accessories. "Often our clothing is less than half the original costs," Tevvy mentioned, and she particularly loves what she refers to as "smocked anything." Smocking is nearly a lost art, and one for which I have great personal appreciation and affection. My mom, who lived to be 100 years old, hand smocked the dresses she made for her three daughters, and they were beautiful! With spring springing and Easter just around the corner, now is the perfect time to come and see what they have done to the store and what they have in the store.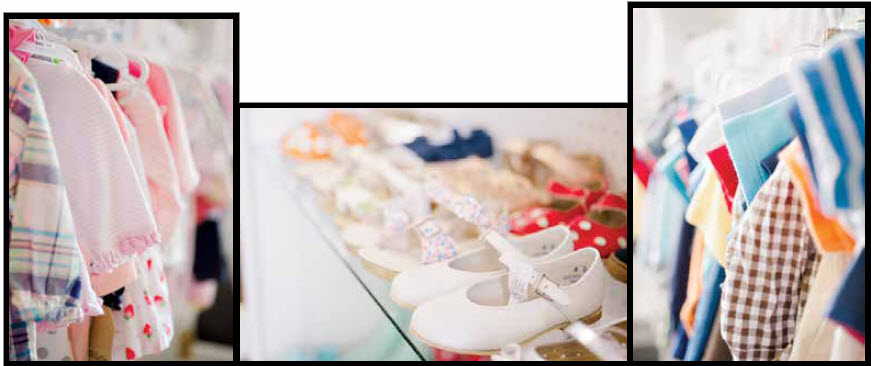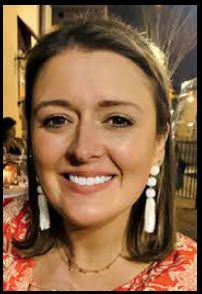 Whitney loves to do the seasonal decorations and for this spring, painted clouds which are hanging in the front window. Camilla happily came out of retirement (again) and helps out several days a week. Whitney is a structural engineer, and puts those abilities to use three times a year when she culls and organizes stock that has not moved. The clothing is then donated to the foster parent closet that is housed at the Children's Advocacy Center on Washington Street in Athens.
In addition to the brick-and-mortar store, Tevvy is also doing a goodly amount of business on Facebook. She posts new finds and will hold on to them if you secure them via PayPal. (There are no exceptions to that rule, due to no shows.) I asked her about some of both venues' best sellers, as well as her personal favorites. The shop's top sellers are Bailey Boys, Matilda Jane, and Bella Bliss. Tevvy's personal favorites are Petit Ami, Claire and Charlie, and Shrimp and Grits. They also have several bonnets, and she loves those that are produced by Beaufort Bonnet. She also carries bloomers. The high selling shoe lines are Livie and Luca, L'Amour, and SunSan, which are cute and sturdy little sandals.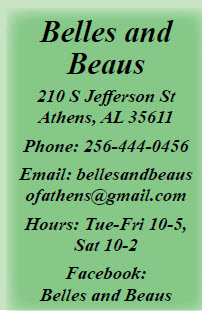 In addition to clothing, Belles and Beaus carries all manner of baby gear. They have strollers, walkers, and car seats. While they are not able to have a baby shower gift registry per se, they do offer gift cards and Tevvy will help you find the perfect gift!
I asked Tevvy why, when I have consignment choices for children's clothing, should I come to Belles and Beaus? "We are the only place in Athens that carries the high-end lines. People come from Tennessee, Florence, Hartselle, and Birmingham, from all over the South, really, and that's because of the quality of the brands and the prices, she said. "I really enjoy putting outfits together, and I am good at it," she added. There is one more thing that she especially loves about her store, and that is having moms and kids come in; the kids can play, and sometimes parents just need a chance to talk. Parenting has never been easy, and in this past year where parents have had to do double and triple duty as caregivers and educators, Tevvy understands. She is the mother of an adorable little boy by the name of Macon, and she is grateful for all that her family has done for her. In many ways, Belles and Beaus is also about "paying it forward." Stop by today and let Belles and Beaus find the perfect, gently used items for your kiddos, and they'll be ready for spring in style!
By: Ali Elizabeth Turner