By: Ali Elizabeth Turner
A little over sixteen years ago, a group of Athenians had the chance to experience the heartwarming joy of the nearly lost art of storytelling at the National Storytelling Festival in Jonesborough, TN. They then decided to start a festival here in Athens, and for the past decade and a half, by intrepidly prevailing through everything from COVID to event tent supply chain issues, the Athens Storytelling Festival has become one of the best parts of an "Athens Autumn." This year they are back under the tent in full force, and Athens State University is now going to host them on campus, much the way they do for this weekend's Fiddlers' Convention. This year's festival will be held from October 18-22, with School Days being Tuesday, Wednesday, and Thursday. Tuesday evening has the Dill Pickers and Three On A String, both of which are described as being a musical and comedy extravaganza. Thursday night is the banquet along with the student tellers' competition. Thursday is also the Tellers' Olio, a Spanish word that means a wonderful stew that is all mixed together and delicious, and as it pertains to storytelling, it is how all of them come together with wildly different stories that have the same satisfying result.  Friday and Saturday they tell all day and evening.
"We are so grateful for how Athens State has helped us," said Wayne Kuykendall, one of the festival's founding team members. He especially wanted make sure that ASU's Julie Martin, Mike McCoy, Keith Ferguson, and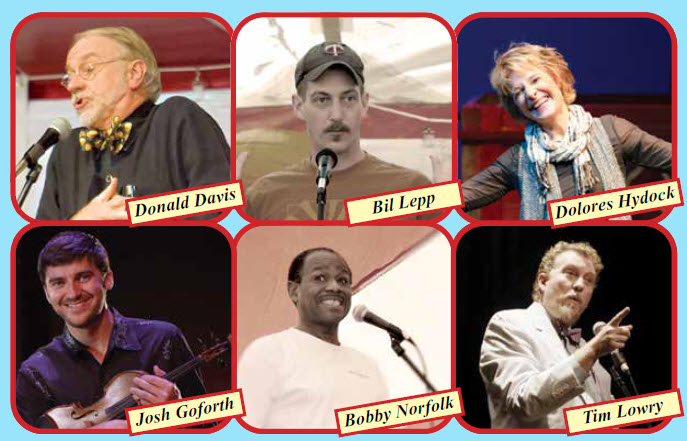 Kerry Warren were publicly thanked for all their hard work in making the move to the ASU campus as smooth as possible. In days gone by, the tent on the east side of the Limestone County Courthouse held 1,500 people, and now with a 1,000-person tent, the Student Days will have an extra day for the kids to hear the tellers. Hands down, watching the kids squeal with laughter while they learn invaluable life lessons is my favorite part of 'Telling.
Our festival is the only one in America that has the feature of school kids coming to hear the tellers for free. This is because the Limestone County/ Alabama State legislators understand the value of what is "told," and annually earmark funds to make it happen. Wayne also wanted to make sure that AL Speaker of the House Mac McCutcheon, State Senators Tom Butler, Arthur Orr, Tim Melson, along with Representatives Danny Crawford, Lynn Greer, Parker Moore, and Andy Whitt were mentioned by name, as well as Leah Oakley, who organizes School Days. As always, it takes a small army of volunteers to make Storytelling happen, and all of us are grateful for the results, especially after getting through COVID and happily being able to meet again in person.
This year's lineup has been with us many times, and each is back by popular demand. The Grand Old Man himself, Donald Davis is in his late '70s and is still at it. He travels nearly every weekend of the year to "tell," and is a retired Methodist pastor. Our very own 89-year-old Charlie Hughes will once again be the emcee. And this year there will be a contest of student tellers who will tell to the kids during School Days, to the tellers on Thursday night, and win the competition. There will be no amateur night for local, grown-up tellers this year.
Emmy Award winning teller Bobby Norfolk, who does remarkable animal sounds, will be part of School Days, as will Tim Lowry, who has also written a handbook on storytelling. In addition to Donald Davis, Bil Lepp (and yes, his name only has one "l") will be back. Veteran teller Delores Hydock, who has produced 12 CDs and has been the Teller-in-Residence at the International Storytelling Performing Arts Center in Jonesborough, TN, will be with us again, as will musical prodigy Josh Goforth. Josh plays 17 instruments and while young, has become a festival favorite.
Athens State University will also have a "Telling Store," where the books and CDs produced by the tellers will be available to purchase.
Don't tell anybody, but the tellers have told us that Athens is their favorite festival to attend in all of America. That is because we treat them like family, and treat their annual arrival in our fair town like a family reunion. We have walked them through hard times, and they have done the same for us.
So, save the dates, get there early, get a good seat, and prepare to experience what the Good Book says: "A merry heart doeth good like a medicine" from October 18 through the 22. Tickets can be purchased online at https://www.athensstorytellingfestival.com/shop. They can also be purchased at U. G. White Mercantile on the square.
This year, the tellers are going to do a virtual Christmas Story program, so stay tuned…
By: Ali Elizabeth Turner