By: Ali Elizabeth Turner
Athens-Limestone County resident Tere Richardson has always dedicated her energies to improving the quality of life of everyone around her. She graduated from Clements High, Athens State, Troy State, and after a few years up north and out west, she and her family came back to our area to continue what had long ago become the family passion of giving back. For 12 years, Tere has been the president of Limestone County Churches Involved (LCCI), which among other things runs our local food bank. Her husband, Gary Van Wagnen, was involved in United Way, Habitat for Humanity, Meals on Wheels, and more. They both worked themselves to a nub in order to be able to retire early and devote themselves deeply to our community.

When Gary and Tere decided to start a family, Tere came home from an active, intense corporate life in St. Louis to raise their boys full time. "Coming back to Athens was always the plan," she told me as we sat in the charming Athens Main Street office on Jefferson, "and our main goal was this: we wanted to give back." Since 2018 when Tere took the helm of Athens Main Street, she has been true to her word, and on her watch, we have been blessed to see a team come together from business, education, the legislature, as well as the local citizenry to give us or improve so many things that "make Athens Athens." They include the Merchant's Alley, Fridays After Five, the Farmer's Market, the Christmas parade, the Chocolate Walk, Sippin' Cider, and more. When asked about the success of Athens Main Street, Tere is quick to give credit to others that have supported the mission with their time, talent, and treasure, remarking that it "takes a village" working together to make a difference.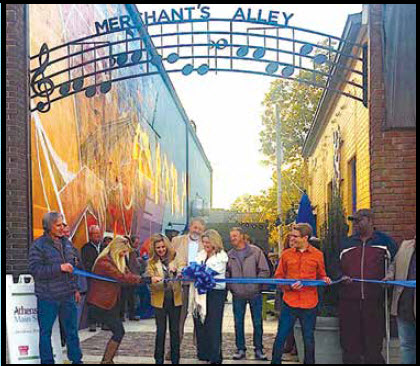 No discussion of what Athens Main Street has been able to accomplish would be complete without at least a brief description of what they did to keep our quality of life high during the craziness of COVID. Outdoor sidewalk seating on the Square was placed everywhere, and it made for a festive, European "sidewalk café" feel that has remained now that we don't have to figure out how to eat food while wearing a mask. Being able to sit/eat outside on the Courthouse lawn was also an option that came to be during COVID. Thankfully, a good portion of the outdoor seating/eating options have remained. Signs for curbside pickup were outside of most of the shops, and if people are either on the fly or not comfortable with patronizing shops, they can pick up their order to this day. In true partnership, the Greater Limestone Chamber of Commerce, LCEDA, City of Athens, Limestone County Commission, and Athens Main Street saved the Christmas Parade, which was huge, and being able to view it livestream provided peace for many who wanted to celebrate while avoiding the Coronavirus. Other campaigns of the era included the ReOpen Main Street Campaign, the Square is Open for Business Campaign, as well as a continuous, upbeat social media campaign to bolster our spirits and our businesses.
With COVID largely in the rearview mirror, one of the "crown jewels" of Athens is the Merchant's Alley with the music-themed, affectionate project title of "Athens Amplified." Anyone who has lived here for very long remembers this space when it could kindly be described only as "dysfunctional." Due to expert planning, having a vision that would not fade, and bringing together a remarkable, talented team and the funding to get it done, Merchant's Alley is now one of my favorite places in the city. It is bright, snappy, inspires curiosity, is full of life and color, boasts awesome street art, and is a place that can be accessed and enjoyed all year long. From April through July, and then from September through November's Christmas Open House, the Alley will feature live local musicians from a wide variety of genres every Friday.

The summer of 2022 has been further proof that people need people and they need music. On July 29, an awesome band by the name of the Lamont Landers Band played on the Courthouse steps, and the east side of the Square was full of tapping toes and bobbing heads. Kids rolled down the hill, folks ate, sipped, sang and talked, and things continued to head back to normal, something I hope we never take for granted. It felt wonderful.
What's ahead? One of Athens Main Street's "babies" is the Farmer's Market. Located down near Athens Creek where several streets cross paths, the Market has served us well and frankly needs some TLC. It is a certified market, and two days a week during the summer months it is a hopping place. The Market boasts fresh produce, artisan candles, meat, jewelry, tie-dyed apparel, live music, and more. Food trucks offer a number of tasty items. In the summer, it is one of the best ways to strengthen our community, meet new people, and shop local. The vision for the Farmer's Market to be extended beyond the growing/harvesting seasons is being honed and crafted by a talented team of people dedicated to transforming the market grounds. Tere challenged me to "just imagine a festive gathering area with Edison lights and cool outdoor seating, improved landscaping, fresh paint, some art, and themed sculptures…" And, that would be "a mere $50,000 dollars!" If you want to get involved in a community organization with a proven track record and that is the heart and spirit of Limestone County, you can stop by at the office at 107 N Jefferson in Athens, or call 256-232-9040 to find out more.
By: Ali Elizabeth Turner