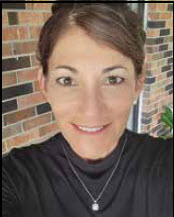 By: Tina Morrison
The Athens-Limestone County Tourism Association will once again be bringing the North Pole to the historic Beaty District of downtown Athens. But this year, the annual December holiday event will be even grander as we will have electricity to better light up the array of creatively decorated trees.
"This annual fundraiser is a favorite tradition of many, including myself," says Tourism President Teresa Todd. "Hundreds of visitors and residents stroll through our Big Spring Memorial Park (turned North Pole) the entire month of December, and I am so grateful that Mayor Marks and Commissioner Daly have provided a grant for Parks and Recreation to put temporary power poles up for us this year. In the past, we've always used solar lighting, which was good, but we are thrilled and excited to really light it up this year!"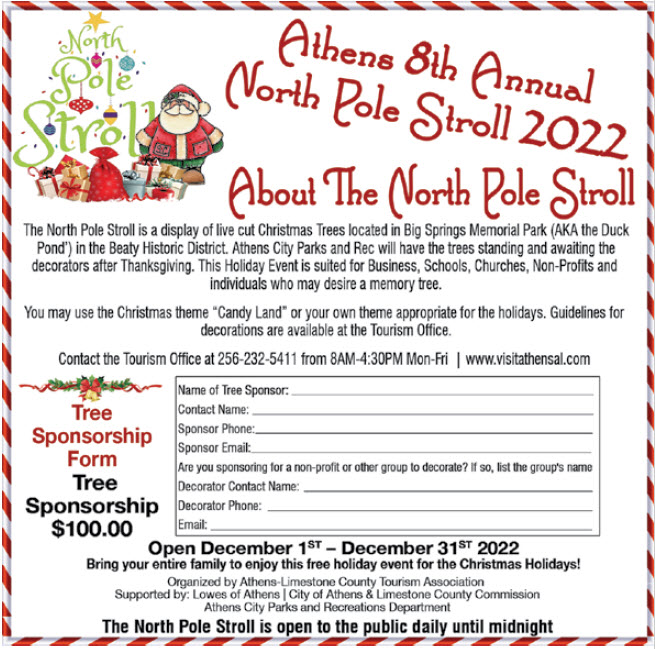 Each year, approximately 100 businesses, schools, nonprofits, and individuals decide a theme and bring their own decorations to their sponsored tree which is provided by Athens Tourism. The Athens theme this year is "Christmas in Candyland," so sponsors can either use that theme or create their own personalized one. Some sponsors also choose to do a memorial tree dedicated to a lost loved one.
Tree sponsorship is $100 and includes an approximate 6' fir tree and signage. There is no charge for spectators to stroll through the park to view all the decorated trees on display from December 1-31. Tree sponsorship is open from October 3-November 18. Anyone interested in participating as a sponsor, decorator, or volunteer can visit www.visitathensal.com/north-pole-stroll.html or contact the Athens-Limestone Visitors Center at 256-232-5411.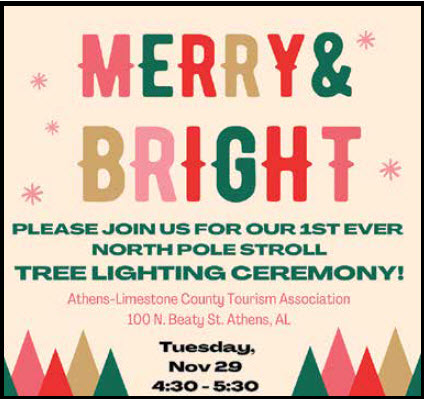 The Athens Limestone Tourism Association's office is just a few blocks off the Courthouse Square inside the historic 1906 Athens Visitors Center building at 100 North Beaty St. Big Spring Memorial Park is just behind the Tourism Office. The City of Athens is a picturesque, quintessential Southern town in North Central Alabama full of history, character and tradition. We're what you love about the South.
For more information go to www.VisitAthensAL.com or call (256) 232-5411 Monday through Friday 8 a.m. – 4:30 p.m.
By: Tina Morrison, Tourism Athens