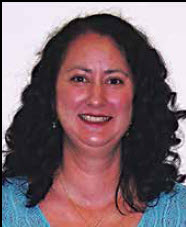 By: Holly Hollman
TBAKI, an Athens industry that is an automotive manufacturer of seats and supplier for the Mazda Toyota Manufacturing, is helping local first responders to better respond to vehicle emergencies.
When first responders arrive at a motor vehicle accident, the scene can be chaotic. If the accident involves a child or adult with a special need who may not be aware of danger or respond to commands, which adds to the confusion.
In 2019, the City of Athens received community grant funding from members of its local Legislative Delegation to purchase seat belt covers which alert responders that a person has autism, is deaf, or has a special need. Athens Police and Athens Fire distributed the covers to the public upon request. The covers are Velcro and wrap around the seat belt and include wording that alerts responders of the person's special need.
This year, Limestone County Sheriff Josh McLaughlin expressed interest in purchasing seat belt covers for his department. Athens Police and Athens Fire reported they were nearly out of their supplies. TBAKI donated funds to pay for half the cost of supplying all three agencies with the seat belt covers.
"This is a tool for us because it provides us immediate information when we respond to a vehicle-related emergency," Athens Police Chief Floyd Johnson said. "When our officers see one of these covers, they can rely on their specialized training to respond in a manner that is helpful."
Athens Fire Chief James Hand said the covers also enable police, fire, and medical personnel to have the knowledge needed to understand that a person may be resistant or non-communicative because of a special need and not necessarily from an unknown injury.
Stacey Givens with Make a Way Foundation, who is the mother of an autistic son and a daughter who is hearing impaired, said children with autism or another special need may resist help, may not recognize danger, and may become upset by the lights and noise. She said being proactive allows all of those involved in a situation or emergency to respond in the best interest of the child or adult with a special need.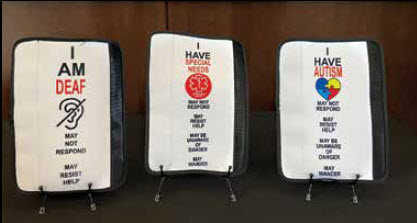 Givens said her son is driving, and has practiced being pulled over by police. She said even though he knew it was practice, he would not look at the officer and became nervous.
"The officer knew ahead of time he is autistic, and responded with kindness and understanding," Givens said. "If she had not known my son was autistic, and this had been a real traffic stop, the officer could have been concerned my son was hiding something and being disrespectful and defiant. He could have ended up in handcuffs."
TBAKI became a community partner after Chief Johnson and City of Athens Grant Coordinator/Communications Specialist Holly Hollman set up a meeting to discuss the project. Jordan Gygi, with TBAKI's accounting, IT and HR departments, said the project is ideal for the automotive-based company because it is helping create a safer experience for the community during vehicle-related emergencies.
TBAKI donated $4,000 toward the cost of the covers. Other groups donated as well, including:
Behind the Badge – APD – $1,100
Athens Fire and Rescue Auxiliary – $1,100
Limestone County Sheriff's Department – $1,000
Make a Way Foundation – $1,000
Attorney Jim Moffatt – $100
Limestone County Commission Chairman Collin Daly – $100
Camden's Designs and Creations in Kentucky had a template for the seat belt covers and created them for the project.
By: Holly Hollman