By: Ali Elizabeth Turner
A year ago, after only having been in business for five weeks, Ken and Lori Hill, owners of the Athens Alehouse & Wine Cellar, pulled off a wonderful event for our area that was affectionately dubbed, "Athtoberfest." Having a large German population in North Alabama, most folks are familiar with Oktoberfest, and the Alehouse's version in 2021 was so successful that they are calling this year's event "Athtoberfest 2.0."
I attended last year, enjoyed sitting on the street with friends, and celebrated the fact that we could all be together again.  People brought their own lawn chairs, which is a good idea to do again for this year's festivities that will be held from 2-10 p.m. on Saturday, October 1. Washington Street was blocked off from S. Marion St to the railroad tracks, and will be so this year as well. There was a line that stretched down the street and into the POS (Point of Sale) inside the Alehouse, which is located in the old Razor's Edge Barber Shop location at 111 W. Washington in Athens, just off the Square. This year the POS situation is going to be ameliorated by having several POS stations in outside tents, along with the ability to pay with cash.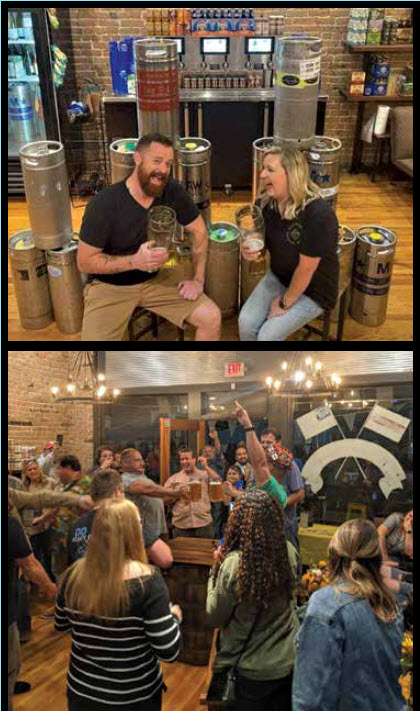 I told Ken that from my perspective, even standing in the long lines last year made things more festive, as people were enjoying being out and social again, greeting each other and chatting while they waited. That would be in keeping with the "tradition of the tradition;" Oktoberfest having been started in 1810 when Bavaria's Crown Prince Ludwig married Princess Therese, and Germany celebrated nonstop for two weeks. Since that time, the largest Oktoberfest celebration in the world is held annually in Munich. In America, the very first Oktoberfest was held in La Crosse, Wisconsin, back in 1961, and the one held in Cincinnati draws 500,000 visitors each year. Cincinnati's, or "Zinzinnati" as it is known in Germany, is second in size only to Oktoberfest Munich.  Ours will only be held for one day; so far, no weddings are planned (!) and there will be something for everyone. It is a family friendly event; something very important to Ken and Lori. Their kids will be there, and you can bring yours, too.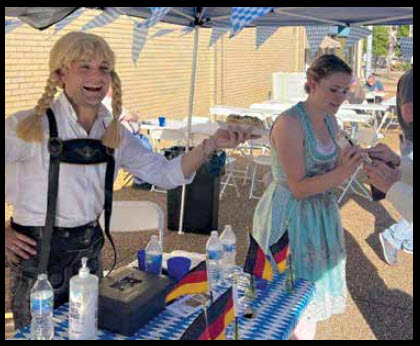 Hildegard's of Huntsville will be back and will have authentic German food available, including brats, kraut, and pretzels with beer cheese. The Hildegard's staff will be serving in traditional lederhosen and dirndls. Other food trucks will be on hand, and there will be a total of 20 beers on tap, both German and domestic, from which to choose. In addition, there will be a wine rep present with wine imported from Germany especially for the occasion. While for most occasions Lori has charcuteries and other food offerings available in house, for Athtoberfest 2.0, the crowd will be too robust, and the food trucks will be the ones handling food service all day. Among them will be SnowBiz and Rocket City Poppers, with more to come.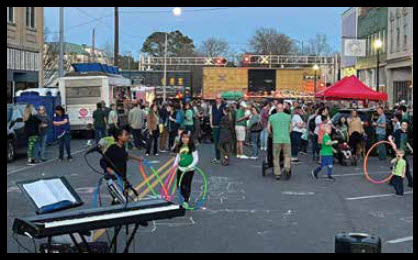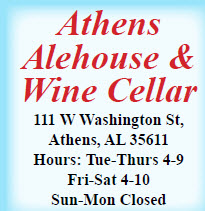 This year, High Cotton Arts, which is literally a few doors down from the Alehouse, will be having a number of activities for kids. There also will be sidewalk art, and everyone can participate, not just kiddos. Kids will also have an opportunity to paint on a large blank canvas, and there will be life-size cutouts for "destination pictures," complete with the figures' bodies sporting Bavarian garb. Face painting will be available from 2-6 courtesy of Pi Beta. There will be a cornhole toss along with live music presented by DJ Zillion. Ken and Lori are searching for picnic tables for the event, and while there will not be enough for everyone, they will be available on the street on a first come, first served basis. There is also seating inside the Alehouse, as well as tall stools and a standing bar on the outside.
Ken and Lori emphasized that the Athtoberfest event ends promptly at 10 p.m., and out of respect for the community that exists around the Square, people will be expected to safely head on home at that time. Mark your calendar for an event that is about celebrating love and building community, and help Athens usher in autumn by attending Athtoberfest 2.0!
By: Ali Elizabeth Turner