My husband and I are just returning from a mini vacation in Mentone, AL. Neither of us had ever explored this beautiful part of our state. On Sunday afternoon, we began the drive and in less than 3 hours, we were in one of the most beautiful places I had ever seen. I felt as if we were in Heaven's back yard. A sense of peace swept over us as we sat on the balcony of the cabin we rented and gazed at the vast landscape below. You could see 3 states from our cabin.
Mentone is a very small town, and we found that most all stores and restaurants were operating on winter hours, which meant they were only open Friday-Sunday. Since we were arriving late Sunday afternoon, we knew our vacation would mainly consist of enjoying the beauty of God's creation. We explored Little River Canyon and DeSoto Falls the next day and were in awe of the power of nature. It was as if God had taken a paintbrush and created the perfect picture. It was so peaceful, and we truly got to enjoy our time just breathing, relaxing, and enjoying each other.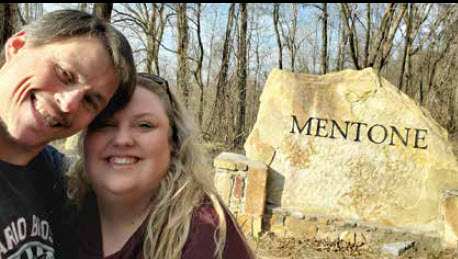 Wednesday morning as I began packing to come home, I took the time to read the small framed print above the light switch in our bedroom. "Just think… you are not here by chance but by God's choosing.  His hand formed you and made you the person that you are. He compares you to no one else. You are one of a kind. You lack nothing that His grace cannot give you. He has allowed you to be here at this time in history to fulfill His special purpose for this generation." It was a quote from Roy Lessin, the founder of DaySpring Cards. After the few days of enjoying the beauty of God's creation, this quote left me feeling so empowered. I am in this season of my life to fulfill God's special purpose. He has chosen each of us to be right where we are. How you approach the situation or the season you are in will determine the outcome of your life. You can choose to face hardships while giving God the glory, or you can choose to let the hardships of your life overtake you. I am choosing to enjoy this season I am in, no matter the situation. God is always by my side, and I am right where He means for me to be. He has a plan for my life and if I continue to give Him the glory in all situations, I will have a happier life.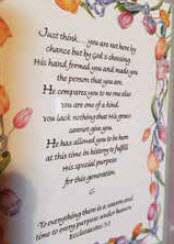 What season of life are you currently living in? Whether you are in winter facing the bitter cold or in the summer basking in the warm sun, just know that after the winter comes the spring with a hope of a new life. God has not and will not abandon you. Choose to see the beauty in your season. Choose to enjoy your season and learn from the lessons God is teaching you. We are a blessed people, no matter the season we are currently in.
"To everything there is a season and time to every purpose under heaven."  Ecclesiastes 3:1
To celebrate the upcoming spring, this week's recipe is a delicious chicken stir-fry that is guaranteed to be a hit, even with those picky kiddos. My family just enjoys the chicken and vegetables, but feel free to serve this over rice, quinoa, farro, or your favorite grain. This particular recipe features asparagus as the main veggie, but it is equally as yummy with broccoli, cauliflower, carrots, shredded cabbage, peppers, and onions. I really love recipes that can be adjusted to fit perfectly into your family's lifestyle and taste preferences.