By: Ali Elizabeth Turner
Carol Holland has always wanted to own her own antique shop. She is an Athens native and has spent her entire career as a defense contractor. Carol has loved antiques as long as she can remember, and her grandmother had a wonderful humpback trunk that she always thought looked like a treasure chest. Her aunt owned the most beautiful Victorian wardrobe, and it now stands in Carol's home. After receiving her first paycheck from her first job, while still in high school, Carol purchased her first antique – a beautiful black humpback trunk very similar to the one her grandmother had owned. Her second antique purchase was an oak library table taken out of the old Athens College Library. Owning an antique shop provides a venue to be able to help antique lovers find the perfect item for their home or that special gift for someone they love.  It does not matter whether it is an ornately carved drop-leaf desk, a Little Golden Book, or memorabilia from long ago brands, she and her team keep track of things for which people are searching, and when they find it, they are all joyfully gratified.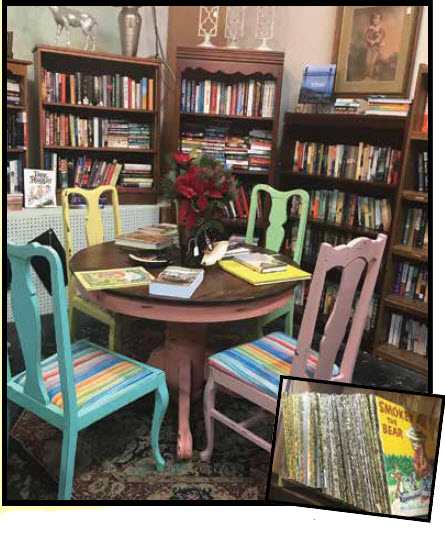 Antiques on Jefferson is located in the same building where a previous antique store had been located.  Carol had asked the owner of that antique store to please strongly consider her as a potential buyer should she decide to sell. When the time came, it was a smooth transition, and Carol, her husband, and the shop's team of vendors set out to tweak it here and there to make it uniquely their own. The store, which is located at 116 North Jefferson in Athens, is simply called Antiques on Jefferson. Carol greatly appreciates her vendors and the work they do. "It's like I have these elves that work all the time, and when I come in, it's a brand new store," she said. "I just love that, and I never know how it's going to be," she added.
The day I interviewed Carol, I found her sitting in the back of the store in the portion that has been converted into a used book store. She was sitting across a round oak table from her mother, who is also an avid reader. "This is one of the most popular features of Antiques on Jefferson," she told me. "We have so many types of titles. We have Little Golden Books, Hardy Boys Books, contemporary authors of all kinds, hardbacks, paperbacks, classics, you name it, and people really enjoy coming here to read and buy books at a good price," She told me that she gets the books from all over — yard sales, estate sales, sometimes from the local libraries — and it's a service she enjoys offering. Carol has been surprised at how popular the used book store part of Antiques on Jefferson has been. "We are the only used book store in Athens that I know about," she said, "and people tell us all the time how glad they are that we have this."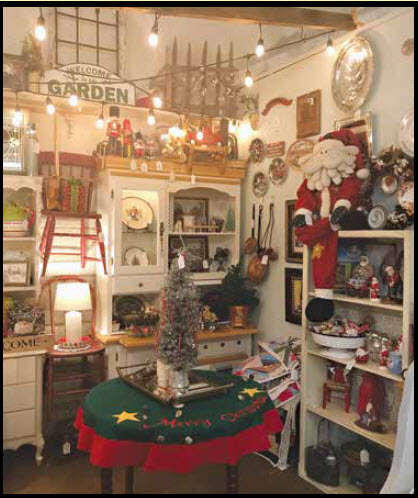 It's the same for the antiques; they come from everywhere. One of the most important things to Carol as a shop owner is that there is something available for everyone. "You could find an antique twin cast  iron horse head set that costs thousands, or a kid could come in here and find something for three bucks," she said. I personally have seen a kid who helps me deliver copies of Athens Now find old model trucks along with a book about Russia that was published in 1904, and to see his eyes light up at "finding the find" is a joy.
Carol loves to see people enjoying themselves, and she has some ideas about what she wants to do to add entertainment opportunities for folks in the area. One idea is to have what she calls "high teas" once a quarter. They would be modeled after the proper high teas that are a part of English culture, and people would be able to eat off of real china that is part of the store's inventory. Carol is also planning on having mystery dinners, and have actors come and portray an interactive "who-dun-it" while the guests eat and then collaborate to figure out if it was "Colonel Mustard with a wrench in the library," for those of you who are fans of the game, "Clue.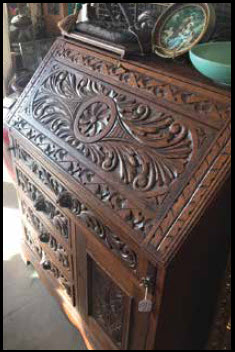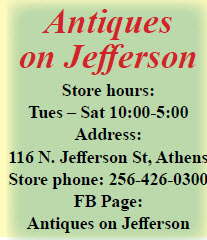 We talked about the fact that when we were young, and most certainly when our mothers were young, women picked out patterns for flatware, china, and "everyday" before they graduated from high school, and gifts from those selected patterns would go into a hope chest. Well, that idea went out of style for about 50 years, but according to Carol, it looks like it's coming back in. She told me that recently a 15- year-old girl came into the shop and found a full set of lovely china that was white with a gold rim. The girl loved everything about it, and her grandparents bought it for her for her hope chest.
Antiques on Jefferson is going to be participating in all of the upcoming holiday festivities in Athens-Limestone County, but you don't have to wait until then to come and experience her friendly staff that loves to help you find the best Antiques on Jefferson.
By: Ali Elizabeth Turner