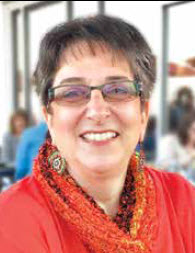 By: Lynne Hart 
Let's start with introduction!
We at Keep Athens-Limestone Beautiful are so happy to introduce Claire Tribble as our newest addition to the office. Claire is the new office manager and will be the voice you will hear when you call the KALB office, or the face you will see when you visit.
Claire was born and raised in Athens and graduated from Athens High School. She then moved to Memphis to attend the Memphis College of Arts and received a degree in photography. Claire moved back to Athens in 2009 and has been here since.
When Claire was asked what she has discovered about KALB in her two weeks on the job, she said she has found that there is much more to this organization than she realized. "KALB offers so much more to the community than I knew, and that most people probably realize," she said. "My first priority is working on the preparations for Earth Day coming up on April 15, which is a very big project – and this is just the tip of the iceberg!"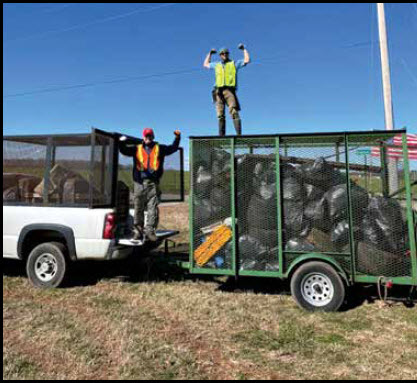 The KALB Commission is very pleased to have Claire join our team! She has already made a huge impact on the work to be done and we look forward to working with her.
UPCOMING EVENTS
Spring is a very busy time for KALB. We have multiple events that we are working on, and we'd like to give everyone a heads up so you can plan to participate.
River Cleanup
KALB's annual River Cleanup is scheduled for Saturday, March 25. The cleanup will take place from 8 a.m. until noon, with breakfast provided to all volunteers. Supplies will be provided including trash bags, buckets, litter grabbers, and safety vests. The Tennessee Valley Authority is sponsoring this river cleanup, making it all possible.
If you are interested in volunteering for this event, please email KALBCares@gmail.com or call the KALB office at 256-233-8000 so we may plan appropriately. More information will be included in our monthly eNewsletter and on our Facebook page. Watch for more details.
Household Hazardous Waste Collection
Thanks to support from the Limestone County Commission, KALB will offer the Athens-Limestone County community the opportunity to properly dispose of many products that should not be placed in household trash. This will be a drop-off event, so residents will not have to exit their vehicles.  A date and location will be announced soon.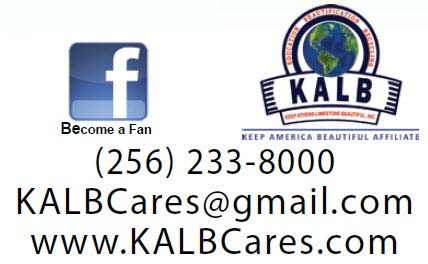 Earth Day &
Outdoor EXPO
Mark your calendars for this great family-friendly event! Earth Day will be held at Athens State University on Saturday, April 15 from 10 a.m. to 3 p.m. As always, admission to the event is free and includes special entertainment. There will be interesting exhibitors, activities for the kids, food trucks, a petting zoo, and more!  We are very grateful to Athens State University and the Limestone County Water & Sewer Authority for their continuing support of this event.
Individual Cleanups
KALB welcomes our community to organize individual cleanups. If you know of an area that is in need of litter and debris removal and would like to form a group to tackle the task, contact us. We would be happy to provide litter grabbers, safety vests, buckets, and trash bags. We want to help you help our community!
By: Lynne Hart
KALB Commission Member, Keep Athens-Limestone Beautiful