By: Ali Elizabeth Turner
On April 6, 1974, lifelong motocross racing fan Steve Armstrong opened a power sports store in Decatur three days after the legendary tornadoes of that year. The storms were so strong that the bikes arrived with every single one of the shipping boxes stripped off, but they were unscathed, and Steve's shop was off and running with a $5,000 loan, a floor plan, a box of tools, and stunning customer service.
It didn't hurt that Steve had spent 14 years racing for Team Yamaha, and his time coaching two winning high school girls' soccer teams taught him even more how to build his organization into one of the most successful power sports companies in north Alabama. Steve is the type of business owner that has no problem cleaning the bathrooms or taking out the garbage. He also feels that his employees are part of his family, and has instilled in them high standards for their behavior both in and out of the store. All of the hard work, team sports, and customer care has paid off, and Allsport grew until they needed the space available at their address of the last 14 years — 2608 Beltline Rd, Decatur, AL 35601. Over the years, Allsport has added to their lineup of 3- and 4-wheel ATVs, personal watercraft, side-by-side ATVs, and lawnmowers. In 2021, Allsport carries Kawasaki, Yamaha, Triumph, and Royal Enfield motorcycles. Royal Enfield was originally made in the UK and these days is produced in India. It is a high quality, high-end bike.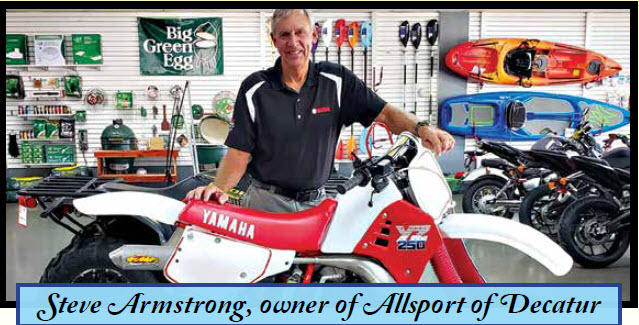 Allsport was all set for the 2020 spring season when COVID hit, and while last year was tough, they got through it by grace, teamwork, and customer care. What they are showcasing this spring and summer are lawnmowers, and the brand they enthusiastically endorse is Spartan, which is made in Arkansas. Steve told me an interesting story about his introduction to the Spartan brand, which they have sold for several years, and now is the only one they carry. There was a very successful business man in Decatur that told Steve he needed to go visit the Spartan plant in Arkansas with the intent of featuring the Spartan line at Allsport. Steve said he was not interested in the slightest, and couldn't take the time off from work. Well, the businessman happened to have his own private jet, offered to cover the flight and get Steve to Batesville, and they took off from Pryor Field for a trip that would change everything.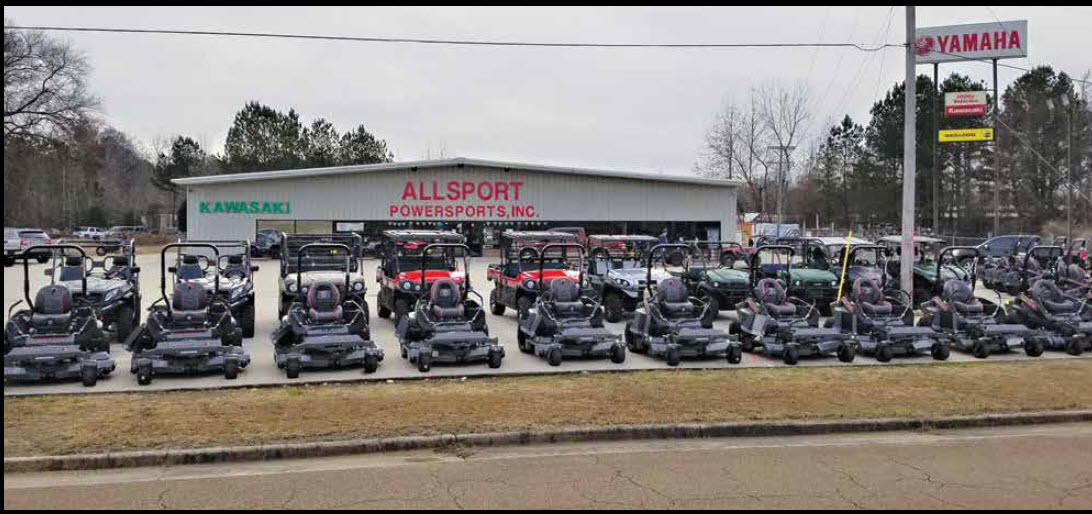 When they got to the Spartan plant, Steve was impressed by the fact that the owner, Robert Foster, was out on the floor positively engaging with the employees, and they with him. Steve told me, "I have never seen employees so happy," and Steve has been to fabrication centers in the US, China, Japan, and India. Steve could tell that all the employees took great pride in the quality of their work, no matter the task. At the time of Steve's visit, Spartan was working on building more plants, and one employee expressed excitement on the possibility of having a larger place because he actually WANTED to produce more units in a day.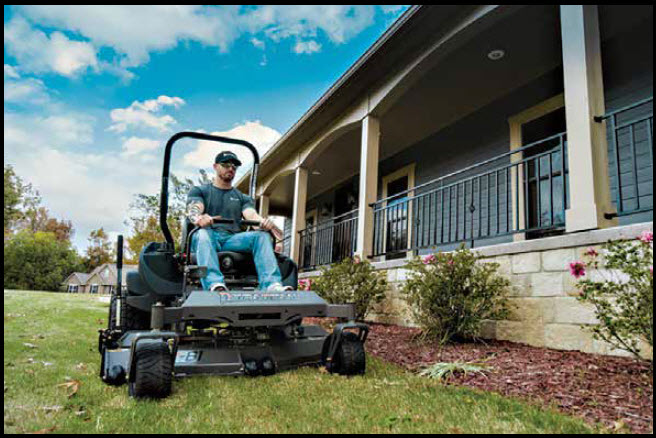 Here is some more information on the Fosters and their products:
Robert and Becky Foster own six companies headquartered in Batesville, Arkansas: Intimidator UTVs, Spartan Mowers, Bad Dawg Accessories, Ground Hog Max, Gourmet Guru Grills, and eNVy, which is a high-end personal neighborhood transport vehicle like a Mule or a golf cart. Robert has always loved lawnmowers, and back when he was about eight years old, he would collect catalogue clippings of several types of American mowers, and dreamed about making one from the ground up.
That first dream came true in 1998. He and Becky already owned two companies, and sold one so that Robert could develop and build what became known as Bad Boy Mowers. The brand did well, and was sold all over America as well as overseas. However, Robert is a true entrepreneur, and he couldn't shake the feeling that he had another better mower "still inside of him." This time he wanted to build something that was heavier and could handle all kinds of terrain.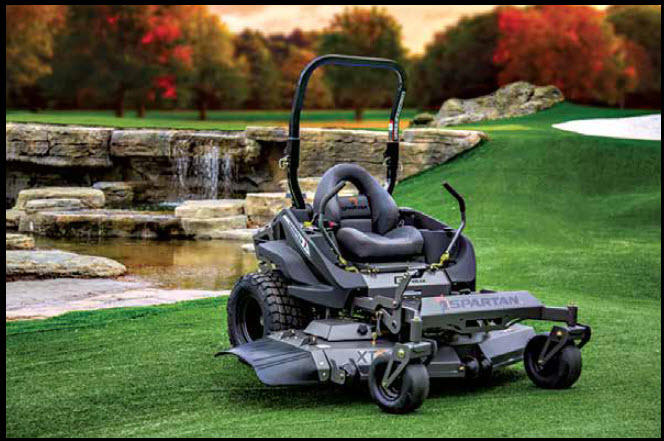 More of Robert's story is from their website:
"For six months, in his garage in Batesville, Arkansas, Robert literally built the Spartan from the ground up. He started with the Rear Radial Tires (a standard feature on all Spartan mowers with decks larger than 54″, by the way), and went from there. He took the features and elements of leading mowers on the market, the things that really make a mower stand out, and improved upon them. He focused on ride, cut, design, and frame. After hours of research, testing, design, and redesign…the Spartan Mower was born. 
And that's how it happened. Spartan launched on October 21, 2015, at the GIE Expo in Louisville, Kentucky. Sure, it's a work in progress. There are tweaks, and changes, and growing pains. But Spartan is here, and it's here to stay.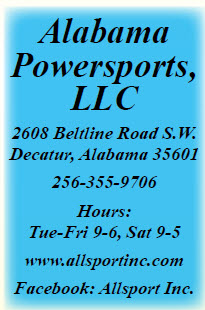 Clearly the Spartan is Robert's "baby," and he loves the creation that started with cutting up pictures from catalogues:
"This machine, it's special. It's the culmination of so many years of design and dreaming, so many mistakes learned from. Truly, I have put my heart and soul into the Spartan. I am so proud of this mower, and my team. It's my dream, and with every mower built, I am so thankful." 
And finally, here is Spartan's mission statement:
 "To offer an American-made mower that drastically changes the turf industry by giving the consumer a premium product with an all new level of performance, durability, and design at an incredible value."
Steve came away from Arkansas with a solid relationship with an inventor and manufacturer whose integrity and excellent product he knew he could trust and promote in Alabama at Allsport. Steve told me, "The Spartan costs less and is built better. The factory robotics are unlike anything I have ever seen. Spartan also has impeccable warranties." The man's a fan, and has staked the reputation that he started building in 1974 on Spartan mowers. Come see them today and see why Spartan is the only mower that is carried by Allsport, and let them make your summer mowing season a true joy.
By: Ali Elizabeth Turner