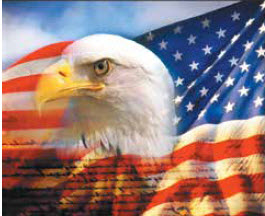 By: Ali Elizabeth Turner
If you or your children have been around Athens High School for the last 11 years, you either have met or know about CW4 "Chief" James Chambers. If you have been to a parade any time of year that involves the JROTC, you have seen him. If you have ever heard the term "command presence," which refers to the type of officer that makes you want to square your shoulders and stand up straight out of well-earned respect, you know about whom I am talking. Chief Chambers spent 26 years serving our country as a Warrant Officer 4, and specialized in electronics, communications, and aircraft control. We were in Iraq at the same time, and it is entirely possible that he came through Camp Stryker from Anaconda and relaxed in the MWR facility in which I worked. It is my honor to tell his story.
James Chambers is from Gretna, VA, and spent his days as a kid playing outdoors all day, going down to the creek that was on their land, and like most of us, came home to eat supper with his family, do his homework and do his chores. He always was a hard worker, went to tech school while in high school, and graduated in 1985. He enlisted that summer, and at the time did not think that college was in his future. However, he got to Sergeant First Class in 9½ years, (which is unheard of) and his superior officers made it clear that he definitely needed to pursue higher education. He got a BS in technology management. His career took him all over the world, and he "finished" his career here at Redstone. He told his wife that he wanted to do something to give back, (as if a life of service for 26 years hadn't quite filled the bill) and as he told me, "I had so much respect for teachers, the way they dedicate their lives to the kids, and I also had become a lifelong learner." So, he got his master's degree in education, and came to work at Athens High School in August of 2012. Chief knows he is walking in his calling, and has faced head on one of the biggest crises in America — the breakdown of the family. Many of the kids who have joined JROTC come from single parent families, and he has found that the combination of discipline mixed with support from a man works wonders for students just as it did for the soldiers under his command.
"We have had some great success stories," said Chief Chambers, and proceeded to tell me about them. "Tons of kids have gotten ROTC scholarships, and two have gone to West Point. I get texts from the kids all the time, long after they have graduated. One student had been 'in the system' since the third grade and started his first day by swearing at everyone and said he'd never graduate. We got him through; he did graduate," he said.
I interviewed a freshman by the name of John David McGee who is in his first semester of JROTC. He especially likes the fact that in addition to all that they learn about physical fitness, being part of a team, having the chance to get promoted, and understanding what makes a good soldier, on Thursdays they study current events. As of this writing, John David is preparing for his first promotion exam and a PT test. He plans on staying in JROTC until he graduates, and hasn't ruled out joining the military.
Thank you, Chief Chambers for your service to our country and to our kids, and may you be a part of their lives and ours for many years to come!
By: Ali Elizabeth Turner